More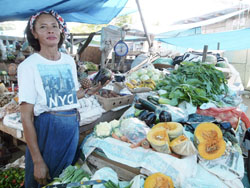 Andrea Robinson displaying some of her spices. - Photo by Gareth Davis Sr
Sharon Taylor - Sharing Jamaica's fruits with tourists
Gareth Davis Sr, Port Antonio
For more than 30 years, Sharon Taylor satisfied the craving of many tourists by selling them a variety of fresh fruits and vegetables at the Musgrave Market in Port Antonio, Portland.
Taylor, whose choice of profession stems way back from her grandmother, later handed down to her mother, and then her, told Hospitality Jamaica that her fresh fruits and vegetables are highly sought after by visitors to the resort town.
"Many have returned just to get my fresh fruits," said Taylor. "When they come off the ship, they would sometimes visit the craft market, but I have long since realised that they are always in need of fresh fruits and vegetables. Over the years, I have developed a good relationship with them, and many have returned from time to time just to get a taste of the fresh tropical fruits that I sell."
According to the fruit vendor, the most sought after fruits are mangoes, ripe bananas, papaya, apples, melons, custard apples, and jack fruit. She added that tourists also show an interest in buying lettuce, tomatoes, cucumber, and carrot.
Concerned about sector
But like other vendors, who over the years benefited from cruise-ship arrivals, Taylor is also concerned about the dying tourism sector, which is in dire need of revival. She said that since the decline in cruise shipping, many like herself are totally dependent on the local market to keep their livelihood afloat, in order to support family members.
Continuing she said, "It's hard for this town to survive without tourism. Tourists are always welcome to this part of the island as we are a friendly people. It is always a joy for me selling fruits to tourists and relating to them the names of the various fruits along with their nutritional value. And it is also a joy to see the smiles on their faces as I relate to them about our tasty and nutritious fruits."