Five-star resort for Trelawny
Janet Silvera, Hospitality Jamaica Coordinator
Trelawny is on the cusp of unveiling the Caribbean's premier five-star resort township and golf course valued at US$1.2 billion.
Amaterra Jamaica Limited, the developers behind the mixed-used land project, has released an ambitious plan to Hospitality Jamaica, which will see the area just outside of Duncans become home to a 2,000-room resort and 18-hole championship golf course.
A total of five resorts have been planned, with an additional 2,000 villas and townhouse lots, luxury apartments and a commercial centre - the first of its kind in Jamaica.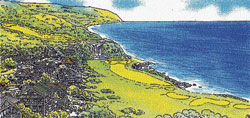 contributed photos - Artist impression of Amaterra Resort.
The project is expected to transform the landscape of resort development in the country and change the face of the tourist industry.
Jamaican developer Keith Russell, who has partnered with American businessman Charles 'Chip' Murphy, owns Amaterra.
Seated on 900 acres of prime property overlooking the Caribbean, Amaterra, which boasts over 3.5km of scenic oceanic frontage ranging from white sand beaches to majestic limestone cliffs, will commence construction the latter part of 2007, says Keith Russell.
The massive resort development will take an average of 10 years to be completed, while the developers say the unique offerings are geared at making the life of hotel workers and other professionals in the tourist industry easier.
"My vision is to have an integrated township development, a model resort that will provide housing nearby for workers," said Russell, who argues that social engineering has been taken into consideration.
changing the face of resorts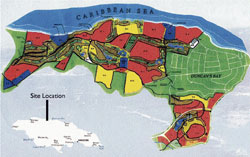 A map showing the location of the project.
"We will change the face of how resorts are done because if we don't take an interest in how it is being done, we will end up with squatter communities that other resort areas are challenged with at this time," said Russell.
He said his commitment to the parish of Trelawny goes further than economics and he is fortunate to have a partner that shares his vision.
Reminiscing on when he first bought land in Trelawny, Mr. Russell said the idea was not the in-thing; neither was it "cute".
The development has been welcomed by stakeholders in the parish and Custos Roylan Barrett in commending Russell and his team said, "Trelawny is coming into its own, for years we never thought of providing rooms because we thought we had adequate on either side of us, but now that development is shaping the way it is, not only will we need more rooms, but top quality, commercial and residential ventures in order to balance the landscape of the development that is taking place now."
The custos added that this development will have a significant and far-reaching impact on the tourism landscape with positive spin-offs for the wider community.
Amaterra borders the US$2 billion Harmony Cove development by the Florida-based Tavistock Group and the new Couples Trelawny Resort.