Doug Brooks is back
Janet Silvera, Hospitality Jamaica Coordinator
Doug Brooks fell in love with Jamaica and its people, long before he met his Jamaican wife and soulmate Jacqueline Sangster. That love affair rekindled recently with his return from the United States to the elegant Tryall Club.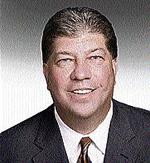 Doug Brooks, chief executive officer of the Tryall Club.
Most recognised in Jamaica's tourist industry as the man who honed the community involvement landscape at the Ritz-Carlton Rose Hall, Brooks now holds the position of chief executive officer (CEO) of the renowned Hanover resort.
Prior to joining the Tryall Club, the hospitality expert who has spent 23 years in the industry, operated The Brooks Group, a hospitality consulting company specialising in resort operations. One of his major clients, TWELVE Hotels & Residences, is a cutting edge residential, hospitality complex based in Atlanta, Georgia.
He has spent the majority of his career with The Ritz-Carlton Hotel Company as a general manager specializing in the opening of new hotels. He also held executive positions in sales, marketing and operations, before going on to open hotels in St. Thomas, United States Virgin Islands (USVI), Jamaica and Las Vegas.
"We (he and his family) love Jamaica, so we always knew we would come back home," Brooks told Hospitality Jamaica.
right opportunity
Treating his new job as the "right opportunity, at the right time," Brooks said he was only too happy, when he was asked to take up the position by former managing director, Ted Ruddock, who resigned two months ago in search of fresh horizons.
Aimed at taking his predecessor's legacy of service orientation to the next level, the CEO said there is a real focus of providing for the members and owners of the club.
He is also concentrating on the influx of investments that the 22,000 acreage property has been attracting. "We are starting to see a lot more investments, a lot more homes are being built," he noted, adding that the property lend itself to a family type 'Home Sweet Home' atmosphere.
According to Brooks, Tryall is a gem and is on the verge of exploding from the fantastic work done by Ruddock. "There is a great vision for the club," he added. Under his watch he plans to continue to polish this wonderful gem.
Noting at the same time that the real estate market in the region is beginning to get strong again and Tryall will benefit from that good fortune.
Doug Brooks is a dedicated and driven hospitality professional with an outstanding proven success in pre-opening, conversion, team development, training, administration, quality process training, revenue management and hotel operations. He was an integral part in the earning of the AAA 5 Diamond Awards for the Scottsdale Princess Resort, The Ritz-Carlton, Rose Hall, Jamaica and The Ritz-Carlton, Lake Las Vegas. Originally from Nebraska, Brooks is the father of three sons.