South Africa: promise of adventure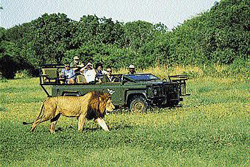 Contributed - Tourists admiring a lion in South Africa.
By the time you read these notes, I should be sitting pretty on an elephant or a lion in a game park, somewhere in South Africa capturing a photograph or two for The Gleaner's Lifestyle pages.
Quite a tall order, I must say. But since The Sunday Gleaner announcement of my sponsored trip to South Africa by the South African High Commission, my telephone has not stopped ringing, most with requests and some of the orders have been tall.
Many readers have called to congratulate me; some have offered me money so that I will arrive in Johannesburg seeming like a well-to-do Jamaican, some want paintings, clothing and pictures, while others have really upset me with a lot of myths about Africa.
My God, the African continent is so big, I doubt I will get a chance to meet the dictator in Zimbabwe and I am sure I won't witness the recount of the elections in Nigeria, if it becomes necessary for them to have one. So I wish my friend, whom I love very much, who called me to say that I am to be careful I am not kidnapped during a rebellion, had not called.
I am not going to speak about the modern and exciting Cape Town or the fabulous Durban, where my trip ends on May 15, I will instead speak of the first time that I visited Namibia 10 years ago with my best friend Dollis Campbell. In our next publication we will give you an insight into Nelson Mandela's homeland.
Since my trip to Namibia, I have been to North Africa and visited places such as Morocco and Tunisia.
Namibia, officially the Republic of Namibia, is a country in southern Africa, on the Atlantic coast. It shares borders with Angola and Zambia to the north, Botswana to the east, and South Africa to the south. It gained independence from South Africa in 1990 and its capital city is Windhoek, which is German.
Namibia is an artist's appreciation of restrained colours. From the amazing red of the Sossusvlei sand dunes and the whiteness of the Skeleton Coast to the striking black mountain and the mauve-hued ranges, the colours are spectacular. The towns were amazing and the wildlife fabulous.
I travelled for over 10 hours from the capital city to a game park, where the gates had to be closed at nights so that the animals would not have access to the lodgings. En route, whenever I mentioned that I was Jamaican, the faces of the people would glow and the first words to come out of their mouths related to Bob Marley, Jimmy Cliff and Peter Tosh's music.
Namibia is where I first tasted crocodile meat and where I first fell in love with Africa.