more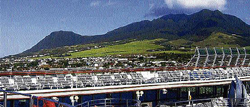 A cruise vessel in St. Kitts. contributed
St Kitts cruise arrivals looking up for '08
THE Addition of Carnival Destiny marks the island's first year-round weekly ship continuing to demonstrate its readiness to welcome international visitors to its shores, the St. Kitts Tourism Authority has announced that its cruise arrivals will increase by over 70 per cent in 2008. This increase is largely due to the addition of the Carnival Destiny to the island's cruise ship roster, which will be the first cruise ship to call at St. Kitts on a weekly year-round basis.
The Carnival Destiny will bring 130,000 passengers next year to St. Kitts, beginning with its first call on January 10, 2008. The ship will spend a full day in port, allowing passengers the maximum amount of time to explore St. Kitts' natural beauty, numerous attractions and variety of activities.
annual passenger milestone
"We are approaching the 400,000 annual passenger milestone in the growth of St. Kitts' cruise tourism industry," stated Ricky Skerritt, Minister of State in the Ministry of Tourism, Sports and Culture. "However, increasing the number of passenger arrivals is not our biggest concern. We are more concerned about seasonality, sustainability and the quality of visitor experience and visitor expenditure. The year round arrival of the Carnival Destiny will make a major difference to all of these concerns, and is a development which highlights the emergence of St. Kitts as a world-class destination with unique cultural and recreational experiences that are sought after by today's discerning travellers."
In response to the anticipated growth in tourism from cruise passenger arrivals as well as overall arrivals, St. Kitts has certified more than 60 new taxi drivers over the past year alone and continued to provide duty and tax exemptions on vehicle imports to local taxi operators to accommodate the increased demand for transportation and island tours from visitors.
extensive hospitality training
All taxi operators are required to complete extensive hospitality training prior to licensing in order to ensure the consistent delivery of a top quality taxi experience. "The waiting list for new taxi licenses is still quite long," Skerritt added, "but we will continue to expand and improve the quality of our taxi fleet on a need-to basis."
Located in the northern Leeward Islands of the Caribbean, St. Kitts offers a diverse tourism product developed from the destination's natural beauty, cultural heritage and rich history. The island's stunning variety of tourism attractions include hiking through the tropical rainforest, riding the scenic railway that connects the island's sugar plantations, touring Brimstone Hill Fortress, the only man-made UNESCO World Heritage Site in the Eastern Caribbean, wreck diving and the more traditional vacation pastimes such as water sports, golf, shopping, tennis, gourmet dining, shopping downtown, gaming at St. Kitts' exclusive casino or simply relaxing on one of the island's sandy beaches. Guests can select from accommodations ranging from intimate plantation inns to larger hotels or resorts.