More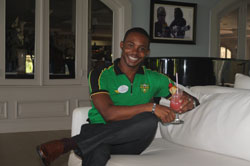 Alisteer Nelson, local sales manager for Sunset Beach Resort, Spa and Waterpark, is all smiles as he relaxes with a cocktail in the resort's Oasis lobby.
Alisteer Nelson: shining in hospitality
Karrie Williams, Hospitality Jamaica Writer
Charming, sophisticated and ever confident, Alisteer Nelson is the quintessential hospitality professional.
At the Sunset Beach Resort, Spa and Water Park in Montego Bay where he works, he is everyone's favourite go-to guy for all things related to sales and marketing.
"Alisteer, in the past couple of years that he's been with us, has proven himself a bright, educated, trainable, focussed, disciplined and consummate service professional. I'm really very impressed by what he has brought to the organisation and the expectations that he's fulfilled so far as somebody with tremendous growth potential," remarked Evatt Bloomfield, the resort's general manager.
In fact, Nelson's passion for tourism hospitality could be deemed innate. He has consistently worked in the industry, where he first gained employment at the age of 17. Now 25, Nelson, who is a former Munro College head boy and graduate of the University of the West Indies, Mona, recently achieved a major milestone - a promotion from marketing executive to sales manager for local development.
HELPING OTHERS
"I have a passion to assist and a passion to give back, and I find that through tourism, one is always able to help others ... it's about making people happy, and it's what I call servant leadership," Nelson said of his love for hospitality, adding that, "To be successful in the industry requires determination and perseverance, coupled with emotional intelligence."
In his newly appointed role, Nelson will be handling responsibilities such as travel agent tours and bookings, group bookings and event planning and implementation.
The sales manager's passion for his job was on full display during his recent interview with Hospitality Jamaica. While walking to the Oasis lobby where he was photographed, Nelson took every opportunity to point out the resort's many features and amenities along the way - one being the water park, currently the largest of its kind in the island.
Declaring that intrinsic motivation was paramount to his well-being, Nelson said the environment at Sunset Beach has also significantly fostered his development and fuelled the passion he has for his job.
"Here, we are like a family; it's as if you have the baby and then you have the parents, and the parents then groom the children, and because of that grooming, you find that continuous growth and development of employees is dominant here," he said.
He acknowledges Sales and Marketing Manager Tanesha Clarke and Bloomfield for being most integral to his growth and development at Sunset Beach, citing, "Their encouragement has moulded me into who I am today."
A track and field enthusiast, Nelson also recognises his mother, Elair Clarke, and aunt Juilet Birch for their positive influences in his life.
"These two women have really been a tower of strength for me, they have been there through all my successes and through all my failures and they continue to encourage me ... . They do have my best interest at heart and I really do appreciate everything they have done for me so far," he said.