More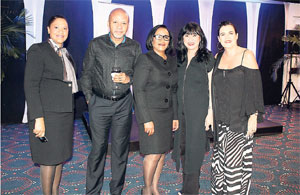 Lorraine D'Aguilar, sales representative; Vernon Bernard, manager, Eulen; Maxine Meijerink; Patsy Yuen-Lyn, regional manager, Admirals Club Caribbean and Latin America; and Cindy Breakspeare-Bent.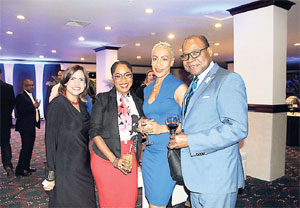 From left: Marvin Ochoa, Shona Smith, Pauline Stewart of Discovery Travel and Minister of Tourism Edmund Bartlett at the American Airlines 40th anniversary celebration

.
American Airlines celebrates 40 years in Jamaica
American Airlines celebrates this year its 40-year anniversary in Jamaica. The airline began flying to Jamaica on March 2, 1977, with one daily flight from New York-JFK to Montego Bay (MBJ) and Kingston (KIN) on a McDonnell-Douglas DC-10 aircraft.
At the time, the airline employed 14 people in Jamaica. Today, American Airlines employs 94 people in the country and operates almost 90 nonstop weekly flights from KIN and MBJ to the United States.
"During the past 40 years, our operations in Jamaica have continued to grow, helping us become the largest airline in the country with more flights to more destinations than any other carrier," said Yvonne Pearson, American Airlines' country director for Jamaica. "The celebration of our ruby anniversary is a testament to our commitment to the people of Jamaica, as well as to promoting tourism to this important destination in the Caribbean."
The airline celebrated its anniversary in Jamaica with an event held at The Jamaica Pegasus hotel in New Kingston. The event was attended by airport and government officials; American's regional sales director for Florida and the Caribbean, Christine Valls; Pearson, representatives from the country's top travel agencies and local media.
The airline currently operates 21 weekly flights from KIN to Miami as well as 67 weekly flights from MBJ to seven destinations in the United States - Boston, Charlotte, Chicago, Dallas/Fort Worth, Los Angeles, Miami and Philadelphia.