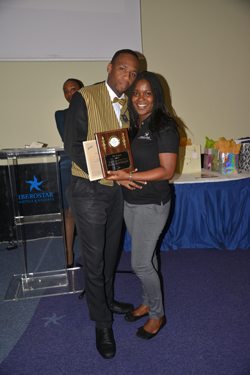 Employee of the Year, Doran Dobson is presented with his award by assistant general manager, Angelee Thompson.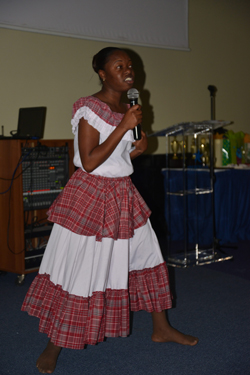 Rookie of the Year winner, Nataki Ramsay entertained.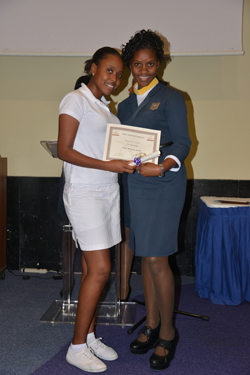 Most Improved (Turned Up Award) employee, Lisa-Ann Henry (left) accepts her certificate from public relations assistant manager, Jodene Burgess
Employee of the Year Doran Dobson is congratulated by co-worker, Dwayne Bernard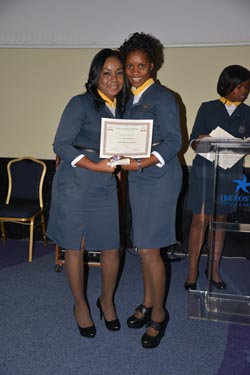 Tamara Clarke (left), Most Innovative Award winner.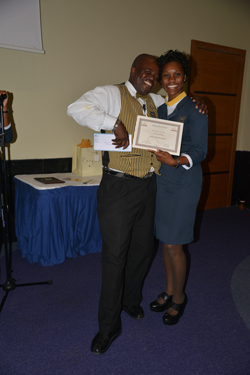 Donovan Ontroy, Shining Star Award winner, strikes a pose with PR assistant manager, Jodene Burgess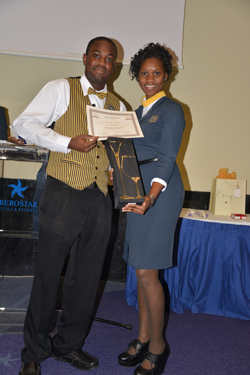 Joint Rookie of the Year winner, André Reid, receives his award from assistant PR manager, Jodene Burgess.
Shane Hill accepts the Extra Push Award from assistant public relations manager, Jodene Burgess.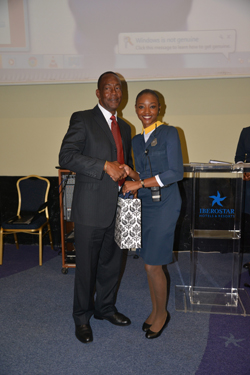 Guest speaker, Councillor Glendon Harris, mayor of Montego Bay is presented with a gift by PR manager Jo-Dane Russell.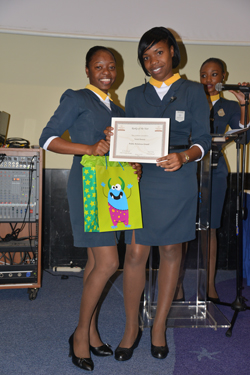 Joint Rookie of the Year winner, Nataki Ramsay (left), accepts her gift from PR assistant manager, Michelle Grossett.
Duran Dobson - Iberostar Rose Hall Employee of the Year
Mark Titus, Hospitality Jamaica Writer
Like he did last year, 25-year-old butler, Duran Dobson, copped the coveted Employee of the Year award at the Iberostar Rose Hall Grand's Public Relations Employee Awards ceremony at the Montego Bay based resort on Sunday.
The annual event which is in its fifth year, recognises outstanding performers in the public relations department of the Spanish-owned facility, which is ranked as the 11th best all-inclusive hotel in the world.
The elated Dobson, who also walked away with the Employee's Choice Award, told Hospitality Jamaica that the award from his peers meant a lot to him, even as he paid tribute to fellow butler, Dwayne Bernard.
"To win this (award) a second year is tremendous, but to be recognised by your peers is an even greater feeling," said Dobson, a resident of Bethel Town, Westmoreland.
"I want to say thanks to management for giving me the opportunity to serve ... and to Dwayne (Bernard), who has been my partner since I started working here."
"It is all about hard work and dedication," continued Dobson.
"This is what I love doing so, it is very easy for me to be focused. And as the guest speaker challenged us earlier, I hope that one day I will be running the hotel."
In his keynote address, Montego Bay's mayor, Councillor Glendon Harris, challenged the employees to continue striving for excellence.
"We hope that in time, this industry will provide the kind of remuneration which will allow all the workers to be able to continuously develop themselves educationally and stay current in the field of hospitality and tourism management," the mayor said.
"While you commit yourself to the job you do, it is critical that you also always seek to improve your lives in uplifting and meaningful ways. Regardless of your career choice, you must always strive to increase your skills and knowledge of the industry you work in," Harris added.
Among the list of awardees were: Nataki Ramsay and Andre Reid - Rookies of the Year; Lisa-Ann Henry - Turned Up Award (most improved); Tamara Clarke - Most Innovative; Shane Hill - Extra Push Award; Syrecka Tucker - Most Independent; Shirlian Graham - Team Spirit Award; Donovan Ontroy - the Special Star Award; and Okeine Lewis - Attendance Award.