More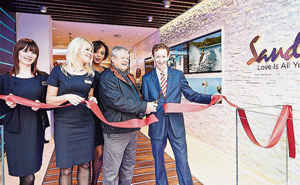 Chairman of Sandals Resorts International Gordon 'Butch' Stewart (second right) shares duties with Karl Thompson (right), managing director of Sandals UK & Europe, and fellow Sandals UK team members at the ribbon-cutting ceremony signalling the opening of the new Luxury Travel Store in the UK.
Sandals Resorts opens first high street store
Sandals Resorts International - operators of Sandals, Beaches and Grand Pineapple resorts across the Caribbean - continues to raise the bar and cement its status as industry leader and innovator with the recent opening of its first ever global dedicated high street retail store. The Luxury Travel Store is based in Chelsea, London, and is the first overseas hotel brand to have a stand-alone high street outlet in the United Kingdom (UK).
The new 5,000 sq ft interactive store, which saw an investment of more than £1 million, will immerse visitors in the world of Sandals' Luxury Included offering through a range of educational and sensory experiences, all designed to evoke consumers' imaginations as soon as they walk through the door.
The Luxury Travel Store-tailored customer journey includes:
1. Research Area - Visitors can virtually sightsee through the world of Sandals and Beaches by engaging with inspirational content across up to 30 55" flat LCD screens, including video footage, apps, and real-time social feeds.
2. Sandals Showcase - Dedicated Sandals team members will take guests through a personable and stress-free booking service, while getting a taste of the Luxury Included offerings available, including lavish surroundings and premium brand refreshments.
3. Dedicated Wedding Lounge - Visitors can explore Sandals and Beaches' tailor-made wedding offerings in one-on-one consultations with members of the weddings team.
4. Beaches Family Zone - Families can book their dream holiday while enjoying the fun experiences on offer, including a photo booth and XBox station.
5. Tour Desk - As island exploration is encouraged at Sandals and Beaches, the store will also give visitors a chance to experience a taste of Islands Routes, Sandals and Beaches' adventure tour company, with a dedicated desk showcasing the variety of tours on offer - from sunset cruises, to voluntourism experiences.
6. The Sandals Bar - To complete their journey, visitors will be able to relax and soak up their Luxury Included surroundings, while enjoying some of the top-shelf spirits and Robert Mondavi wines available throughout Sandals and Beaches Resorts.
7. Sandals Select Counter - A dedicated area for our exclusive reward members.
Karl Thompson, managing director for Sandals UK & Europe, said: "We are very excited to be making our mark on the high street and extending our longstanding commitment to providing a high quality of customer service to our guests. The substantial investment in this retail experience further demonstrates the growth potential in the UK market.
"The immersive nature of the store will allow us to showcase the incredible Sandals and Beaches' experience for both existing and new customers, as well as provide a more personable holiday booking experience."