More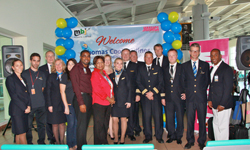 Crew members of a Thomas Cook passenger airline, which made its inaugural flight from Stockholm, Sweden to the Sangster International Airport in Montego Bay on Saturday, along with local tourism stakeholders, are captured in this group photo during a welcome reception held at the airport. From left (back row) are Erik Bestrup; Elizabeth Scotten; Nils Mikelsen; Stig Stodle and Ulf Gabrielsson, the captain. From left (front row) are Linda Strom Javier Linares; Monica Pattly; Laura Pinto; David Lawrence; Rosie Johnson, regional director at the Jamaica Tourist Board; Lina Friberg; Nils Mikelsen; Raymond Pattersson; Finn Meyer; Paul Solheim and Omar Robinson, chairman of the Jamaica Hotel and Tourist Association, Montego Bay Chapter. - Contributed Photos
Ja rakes in highest bookings among Swedes globally
Jamaica's tourism product remains a beacon in the international market while the island continues to be a choice destination among travellers globally.
The latest revelation came last Saturday (November 23) when the captain of a Thomas Cook passenger airline, which made its inaugural flight from Stockholm, Sweden, to the Sangster International Airport in Montego Bay, announced that Jamaica has recorded the highest bookings for travel out of Sweden, in comparison to any other country globally, for the 2013/2014 winter tourist season.
The captain, Ulf Gabrielsson, was speaking at a welcome reception at the Sangster International Airport.
The arrival of the airline last Saturday cemented a historic occasion as the first non-stop flight between Sweden and Jamaica, with a travel time of 10 hours and 40 minutes. The airline will make trips between Stockholm and Montego Bay on a fortnightly basis.
"We had a fully booked flight coming in from Stockholm to Montego Bay with 330 passengers on board," said captain Gabrielsson.
"I have been told by the tour operator, Ving Resor, that there is a significantly high booking by Swedish nationals choosing Jamaica as their vacation destination. In fact, the tour operator said Jamaica has the highest booking than any other country in the world," captain Gabrielsson told Hospitality Jamaica.
Encouraged by the revelations, when asked what made Jamaica so special with the international travellers, Rosie Johnson, regional director at the Jamaica Tourist Board, responded: "It's more than just the place as a destination. It is about our people, who occupy spaces globally and we just create this aura and mystique about Jamaica, hence the demand for our island. People want to see what's happening in this small, yet such global place," Johnson stated.
And chairman of the Montego Chapter of the Jamaica Hotel and Tourist Association, Omar Robinson, has given the assurance that the Swedish citizens were in for a great experience during their stay on the island.
"Rest assured that these visitors will have the most memorable vacation of all the Caribbean islands and the world. Jamaica has soul. It is not only beach and sand. We are a country, there's lots to do and see; from the culture, the music and the food, it is all here," said Robinson.
Meanwhile, director of commercial services at Montego Bay Jamaica Airports Limited, operators of the Sangster International Airport, Elizabeth Scotten, said the airport's management was pleased to hear the good news about the bookings out of Sweden for Jamaica, adding that the airport was expecting a very busy winter season.