More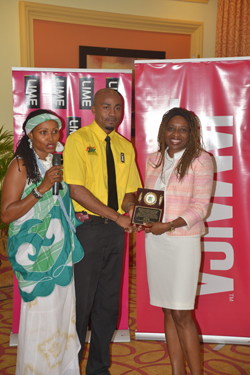 Sharon Parris-Chambers (left) joins Marcel Allen in presenting Janet Silvera with her Excellence in Journalism award, courtesy of the Lime Montego Bay Jerk Festival. - Photo by Steve Brown
MoBay Jerk Fest hails Gleaner's Janet Silvera
Karrie Williams, Gleaner Writer
WESTERN BUREAU:
Senior Gleaner writer, Janet Silvera, proved that hard work and commitment will be rewarded, following her receiving an Excellence in Journalism award from the Lime Montego Bay Jerk Festival committee on July 6.
The award was given to Silvera at the official launch of the fifth annual staging of the festival, held at the Riu all-inclusive resort in Ironshore, Montego Bay. The festival, which has been growing from strength to strength each year, acknowledged Silvera, particularly for her work in the hospitality industry.
An elated Silvera confessed that the recognition came as a surprise and expressed her appreciation to the festival and everyone else who has supported her career.
"It is a good feeling to know that you are being recognised by the people that you work with on a daily basis," she said. "Tourism is my love; so I want to congratulate the Jerk Festival for highlighting what is so special about Jamaica ... thanks to everyone, including my media colleagues who continue to support me in everything that I do, thank you very much."
Though not present at the launch, Gleaner's editor-in-chief, Garfield Grandison, sent congratulatory sentiments to Silvera and lauded her achievements in promoting Jamaica's tourism sector.
"This award proves yet again that Janet is one of the best hospitality writers locally, regionally and indeed internationally," Grandison noted.
Described as a natural-born writer, Silvera was hailed for her work in building the island's premier hospitality news magazine, Hospitality Jamaica, a Gleaner bi-weekly publication.
A graduate of Mount Alvernia High School in Montego Bay, St James, Silvera has spent more than two decades in both the tourism industry and as a journalist. She has received numerous awards and other accolades over the years for her work and has also been featured on the American-based Travel Channel.