More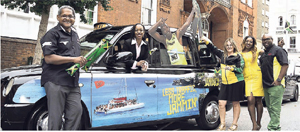 Jamaica Tourist Board staff pose with one of the Jamaica-themed taxis that is showcasing the island across the city of London. From left are: Torrance Lewis, district sales manager; Antoinette Charles, personal assistant to regional director UK/Northern Europe; Elizabeth Fox, regional director UK/Northern Europe; Yollette Scarlett, accounts/sales support executive; and Donovan Donaldson, business development officer
Jamaica Tourist Board spreads the Jamaican vibe across London
London is abuzz with the sights of Destination Jamaica as the Jamaica Tourist Board spreads the Jamaican vibe across the city with 150 wrapped taxis.
For the month of August, the city of London will be decorated with colourful Jamaica-themed taxis wrapped in images depicting an inviting scene of the island in rainy London.
The timing of this promotion coincided with the beginning of the IAAF World Athletic Championships, where the island's athletes produced world-leading performances. These attractive spectacles are driving conversations about Jamaica across the city. Emblazoned with the moniker 'Less Traffic and more Jammin', the taxis whet their discerning appetite to visit the island for more of its infectious vibe.
During this promotion, the Jamaica Tourist Board has partnered with Virgin Holidays and Breathless Montego Bay Resort and Spa, who are offering special deals for all-inclusive holidays to the island.
Director of Tourism Paul Pennicook and Minster of Tourism Hon Edmund Bartlett are in London to give support to the Jamaican team at the World Championships as well as amplify the Jamaican presence. "Visitor arrivals out of the United Kingdom have been doing exceptionally well. For the period January to May 2017, we experienced a 5.7 per cent increase over the corresponding period in 2016. This promotion will increase the visibility of Destination Jamaica in the United Kingdom and among persons from around the world who will ride in these taxis as we capitalise on the successes of our athletes on the track," said Pennicook.