More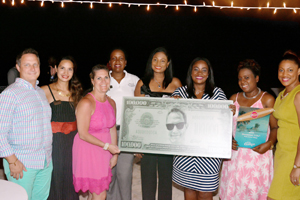 From right: Melia Braco celebrates 'Dreamiest I Do' Award: Sales Manager Sheryl-Kaye Thompson; Sales Executive Valesha Taylor; Director of Sales Angella Bennett; New Jamaica Tourist Board (JTB) Regional Director Odette Dyer; Group Sales Manager for Melia Belinda Blake; Cheap Caribbean's Senior Director of Marketing Dana Studebacker; Melia's Marketing Manager Nersibelis Rodriquez and Cheap Caribbean's Chief Marketing Officer Michael Lowery.
Melia cops another award
Janet Silvera, Hospitality Jamaica Coordinator:
It was cheers all around on the property of Melia Braco Village in Rio Bueno, Trelawny, last Tuesday (April 10) as the hotel, for the second time in two years, copped another major international award.
Coming on the heels of being named by the World Travel Awards as Best New Caribbean Hotel in 2016, Melia Braco Village has just been named the Dreamiest 'I Do' destination for weddings by the very reputable travel entity CheapCaribbean.com.
At a glitzy ceremony at the Level area of the beautiful beachfront property, Melia Braco, in addition to being presented with the official award, was also given US$100,000 worth of marketing exposure by the company.
"We had 227 entrants, and Melia Braco Village beat them all," said Michael Lowery, chief marketing officer of the Addison, Texas, United States-based company.
"The competition was keen, but in the end, it all came down to the intangibles, and I really cannot see a more beautiful or better location for weddings. This, in itself, is a major boost for Jamaica's tourism product."
CheapCarribean.com is a company that provides "unforgettable" vacation packages to the Caribbean, Mexico, and Central America. It also provides in-depth content on hotel properties and destinations, travel tips, as well as reviews from travellers.
'Astonishingly great'
For her part, senior director of marketing for CheapCaribbean. com, Dana Studebaker said that Melia Braco should also be commended for providing a service that is "astonishingly great", adding that the spirit and morale at the property is "beyond par" and far better than in "many other places".
"There is no mystery why this resort is held in such high esteem," she added. "It is just a beautiful place that is run by some very professional and a magnificent group of people."
Formerly Braco Village Hotel and Spa, Melia Braco Village has been reopened under the Melia Jamaica brand since 2014. The 226-room property is operated by Melia Hotels International and owned by the National Insurance Fund, the financial manager of Jamaica's social security programme.
An ecstatic director of sales for Melia, Angella Bennett, said that what makes the resort special is that it is far more than just "sand, sun, sea and people."
"Service is a major part of what we do here, and this we take very seriously," she pointed out. "This award is really a team effort, and I can't find the right words to describe the quality people we have here at Melia Braco."
She also noted that the US$100,000 in marketing exposure would be good for the hotel and, by extension, Jamaica.
"It is another opportunity to showcase our tourism product on the world stage in a big way," she added.
Bennett further pointed out that another high point of the resort was the cuisine, noting that "we can hold our own against the best in the world".