More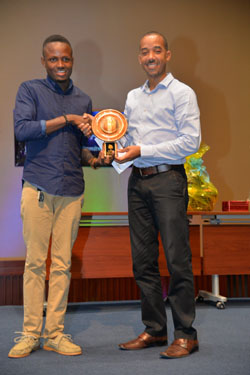 Richard Morris (left) is presented with his Employee of the Year award by Roger Williams, CPJ chief operating officer. - Contributed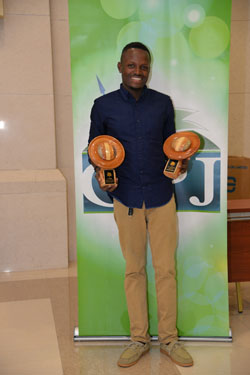 Richard
Morris shows off his awards.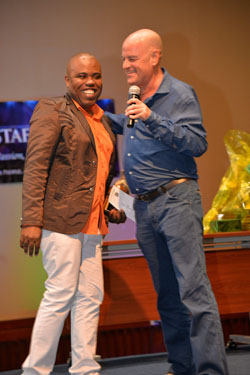 Tom Tyler (right), CEO of CPJ, with Andrew Reid, who has been with the company for more than 20 years.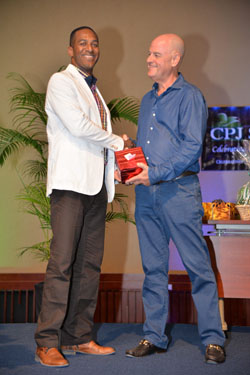 Hugh Logan (left), director of hospitality sales, receives an award for more than 10 years of service from CPJ CEO Tom Tyler.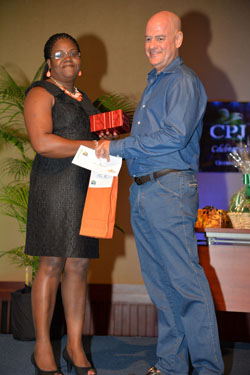 Maureen Haye accepts her award for 10 years of service from CPJ CEO Tom Tyler.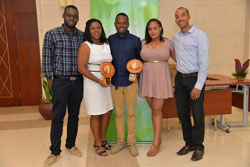 From left: Logistics Department's Romaine Barnes, Kerena Clarke, Richard Morris, Sharifa Spence, CPJ's 2014 Employee of the Year, and Roger Williams, CPJ's chief operating officer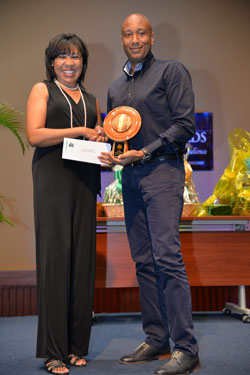 Janice Crichton, retail sales representative's top performer, is presented with her award from David Lowe, chief revenue officer.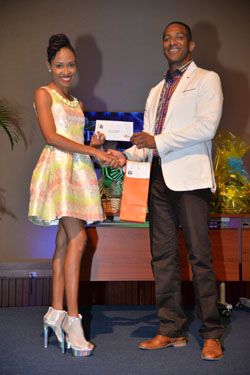 Terry-Ann Noble accepts her award from Hugh Logan, director, hospitality sales.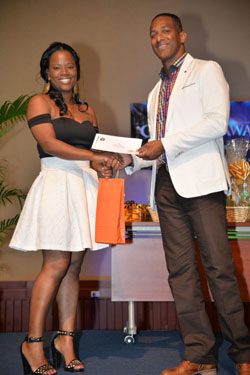 Tamara Dixon accepts her award for the Most Improved Employee from Hugh Logan, director, hospitality sales.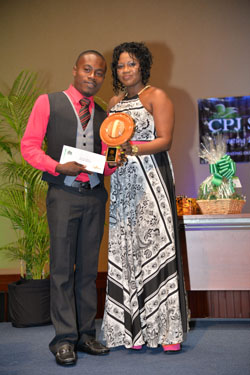 Romaine Peterkin of the Receivables Department accepts his Top Performer award from Kesha Ann Harper, CPJ director of finance.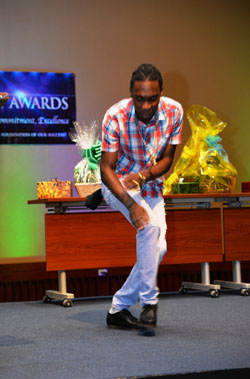 Jermaine McKenzie does a dance piece called 'Journey of Music'.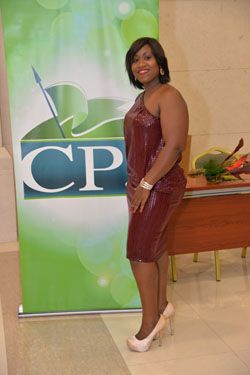 Marian Rankine of the Human Resources Department.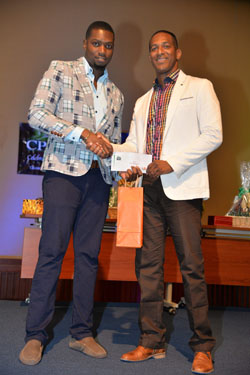 Douglas Malcolm (left) accepts his CPJ Image Award from Hugh Logan, director, hospitality sales.
Richard Morris is CPJ's Employee of the Year
Mark Titus, Hospitality Jamaica Writer
Richard Morris walked away with the Employee of the Year award last Saturday, as 61 employees of Caribbean Producers Jamaica (CPJ) were recognised at the annual staff awards ceremony at the Montego Bay Convention Centre in Rose Hall, Montego Bay.
In addition to copping the Employee of the Year Award, Morris also received special recognition for his work ethic and was named the top performer in his department.
"I am very happy that I have been selected as the Employee of the Year," Morris, a logistics controller, told Hospitality Jamaica. "I have to first thank Jan Polack, who interviewed me for the job and gave me an opportunity to express my talent, but I could not achieve this feat without the support of the management and my colleagues. This is indeed an honour for me."
Some 12 categories were covered in the award, in addition to a number of departmental recognition awards for outstanding performers.
However, Morris, a past student of Grange High School and the Montego Bay Community College, who has been working with the organisation for the last eight years, does not intend to slow down anytime soon, as he eyes a role in management in the future.
"I have grown at CPJ, and it has been good so far, but I want to reach at the top, maybe in management," said the Little London, Westmoreland, resident, who is currently pursuing a degree to become a chartered accountant.
Among the other top awardees were Andrew Reid for 20 years of service; CPJ Spirit Award to Janice Wynter; Sandra Brown, who won Supervisor of the Year prize; Judith Hunt, who was selected as the Manager of the Year; while Best Department went to CPJ Market Deli n CRU.
The company's chief revenue officer, Dr David Lowe, won the Chairman's Choice prize.
In his address, Chief Executive Officer Tom Tyler encouraged the workers to continue to offer service of the highest standard. He said that amid the high achievements of the company, which boasts locations in St Lucia and Jamaica, the Montego Bay-based firm intends to expand to other countries.
"We have established CPJ St Lucia and that is very exciting. We have taken what we do best to an additional location, and what this does is create a raft of other opportunities for our staff," Tyler stated.
"This year, we are going to start planting seeds in other countries ... . So our new vision is that we will be going offshore.
"CPJ has been a dream for the past 20 years. Now, we are going to take that dream and plant it outside of Jamaica."