More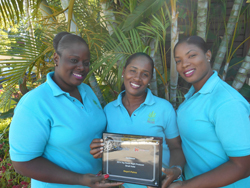 From left: Team members, Cordelia Blake, Charmaine Reynolds-Dunn and Latoya Hammond-Lee are all smiles on the recognition awarded by Expedia, the world's largest online tour operator.
Expedia's top-selling small hotel is J'can
Janet Silvera, Senior Gleaner Writer
WESTERN BUREAU:
The world's largest online tour operator, Expedia, has named 34-room Negril Palms the 2014 top-selling small hotel in the Caribbean.
Top-selling means among all the hotels that Expedia sells in the Caribbean that are a 100 rooms or less, explained Joseph Smith, who runs the resort with wife, Evelyn, immediate past president of the Jamaica Hotel and Tourist Association (JHTA).
The couple, who also runs TenSing Pen, took over Negril Palms in 2012. The property remains in receivership, out of which it is slowly digging itself.
Responding to the unprecedented recognition, Joseph Smith said the award was a credit to the staff who endured stressful times and very long hours to complete the work required to upgrade the hotel and serve its guests.
"At the time when we took it over, it was extremely run down, but we re-invested everything that we made back into the property, the buildings, the grounds, internal systems and marketing," Smith told Hospitality Jamaica, adding that significant effort was placed into the marketing of the hotel, primarily through the use of the Internet.
"The Internet and online tour operators are the saviours of small businesses in the tourism industry," revealed the long-time hotelier, who honed his skills at SuperClubs.
Pointing out the importance of online tour operators, Smith said because of Expedia, he was able to reach guests across the world,
"Expedia establishes a portal on their extranet in which each entity can post photos and manipulate their rates. As a result, small businesses in tourism are given direct access to the market."
In the last two years, the hotel's management has spent more than US$300,000 on building a brand-new pool, refurbishing, extensive clean-up of all guest rooms, improved technology, and the installation of new equipment and appliances throughout the resort.
Located in the middle of the Negril Beach, Negril Palms boast neighbouring landmarks such as Margaritaville and Couples Swept Away. The small, moderately priced resort operates on the European Plan, with its own restaurant and bar, which offers breakfast, lunch and dinner.
The resort caters to guests who primarily wish to stay in a small property and go out to enjoy the many offerings of a destination, said Smith, pointing out that his guests are strongly encouraged to dine in the many small seaside and roadside shacks along the Negril beach and road, and to take one of numerous tours to attractions in the area, as well as the rest of Jamaica.
In 2013, the hotel received the Jamaica Public Service Company Limited's Best Use of Energy award in a small-hotel award ceremony at the JHTA's annual general meeting.
janet.silvera@gleanerjm.com