More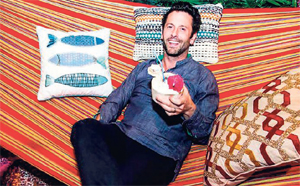 PHOTO BY COREY POLUK - Visitors to the Feel the Vibe Jamaica Pop Up Shop feel the magic of the island as the venue was transformed into an oasis complete with beach hammock and fresh coconuts.
JTB promotes luxury offerings to affluent members of Canada's The Spoke Club
The Jamaica Tourist Board in Canada recently hosted an exquisite evening for approximately 60 VIPs at Toronto's private member's club, The Spoke Club. Delectable Jamaican cuisine, complemented by live entertainment was the backdrop to the evening affair which was designed to promote Jamaica's luxury offerings to this affluent group, and inspire them to book a trip.
Philip Rose, regional director, Jamaica Tourist Board, Canada and Elaine Carnegie of The Tryall Club welcomed guests and introduced them to Jamaica's luxury portfolio and the offerings available at The Tryall Club, including their five-bedroom Sea Salt villa.
"Luxury travel continues to be a growing niche for Jamaica," said Rose. "This Spoke Club event allowed us to reach an affluent group of Toronto's elite who have the means to travel to Jamaica and stay at a luxury villa like Sea Salt at The Tryall Club. We are confident that events such as this help build our luxury brand in Canada and encourage new villa bookings".
The Tryall Club and their Sea Salt Villa had Chef Garrett Gordon prepare a custom Jamaican menu for the event that featured a signature hibiscus and rum cocktail, curry roasted pumpkin soup, lemon grilled snapper and a coffee Appleton rum brownie with coconut ice cream. A three-piece band entertained the guests throughout the evening. The grand finale was a prize draw that surprised lucky winner, Ben Lefevre (a model with Suderland Models), with a trip for two to stay at Sea Salt Villa at The Tryall Club.
Attendees included Jamaican-born Canadian Olympic gold medalist Donovan Bailey; president, The Spoke Club, Pierre Jutras and his wife The Real Housewives of Toronto's Gregoriane Minot; actress and model Celest Chong, and other local business executives.