More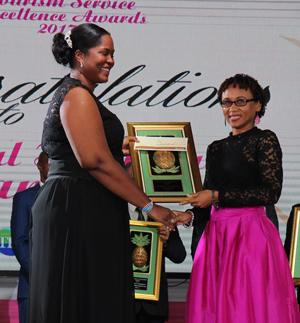 photos by Janet Silvera - Mikailla Robinson (left), Individual regional champion, Kingston, accepts vacation for two prize from Sandals Resorts International's Sheryl MaGaw-Douse.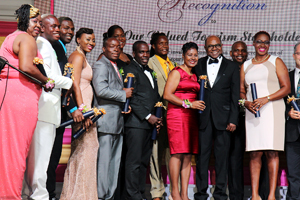 Tourism Service Excellence champions from the various resort towns share lens time with Minister of Tourism Edmund Bartlett.
Winners in Tourism Service Excellence Award
Janet Silvera, Hospitality Jamaica Coordinator
The Hyatt Ziva and Zilara are the 2017 Organisation and all-island champions in Tourism Service Excellence Awards (TSEA), while the Jamaica Pegasus' Mikhailla Robinson copped both the individual award for Kingston and overall in the country.
The Montego Bay resort and Robinson were the stars at Saturday's awards function at the Montego Bay Convention centre in Rose Hall.
Hyatt went up against finalists such as Chukka, Beaches Negril, the Judy House, The Courtleigh Hotel and Suites, Island Car Rentals, Sandals Negril and Royal Plantation, Dunn's River Falls and Parks, Beaches Ocho Rios and Sandals Southcoast.
At the end of the evening, the hotel, which ended 2017 being '1' and '2' in Hyatt America for service, walked away with the coveted recognition.
The Courtleigh was the top organisation in Kingston; Beaches Negril came out on top in Negril, Sandals Royal Plantation copped the number one spot in Ocho Rios, and Sandals Southcoast was the gem of the south, while Hyatt placed first in Montego Bay.
"Walking away with the TSEA top prize signals that we are being recognised for the excellence that we have created and only good things can come from this," stated Betty-Ann Brown, the resort's human resources director.
Robinson, who did joint degrees in hospitality and tourism management, is employed to the food and beverage department at The Jamaica Pegasus.
She had to compete with finalists, Janette Kaloo of Sunset Resorts and Villas, Treasure Beach; Hyatt's Winston Stones, a pool and beach butler; Amstar DMC's Michelle Sterling; Sandals Royal's Shanique Cunningham; Sandals Negril's Romaine Meggo; Beaches Negril's Kevin Spence; Goldeneye's Lennox Williams; Beaches Resort's Judy Henry Richards; and Olde Craft Market's Hopeton Powell.
The hospitality worker, who preaches that "in hospitality and tourism in general, service is the backbone of the industry", took home top honours and several prizes, including a scholarship valued at $1.8 million from the Northern Caribbean University to pursue her MBA.
Kaloo, Jones, Powell, Sterling and Williams all received special recognition awards from the Dr Guntley-chaired committee.
Guest speaker at the event was Senator Don Wehby, with Tourism Minister Edmund Bartlett lauding the awardees for their outstanding contribution to the industry.
The TSEA is geared towards promoting performance excellence within Jamaica's tourism industry, urging all participants to focus on a winning strategy that will ensure the country maintain its high repeat percentage, while attracting new visitors every day.
janet.silvera@gleanerjm.com