More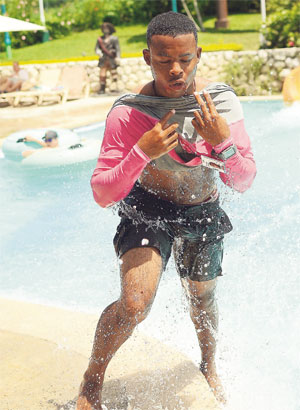 Johnson makes his way out of the pool.
Beaches Ocho Rios team member stars in viral waterslide video
IF YOU'VE been anywhere near the Internet in the last few days, chances are you'd have seen a jaw-dropping video of a young man skilfully gliding down a waterslide, skiing all the way across the pool, and amazingly, landing on the pool deck on his feet, managing to adjust his shirt as he lands.
The star of this viral video is 21- year-old Rolando Johnson, who has been working as a watersports attendant at Beaches Ocho Rios' waterpark for the last two years.
This rare capture of his impressive feat has been making the rounds on social media since earlier this week, amassing over five million views and swiftly climbing. Johnson's acrobatics have also earned recognition on TMZ, ESPN, and NBC's The Today Show and set the Internet ablaze, with many viewers debating its authenticity.
Johnson's stunt is indeed real and took him just over a year to perfect. Explaining that it was initially difficult to master and execute safely, he said that after 12 months of constant trial and error, the stunt, which should only be performed and attempted by highly skilled and trained watersports personnel, has almost become second nature whenever he happens to do it.
Johnson said: "At first when I came to Beaches Ocho Rios, I used to watch other people go down the slide and try and ski as far as they could across the pool. I decided I wanted to do that. After I became
good at skiing, I next vowed to make it all the way across the pool and walk up the side."
Seeing Johnson in action is a rare treat and one which Josh Martin, a guest at Beaches Ocho Rios, was lucky enough to witness. He explained that when he first saw the stunt on Instagram he thought
it to be a camera trick, so when he got the chance to holiday at Beaches Ocho Rios, he vowed to see the event for himself, record it and post for all his friends to see.
Luckily, he was able to catch Johnson in action.
Johnson has been taking his newfound fame in stride. "It's been kind of crazy ever since someone posted a video of me doing my waterslide skiing act on the Internet. Guests and staff alike are coming up to me every day, asking for autographs and hanging out at the poolside just to see me in action," he said.
He continued, "I am really proud to be contributing to the guests' experiences and making my team members and my hotel, in general, feel very proud. For me, it's all about helping Jamaica's tourism and giving back to Beaches Ocho Rios, who took a chance on me and gave me a job."
As for his future plans, Johnson said, "I am really happy to be doing my job and to be entertaining the guests, but in time, I want to work my way up the ladder. Tourism is my thing, and I see a bright future for myself at Beaches Ocho Rios."