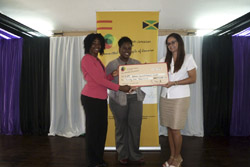 ANPE President Nordia Antwine (centre), accompanied by zone coordinator Shaneka Henry-McLean (left), accepts a symbolic cheque valued at JA$75,000 as sponsorship of awards for National Spanish Festival finalists from SJF general manager Karen Donaldson. - Contributed
The SJF recognises excellence at National Spanish Festival finals
Jamaica's Asociacion Nacional de Profesores de Español (ANPE) recently staged its annual National Spanish Festival Finals at the Shortwood Teachers' College, where more than 400 students from 29 primary and secondary schools across the island showcased excellence.
Categories judged included dance, drama, song, speech, and poetry - with nine creatively executed items presented.
The Spanish-Jamaican Foundation (SJF) pledged support valued at $75,000, which will go towards the purchase of awards for prize winners. SJF's general manager, Karen Donaldson, addressed a packed auditorium during the opening ceremony, praising both students and teachers for their dedicated efforts in bringing the Spanish language and culture to life in a multiplicity of formats.
She encouraged the participants to continue their foreign-language studies, highlighting some of the rewarding benefits of mastering such skills.
Established in the 1970s, ANPE members regularly participate in national educational activities, including regional workshops for teachers and students, the creation of educational materials and the preparation and revision of curricula.
The association works closely with the Ministry of Education and collaborates with The Spanish-Jamaican Foundation, as well as other embassies representing Spanish-speaking countries in Jamaica. Each year, ANPE hosts the National Spanish Festival Competition which encourages students at both the primary and secondary levels to compete and share their skills.
VERY GRATEFUL
President of ANPE Nordia Antwine, who spearheaded the complex coordination and successful implementation of this competition along with Shaneka Henry-McLean, expressed her gratitude to the Foundation for the partnership.
Founded in 2006, the SJF is a collaborative effort of a number of Spanish companies with investments in Jamaica. Their main objective is to strengthen the friendship between Spain and Jamaica.
The SJF stages and supports educational, cultural, environmental, and health-based community development initiatives.
The learning of Spanish is one of the SJF's priorities. The groups that form the SJF include RIU, Iberostar Hotels and Resorts, Secrets Resorts and Spa, Grand Palladium, Gran Bahía Princípe, Excellence Group, Hospiten, and Global Exchange, while the ambassador of Spain to Jamaica serves as honorary president.