More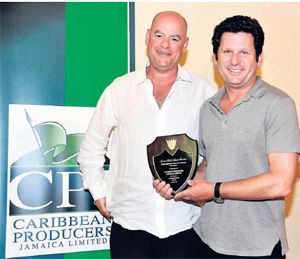 FILE Caribbean Producers Jamaica, co-chairmen, Tom Tyler (left) and Mark Hart showing off their coveted Jamaica Hotel and Tourist Association 'Purveyor of the Year' award at the association's Annual General Meeting at the Sunset Jamaica Grande in 2011.
Bright future for CPJ
Established in 1994, Caribbean Producers Jamaica Limited (CPJ) is now well-known as one of Jamaica's leading food-service manufacturers and distributors in the retail and hospitality sectors. CPJ offers a wide array of internationally and locally manufactured products including wines, spirits, beverages, groceries, meats and seafood. The company is headquartered in Montego Bay, with subsidiaries CPJ Market and CRU Bar + Kitchen operating in Kingston, and a new branch of the company opened in St Lucia in 2014.
A large, diverse product portfolio
CPJ carries well over 3,000 SKUs, including its eponymous brand of meats and juices. Company founder and chairman, Mark Hart, says, "We are proud to be the purveyor of choice for our extensive selection of products, which allow us to meet the varying needs of all our customers, from owner-operated restaurants to large hotel chains."
Top team
CPJ counts its people as its greatest asset. Dr David Lowe was appointed CEO of the company in June 2016, and he describes his tenure thus far as challenging, yet fulfilling. Under Lowe's strategic course, the company is focusing on developing talent from within. "Fostering professional development motivates and empowers our workforce to peak performance, and only a high-performance culture will sustain our business evolution," says Lowe, who plans to leverage CPJ's strong business model and deep industry knowledge to unlock further potential.
Corporate social responsibility
CPJ continues to uphold its reputation as a responsible corporate citizen by giving back to the communities in which it works, supporting ventures in education, youth development, and health. Dr Lowe notes, "moving forward, we want the corporate social responsibility initiatives we support to align with our business mission, vision, and values and have the greatest possible impact in our communities. We expect that by 2018 we will be well on our way to the development of a CSR framework that positively impacts our people, the planet and continued shareholder value."
With the tourism industry in Jamaica positioned for growth, especially as vacations are rerouted from our hurricane-affected neighbours, CPJ prepares to meet this increased demand with its trademark quality customer service. In addition to a new 65,000 sq ft mixed-use distribution building, the company is arming themselves with new technology to enhance efficiency, communication and supply chain management.
"At CPJ, it's important to remain on the cutting edge of smart technology to better serve our employees and customers and retain our leading market position," says Hugh Logan, director of hospitality sales. "We're always working to meet our goal of providing the highest levels of service delivery to both new and existing clients. CPJ will continue to measure its success by its customers' success."