More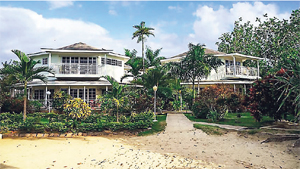 Rondel Village a participant in the Jamaica Inns and Hotels Programme.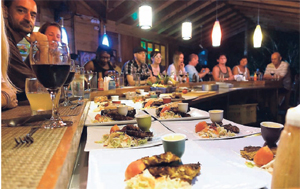 Zimbali Retreat serves up a mouthwatering menu. The retreat is a participant in the Jamaica Inns and Hotels Programme
Jamaica Tourist Board and GuestServe partner to support small-accommodation properties
The Jamaica Tourist Board (JTB) has embarked on a special initiative, the Jamaica Inns & Hotels Programme, for the island's small-accommodation sector. The arrangement is a partnership with GuestServe Inc, a Canadian-based provider of online reservations services for businesses of all sizes to engage and improve their brand presence online.
This JTB initiative with GuestServe provides smaller with 100 rooms or less with digital assets similar to those of larger properties. The initiative is informed by research, which indicates that many of Jamaica's small properties do not have the necessary digital footprint to compete in the current marketplace.
The platform is housed at www.jamaicainnsandhotels.com and close to 300 properties are live on the site. The Jamaica Inns & Hotels Programme is designed to benefit the small-accommodation provider with amplified online marketing support, thereby creating greater visibility. The platform includes a robust reservation system, which allows clients to make direct bookings for their selected property.
beneficial
The Jamaica Tourist Board is funding the development of the GuestServe platform, making it free for property owners to use GuestServe. This makes it even more beneficial for small properties to take advantage of this marketing resource.
Through this extranet platform, each property will be able to manage, among other things, their own content, room inventory, property images, discounts, and offerings in real time to the consumer.
Marcia McLaughlin, deputy director tourism, Jamaica Tourist Board, said: "I am pleased that we are able to empower our small hoteliers by offering them this invaluable support through this service. The Jamaica Tourist Board's goal is to have a rich site that is representative of Jamaica and the vibrant small-accommodations sector. We are confident that using the GuestServ platform will augment their product offering and attract visitors to their property. This is a strategic decision that we anticipate will be extremely beneficial to our accommodation sector." Ms McLaughlin emphasised, "Properties that are interested in participating in the programme can still benefit by contacting our regional office in Montego Bay."
Trends in the hospitality and travel industry indicate that travellers are opting for intimate experiences such as those offered by small properties. Empowering this sector of Jamaica's accommodation portfolio is critical for the destination to maximise the benefits of this growing market. It is anticipated that from the increased online exposure, Jamaica's small properties will experience significant growth in their occupancy levels.