More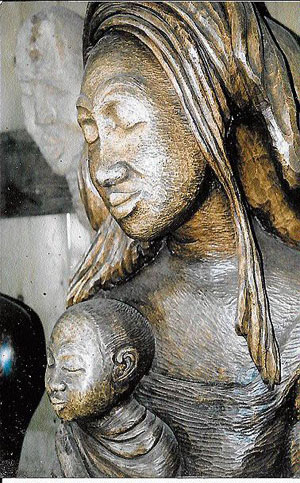 Abdel Mason's 'Mother and Child'.
Artist in Residence Programme showcasing best of Jamaican craft
Jamaican hoteliers have been long-time proponents of presenting the finest of Jamaica's creativity to the visiting public. Most of our finest chefs have been trained in the accommodation sector and have been allowed to use local produce and recipes to create a distinct Jamaican flavour. So it is with fashion, music, dance, and art and craft. Tourism as a whole has played a significant role in sustaining brand Jamaica in general, and specifically the craft sector, by enabling sales outlets, providing training, and supporting standard bearers and promotional activities and events.
For a very long time, hoteliers have had their Jamaica days and nights where the fare is all about the destination and the products supplied by locals. For the most part, this has been a free service to the surrounding communities who depend on tourism for their survival, but who have been locked out of the all-inclusive system. This was a way in. Sandals is one such property that continues to deliver on their commitment to Jamaica by enabling local craft traders and artisans to participate, very importantly - free of charge in their residential product - other places will oftentimes place aqqqa fee on participation, which in turn pushes up the resale cost to the guest and causes dissatisfaction when sales are not made.
Many hotels are partnering with the Tourism Product Development Company to roll out yet another very dynamic programme designed to present the very best of Jamaica's design and craftwork. This programme is called the Artisan in Residence Programme. This is where local master craftsmen and women are invited onto hotel properties as experts in their field. They are invited to share their art and craft and to provide for the guest, by appointment, an interactive experience utilising the medium. Their tenure can range from one week to a month, depending on the entity and the response.
This is not a brand new idea, there are many places where there are writers in residence, and painters in residence and these projects take on all kinds of manifestations both nationally and globally.
The first official Artist in Residence Programme will kick off today, Wednesday, January 27, with Round Hill Hotel and Villas presenting an audience with master carvers, focussing on the work of Abdel Mason from Hanover; Errol Lewisfrom St James; the Rose Hall Success Craft market carvers in the person of Errol Anderson and Stafford Stewart; and from St Catherine, Fitz Mitchell. All of these carvers are very different in their inspired presentations in wood, carving styles and products.