More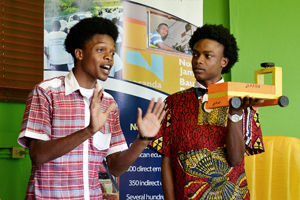 Brothers Shawn Henry (left) and Shane Henry doing poetry during a presentation at the Port Rhodes Sports Club.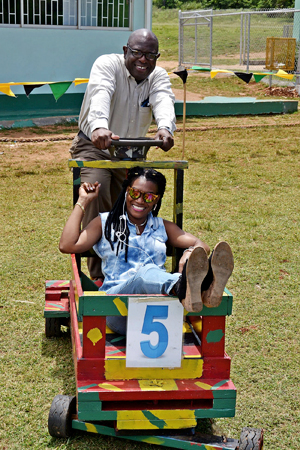 Portland Chamber of Commerce representatives, Fredrick Young and Simone Campbell play around in a push cart while at the Port Rhodes Sports Club.
New tourist attraction based on push cart derby
Carl Gilchrist, Hospitality Jamaica Writer
It might have come 30 years late, after the world got to know about Jamaica's push cart derby through the 1988 film Cool Runnings, which mapped the journey of the island's bobsled team at the Winter Olympics, the bobsled having been inspired by the push cart derby.
But it's finally here. Show Cart, a tourist attraction that mimics the push cart theme, has opened at Noranda's Port Rhodes Sports Club in Discovery Bay, St Ann.
Breezing down the hill at breakneck speed, the adrenaline factor that made the push cart derby so popular back in the '80s, is absent as the races are done on the playing field.
However, as a package that includes five exciting push cart races, cultural concerts by Jamaica Cultural Development Commission gold medal winners Young Skankers and One-Ten Singers from Farm Town; the veteran group Trysee Singers, who will present authentic Jamaican folk singing; drumming, treasure hunts, Jamaican foods and more, Show Cart seems set to take off.
According to Noranda's Lance Neita: "Show Cart, the latest attraction for St Ann and the whole of Jamaica, is a community-based, sustainable project introduced and managed totally by Discovery Bay citizens and residents, also the Kaiser Retirees Association."
The attraction is based on the push cart derby which originated in Discovery Bay.
"It also features the bobsled dream, which started as a result of the push cart derby and the Cool Runnings film which was inspired by the push cart derby right here at Kaiser Sports Club, known as Port Rhodes Sports Club," Neita added.
He said that the initial response to Show Cart has been positive.
On the day Hospitality Jamaica visited the attraction, members of the Jamaica Hotel and Tourist Association (JHTA) were there experiencing the product.
"They told me today they really enjoyed it and they will be pushing and promoting it," revealed Neita, who also stated that they were encouraging the cruise shipping operators, the hotels, and the travel agencies, tour organisers, and bus drivers, to visit Port Rhodes.
"It's a wonderful attraction, and it features Jamaican culture, Jamaican history, and a Jamaica institutionalised sport call push cart derby" he argued.
Show Cart will put on a show three days per week - Tuesday, Wednesday and Thursday - between 9:30 and 12 noon.
Entrance fee is set at US$30 with a specially discounted price of J$1,500 for Jamaicans, with children under 14 required to pay $500.