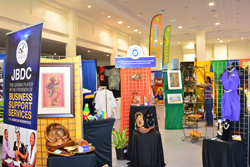 Local suppliers of goods and services at the recently held Jamaica Product Exchange (JAPEX) 2014 trade show.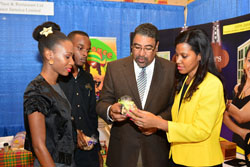 Minister of Tourism and Entertainment Dr Wykeham McNeill (secondright) and Jamaica Hotel and Tourist Association president, Nicola Madden-Greig (right), admire a package of potpourri made from local wood shavings, spices, herbs, and fragrances. Looking on are managing director of Bartley's All In Wood and Jamaica Business Development Corporation Enrepreneur of the Year 2014, Lacey-Ann Bartley (left); and wood builder at Bartley's All In Wood, Odain Evans. - Contributed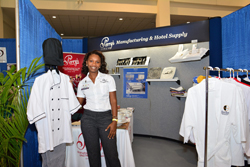 Perry's Manufacturing and Hotel Supplies is moving to strengthen its linkages with the local tourism sector. - Contributed Photos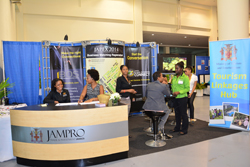 The Ministry of Tourism and Entertainment's Tourism Linkages Hub has been partnering with JAMPRO and other entities to strengthen linkages among tourism, manufacturing, agriculture, entertainment and other sectors of the economy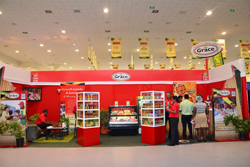 GraceKennedy was among the more than 80 local suppliers of goods and services which had a strong presence at the JAPEX 2014 trade show, through the coordinated efforts of the Tourism Linkages Hub and other partner entities.
Linkages Hub scores high at JAPEX 2014
Dozens of Jamaica's producers of goods and services made a tremendous impact on the tourism sector and the general public through their participation in the recently held Jamaica Product Exchange (JAPEX) 2014 at the Montego Bay Convention Centre.
Participants, especially those getting this wide exposure for the first time, were overwhelming in their praise for the Tourism Linkages Hub and JAMPRO, which partnered in facilitating their presence at the premier travel trade show.
The Tourism Linkages Hub is an arm of the Ministry of Tourism and Entertainment and is charged with facilitating trade among players in tourism, agricultural, manufacturing, entertainment and other sectors of the economy.
More than 80 local suppliers of goods and services, including manufacturers, participated in the 2014 trade show. The ministry, through the hub, organised booths for the participants.
Pleased with the outcome
Tourism Linkages Hub project manager, Carolyn McDonald-Riley, is also pleased with the outcome from the three-day event. She said there were more than 36 manufacturers and more than 40 individuals on show. "Also, separate and apart from sales on the floor, we got the purchasing managers to visit and they paid special attention to the products being offered," she said.
McDonald-Riley said, "A major thrust was to get the purchasing managers interested in doing business with the Linkages Hub participants, not only now, but also in the future so that when, for instance, hotels are refurbishing, manufacturers can engage them with a view to supplying their needs."
"The outcome was fabulous. We walked the floor and spoke to every participant. Some said it was wonderful, some said it was the first time they were having that experience, and some who were selling did very well," she disclosed.
Also, while some businesses already had good deals with hoteliers, others secured leads that they would be following up on.
McDonald-Riley said it also emerged, that "they need a lot of training in how to sell and market their products", and this would be dealt with going forward, as "now we're not just looking at the Jamaican market, but we're looking at how some of our businesses can get into hotels internationally."
She noted that "whatever it takes to generate more employment, earn foreign exchange and grow our local companies then that is what we're going to do."
President of the Jamaica Manufacturers Association (JMA), Brian Pengelley, welcomed the involvement of the Tourism Linkages Hub. "The whole linkages initiative is absolutely what we've been talking about for years and finally we're seeing it happen. We've been working very hard between tourism, manufacturing and agriculture to get things going because the hub could come and be the icing on the cake," he said.
Pengelley added, "once we get that going and we have all the other things active in those sectors I talked about, it's just added benefit to the country and to the economy, and we so badly need that."
The Rural Agricultural Development Authority's (RADA) chief executive officer, Lenworth Fulton, believes "the growth in the sector must be dependent upon the tourist coming here and eating more of our food, our ground provisions, our spices, our meats. It's as basic as that."
Partnership
He said as a partner on the Tourism Linkages Council, "we are trying to link our farmers and our processors with the hotel industry. Some of them are well embedded in it already but we're trying to get even the smallest farmers to find a way to get his produce out there."
Fulton feels that the linkages hub is an ideal vehicle to achieve that objective "because one has to have the critical mass and have the players in the industry, and on that council you have the hoteliers, the representatives from the private sector and you have the permanent secretaries from the various ministries - Tourism and Agriculture - so we hope we will get people closer and build business out of it."
Minister of State in the Ministry of Industry, Investment and Commerce, Sharon Ffolkes-Abrahams, welcomed the partnership with the linkages hub, pointing to it as a good example of what the concept of joined up government can achieve.
"This is the way to go because when you have the joined up government approach you're able to accomplish more," she said.
With JAMPRO, which falls under her ministry, accustomed to making deals for foreign direct investment, she said, "this gives us an opportunity to do what we do best with tourism."
Ffolkes-Abrahams said, "this linkages programme is the way to go."
The Jamaica Hotel and Tourist Association (JHTA) is a major partner in the linkage hub initiative and President Nicola Madden-Greig "thinks it's working very well."
She disclosed that, "we have been developing partnerships not only with the suppliers to the industry but also with small and large hotels." There are collaborations within the industry on linkages and "we're working with suppliers to the industry," she added.
Through JAPEX, Madden-Greig noted, "we continue to work to ensure that they are aware of the new products that are coming on stream into the market when they are refurbishing and the suppliers are aware of the kind of services that we need."
She further explained that, "it helps Jamaican manufacturers and suppliers understand our business better and also to custom-make products to ensure that we are able to buy more easily, because we are being targeted by overseas suppliers and they are very aggressive in pushing products and services to local hotels. We want our local partners to have an equal chance to present products to us so that we can continue to grow our country through the benefits of what tourism brings."