More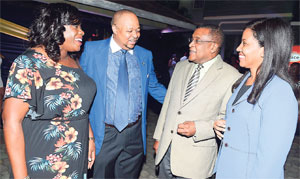 CONTRIBUTED PHOTOS - Chef Selwyn Richards (second left), with Paul Pennicook, director of tourism; Nicola Madden-Greig (right), chairperson of the Gastronomy network in the Ministry of Tourism; and Carolyn McDonald-Riley, head of Linkages Network in the Ministry of Tourism.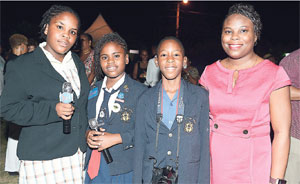 Kandi-Lee Crooks-Smith (right), principal of the Allman Town Primary School and KiDz HuB Media Network ambassador for the Caribbean, with Shiloah Brock (left) of Camperdown High School; Rianna Salmon (second left) of Allman Town Primary School; and Jo- Nathan Smith of Jamaica College, junior broadcasters from the KiDz HuB Media Network.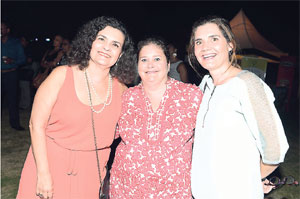 Colleen Pigeon (centre), chargée d' affaires representing Canadian High Commissioner to Jamaica, with the Embassy of Spain to Kingston's chargée d'affaires Carmen Rives (right), and Mexico's Ambassador to Jamaica, Her Excellency Martha Cecilia Jaber.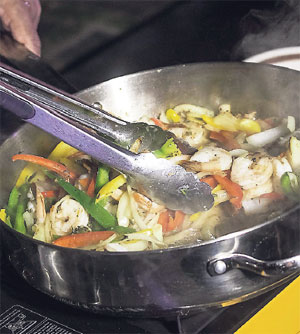 Chef Selwyn Richards (not seen in photo) prepares a signature recipe to tantalise the taste buds of those in the audience.
Chef Selwyn Richards launches 'The Art of Cooking: Soul of the Caribbean'
Recently, more than 200 specially invited guests gathered at The Inn at 6 in Barbican to experience tantalising delectables from Chef Selwyn Richards' brand new cookbook, The Art of Cooking: Soul of The Caribbean. It was a magical evening of great food, fine wines, and refreshing Caribbean entertainment.
Colleen Pigeon, chargé d'affaires representing Canadian High Commissioner to Jamaica Sylvani Fabi, spoke of the long-standing trade relationship between Canada and Jamaica over the years. Canada traded codfish from Newfoundland and Jamaica traded unprocessed rum in return. The trade was so significant between both countries that codfish (salt fish) became an integral part of Jamaica's national dish - ackee and codfish (saltfish) - and Canada used Jamaica's rum for 'screeching' visitors to Newfoundland, thereby making them honorary Newfoundlanders.
Director of Tourism Paul Pennicook, representing Minister of Tourism Edmund Bartlett, spoke of the minister's passion, which is gastronomy tourism, as tourists usually "travel for their passion".
Giving Back
It is Richards' desire to give back to his home country, Jamaic, by imparting his culinary skills and knowledge, which he has honed while living in Canada. He has expressed interest in working with the HEART/NTA to provide culinary-fusion workshops for their students.
"The Caribbean, especially Jamaica, produces some of the most exotic fruits, vegetables, and spices in the world. Caribbean cuisine is now trending globally, and I see myself as a pioneer in exposing this culinary fusion. My vision is to move it from the Styrofoam containers to a formal dining experience," Richards said.
Cook Book
This special collection, The Art of Cooking: Soul of the Caribbean, evokes memories, nostalgia, and good times. Along with the classic recipes, Richards shares his thoughts on food as well as a melange of mouth-watering dishes from many Caribbean islands.
Sponsors
Sponsors for the evening included the Jamaica Tourist Board and Jamaica55, which facilitated Richards' travel and accommodations. Wines for the evening included the premium Castillo de Daimiel Reserved (red), Las Tablas Rosado (Rosé) and Clavileno Blanco, courtesy of Spanish Wine importers, Olive International Investments Limited.
Tourism consultant Sandra Scott was the event's project manager. Event management and production services were provided by XKLUSIV Media Group Limited, which was responsible for the execution of the event, and table decor and settings were provided by Tora's Elegant Designs. Other sponsors include JN Bank and BrandEQ, Canada.
Part proceeds from the sale of Richards' cookbook will go to the Possibility Programme for At-Risk Boys in Jamaica.