More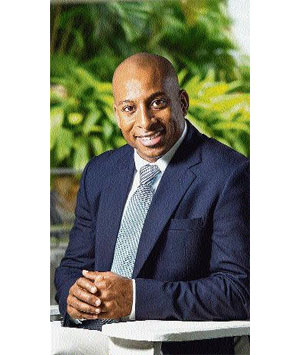 Omar Robinson, president of the Jamaica Hotel and Tourist Association.
2017: a big year for tourism
While tourism has long been considered the main engine of growth of the Jamaican economy, 2017 will long be remembered as the year when the industry finally realised its true potential, sector players said.
They point to the record number of stopover and cruise arrivals, in addition to investments in new hotels as well as a level of confidence within the industry that has never been seen before.
"It was truly a banner year for tourism," explained Jamaica Hotel and Tourist Association (JHTA) President Omar Robinson.
"Having four million visitors in a single year, by any stretch of the imagination, is a remarkable feat. What, is worth noting, however, is the level of optimism we now have within the sector ... investor confidence and a belief that things can only get better."
Robinson's view is also openly shared by Chukka Adventure Tours' Marc Melville, whose company recently pumped US$4 million into its Good Hope, Trelawny, facility.
HIGH INVESTOR CONFIDENCE
"Investor confidence is indeed high, and we at Chukka feel the industry is on the right track," he said.
"2017 was a phenomenal year for both stopover and cruise arrivals, and we are very comfortable with our upgrade at Good Hope, especially in our adventure water park."
In the meantime, mayor of Montego Bay Homer Davis, while acknowledging the phenomenal gains made by tourism, noted that it was also important to bring the crime situation under control where "the numbers can even be better."
"Even with all our problems, it has been an amazing year for tourism," he noted. "We just staged the biggest tourism conference ever here in Montego Bay, and we have also opened a number of high-end properties, further enhancing our role as the tourism capital of the region."
Kudos are also being meted out to tourism minister Edmund Bartlett whose "leadership and vision" are being hailed as a real turning point in a sector that has consistently demonstrated a level of profitability and dependability.
"Say what you want to say, but the tourism minister must be commended for his vision, hard work, and dedication," explained Garfield Dussard, a water sports operator with operations in Ocho Rios, Falmouth, and Montego Bay.
"When you look back at tourism in 2017, it will be remembered as the year when Jamaica achieved what many of us didn't see as possible. We saw records in both arrivals and revenues, we saw an increase in retention where more of the tourism dollars are now staying in the country, and we saw the opening of a number of luxury hotels and investments in a number of high-profile attractions."
For his part, Ravi Daswani, a senior director of the Royal Shop chain of duty-free stores, said that it is important for Jamaica to build on the 2017 momentum, noting that it would be very sad, "if not tragic" to allow complacency to reverse "all the wonderful gains."
"We have to continue to be proactive and to double our efforts going into 2018," he urged. "We have seen what is possible and the lofty heights we can reach."