More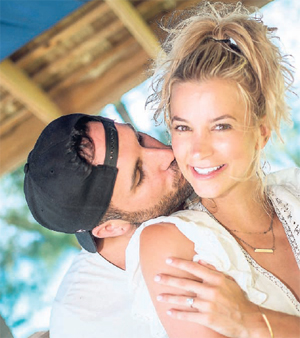 Sabina Gadecki and Tyler Rich.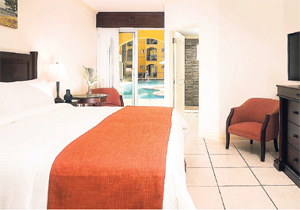 One of Jewel Paradise Cove's Pool View Room. There are a total of 225 rooms from which guest can choose either a Premier, Pool view, ocean view, oceanfront concierge, garden view with butler service (Junior suit) or oceanfront butler service (junior suite).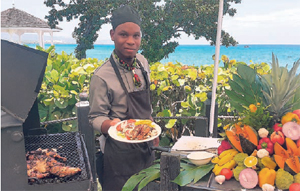 Chef Albert Lawrence shows us how he makes his famous jerk chicken.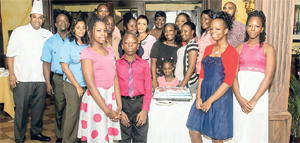 Four children of Jewel Paradise Cove staff did exceptionally well in their GSAT examination and were treated to lunch and a prize-giving reception, where the general manager, Barbara Burton, got a chance to meet them because she believes they are a part of Jewel Paradise Cove's extended family.
Jewel Paradise Cove: a rejuvenating experience
Arianne Hammond, Contributor
Working a 40-hour week, five days per week, can become a little taxing and overwhelming for some people. Jewel Paradise Cove Hotel, which is literally tucked away in a cove, is the perfect therapy for working adults who need some time to rejuvenate their bodies and replenish their spirits.
The Radiant Spa is the epitome of serenity and peace, with two steam rooms and saunas and 11 massage rooms with the beautiful backdrop of the azure waters of the Caribbean Sea. Hands of certified and capable masseuses work to take the stress away as they knead deep to unknot muscles.
The spa also has the Vichy Experience, where the water does the work as you lay on the massage table and adjustable shower heads are placed at the perfect spots on your body with the right pressure and temperature to soothe those aching muscles.
Dining
There is always something to tempt guests' pleasure palates at the Jewel Paradise Cove with seven restaurants to choose from. For those who like to see a night show, try the Coral Café and enjoy the live entertainment.
To go to the Jade Samauri Bar, you first make your appointment and then enjoy live cooking as your chef prepares your meal. Guests can also be treated to dinner under the stars while enjoying the weekly beach party as food and alcohol flow lavishly.
For the night owls, Bling nightclub is a great place for guests to let down their hair and dance the night away while enjoying generous amounts of libations as the deejays keep the energy up with various sets of dance music.
The piano bar is also a fun spot, think karaoke but instead of a computer playing the music, a pianist sits at the piano and takes requests from the songbook, and everyone is welcomed to join in and sing along.
Paradise Cove also has great water sports that bring out the kid in you, with three swim-up bar pools as you luxuriate in the sun with your drink of choice. There is also a 202-foot water slide that you must try at least once.
The beach
The Caribbean Sea is there for you to explore. You can go sailing on the Hobie Cat with a captain to guide the sails in the right direction. There is also kayaking, if you can handle the waves and get a biceps/triceps work out. There is also the opportunity to paddle board, which really helps your core; or you can just relax and look at the adventure under the sea in the glass-bottomed boat.
There are 225 beautifully furnished rooms that come equipped with standard flat-screen television, a comfortable bed, a balcony offering views of the perfectly manicured garden, or looking out into a pool or the ocean.
If you are planning to visit the Jewels Paradise Cove for your next vacation, keep in mind it has an 80 per cent occupancy rate, hence reservations must preferable be done in advance.
Great service
One thing that stands out from the moment you arrive is the service and hospitality of all members of staff. Barbara Burton, general manager of the resort, knows this quality of service that each member provides sets Jewel Paradise Cove in a class by itself. As she opines, "It's the genuine Jamaican hospitality that our guests want that gives us repeat business from local and foreign guests." This statement is backed up with several international awards , including the Service Excellence Award and Outstanding Quality in Service from Apple Vacation, MLT Vacation and Booking.com and Trip Advisor's Travellers Choice Award.
Must-try food:
THE JAMAICA PIZZA FROM COURT JESTER/MOONSTONE RESTAURANT
MADE FROM JAMAICAN JERK SAUCE, MOZZERALLA CHEESE , SWEET POTATO CRISPS, COCONUT SHAVINGS AND JERKed PORK; THE CRUST IS GLAZED WITH A MIXED-HERB SPECIAL.
Must try activity:
SAILING ON THE HOBIE CAT.