More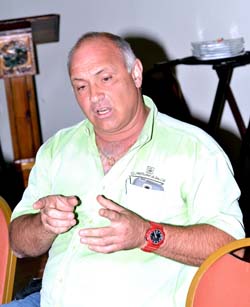 Marino Mafessanti, director, St Ann Chamber of Commerce. - Norman Grindley/Chief Photographer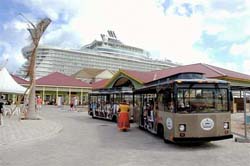 The Falmouth Cruise Pier.- File
The Falmouth model has failed - Mafessanti
Carl Gilchrist, Hospitality Jamaica Writer
St Ann businessman Marino Mafessanti believes that the development of the Falmouth pier in Trelawny has failed to provide the expected jobs and other economic benefits to the town.
"The Falmouth model has failed," Mafessanti told a Gleaner Editors' Forum in Ocho Rios last Wednesday.
According to Mafessanti: "We have failed to have an accommodating way to have guests travel comfortably from ships to attractions."
One of the grouses that has emerged from cruise passengers that disembark at the Falmouth pier, is the extended time they have to spend travelling the long distances to attractions in the neighbouring parishes of St Ann or St James.
Trelawny has very few attractions to delight visitors, and despite the pier being opened for several years now, there has been a failure, on the part of both the private and public sector, to develop additional attractions in the town or even the parish.
As a result, townsfolk are not getting the desired benefit of having a port that is capable of hosting some of the world's biggest cruise liners.
Falmouth resident, Brian Elliott, while expressing disappointment that Falmouth is not benefiting from the pier, believes the model is not yet a complete failure.
"I think it is failing," Elliott told The Gleaner last Friday. "And it's very disappointing."
"There is no direct benefit to the residents of Falmouth because the town is being bypassed. The pier is used primarily to sell tours outside of Falmouth," he argued.
"On a typical ship day, all the hustle and bustle is of buses shipping out the tourists to other parishes. You can't tell it's a ship day by just looking at the town because there is hardly any activity relating to tourism outside of the pier."
"I think the real benefit is the perception that Falmouth is benefitting from the pier, so what we have now is more people buying premises in Falmouth. But in terms of employment because of the pier, there is nothing like that. Added to that, there is hardly any local-based business that benefits either. It is really disappointing," he lamented.
The Ocho Rios pier lost out big when the Falmouth pier opened around four years ago. Several ships changed their itinerary, cutting off Ocho Ocho at the inclusion of Falmouth. However, last month, Ocho Rios was voted the Caribbean's Leading Cruise Destination, sparking hope that it will lead to increase in arrivals at the port.