More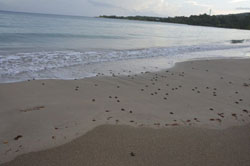 Turtles making their way into the ocean. - Janet Silvera Photo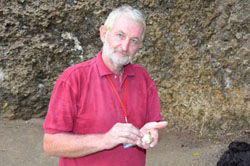 A lover of the environment, Melvyn Tennant shows what an egg looks like.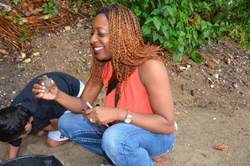 Hospitality Jamaica coordinator, Janet Silvera, holds a newborn turtle just before releasing it to find its way to the ocean. - Contributed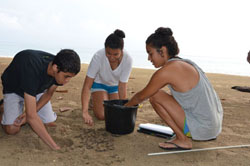 From left: Siblings, Niall, Alanna and Jordan Williams removing turtles from their nesting place and releasing them into the environment so they will have a chance of living.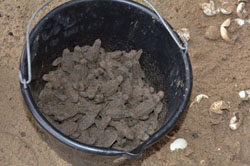 Several turtles placed inside a bucket, just before being released into the ocean.
Turtles making their way to the ocean.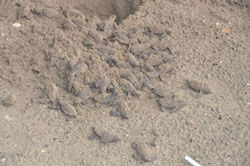 Turtles released and given a chance at life.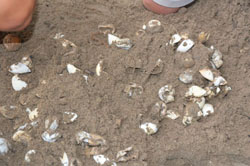 Turtle eggs scattered on Pearly Beach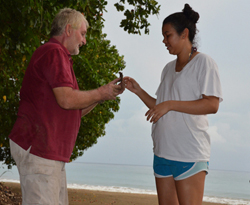 Warden Melvyn Tennant assists student Alanna Williams during a turtle-releasing session at Pearly Beach in St Mary.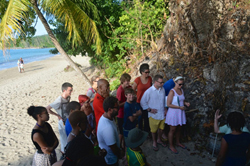 Visitors to the island watching the turtle releasing.
Turtles thrown a lifeline
English retiree dedicates life to saving reptiles'
Janet Silvera, Hospitality Jamaica Coordinator
Sadly, only an estimated one in 1,000 to 10,000 turtles survive to adulthood because of predators, particularly humans, who have contributed to their extinction.
Now among the endangered species of this world, each year thousands of hatchlings emerge from their nests on the Gibraltar Beach in Oracabessa, St Mary, where they are monitored, protected, then released by a retired English educator, Melvyn Tennant, who has dedicated his life to saving theirs.
Tennant, a game warden 10 years ago, started releasing turtles into their natural habitat - the ocean. In 2013, he released 14,600, an exploit that is now being celebrated by tourists who visit the legendary Island Outpost Goldeneye and the elegant Jamaica Inn resorts.
Tenant approximates that about 2,000 visitors now watch the phenomenal turtle releasing on the island's north and east coasts, between St Ann, St Mary, and Portland.
"Coming all the way from zero, we now give up to 90 per cent of them born on this beach, a chance at survival from land-based predators," Tennant told Hospitality Jamaica during a hatching session on the beach once frequented by Jamaican men who were convinced that turtle punch and soup could help spruce up their sex lives.
It was education and not threat that the game warden said he used to communicate the importance of contributing to the preservation of the turtles, "and today, we haven't had a turtle or eggs taken".
Humans, he could educate, but for the crabs who would grab the turtles en route to the ocean, and the birds that would swoop down and steal them as quickly, Tennant said he implemented other methods.
"Before we do anything on the beach, we search for the holes made by crabs and ensure they are covered, ensuring safe passage for the turtles," Tennant pointed out, adding that already 9,400 turtles were released this year and the season, which is busiest in September, October, and November, had just began.
He and his team of young students - siblings, Niall, Jordan, and Alanna Williams, were tending about 90 nests on the beach when Hospitality Jamaica visited in August. The 90 nests, he said, equates to approximately 12,000 hatchlings.
Three weeks later, on Monday, September 15, that number multiplied to 161 nests, with the expectations of sending 20,000 of them back to their homes this year.
Excited by the prospects, Tennant described the process: "After the turtles are released from their nest, they are placed in a bucket where they exercise for approximately five minutes before being released onto the sand and they make their way into the ocean."
According to him, the turtles navigate by magnetic forces of the earth and, like birds, they orientate themselves to the beach on which they were born, coming back to lay their eggs up to 16 years later.
"They go into the ocean, some ending up in the Gulf of Mexico, Nicaragua, and Central America. Eventually, the current brings them back to their place of birth," said Tennant, adding that the turtles will lay up to seven nests in one season. However, they must be 16 years old before maturity to nest and lay eggs.
The game warden, who is calling for training for persons in the industry, said there was a need for others to take over, because he has been doing it for 10 years and will soon retire permanently.
Currently, he has put back 6,000 hatchlings at Laughing Waters, near Mamee Bay, St Ann and goes to local businessman, Charlie Johnson's Turtle Cove property in Portland, where he replicates what he does at Pearly Beach.
Holland Bay in St Thomas is one of the only places in Jamaica where turtles are still being killed, said Tennant.
"Humans dig up the eggs for punch and kill the adults for meat."
He warns against the consumption of the Hawksbill turtle, which he says ingests sponge, which is toxic. "This poisons the meat, and cooking does not remove it."
There is also a 30 per cent threat to children under 10 who may die after eating the Hawksbill meat.
In fact, research by the Sea Turtle Conservancy in Gainesville, Florida indicates that turtles are affected by marine debris - "trash in the ocean" - because they commonly swallow plastic bags, mistaking them for jellyfish. They are often found off the Florida coasts entangled in discarded nets and fishing lines, and are frequently found with ingested fish hooks, says the organisation.
Different types of turtles
Scientists recognise seven living species of sea turtles, which have been around for 150 million years. Four of these species can be found in Jamaica - the Hawksbill, Green, Loggerhead and Leatherback.
The Leatherback is the champion of the group. It grows the largest, dives the deepest, and travels the farthest of all sea turtles. Populations have declined in Mexico, Costa Rica, Malaysia, India, Sri Lanka, Thailand, Trinidad and Tobago, and Papua New Guniea. The Leatherbacks are seriously declining at all major nesting beaches throughout the Pacific, says the Sea Turtle Conservancy.
These factors are among the compelling reasons there has been an interesting development in relation to turtle releasing in Jamaica says Tennant.
"It is one of the things that tourists who are environmentally conscious want to see now, which means we could be attracting many during our low season, which is September, October and November," he noted.
Guests at Goldeneye and Jamaica Inn are regular at what has become somewhat of a turtle releasing exhibition at Pearly Beach, which is located on the same property the former Golden Seas hotel operated.
"They (tourists) describe it as the most awesome thing they have ever seen," said Tennant, who rejoices in the thought so many persons are capable of celebrating the sparing of a life, giving the air-breathing reptiles that inhabit tropical and subtropical seas throughout the world, a chance at survival.
Sometimes, only six or eight persons come out to watch the phenomenal process, while at the times the groups could swell to 25, but this is obviously an event that cannot accommodate large groups.
In the Dominican Republic, hotels are known to charge more for their rooms during the turtle season.
Melvyn Tennant is convinced that the turtles could be combined with the fish sanctuaries and reef restoration projects in the Oracabessa Bay, providing employment to locals in the area.
He sees this as a Tourism Enhancement Fund, Jamaica Tourist Board and National Environmental Planning Agency project that should be encouraged.
He is currently writing a smart phone application that would help to educate more persons about the importance of sustaining the development of the life of the turtles.janet.silvera@gleanerjm.com
In our next issue, we will look at the work of the Oracabessa Foundation in sustaining its fish sanctuary, while restoring the coral reefs in the bay.