More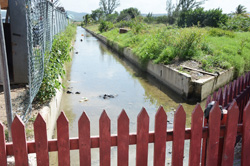 One of the many drains in the town that are urgently in need of cleaning.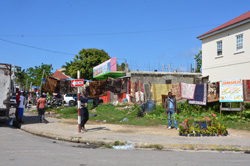 An untidy town in need of urban renewal.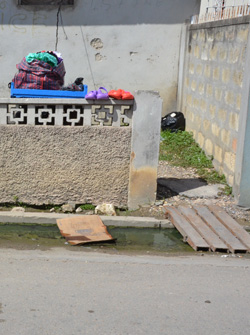 Stagnant water on the roadside.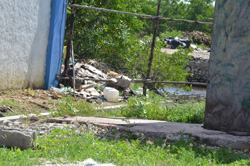 The dirt and grime from the garbage strewn in the open lots in the town.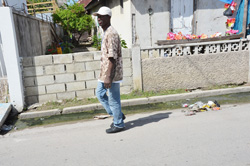 A part of the town that needs to be cleaned.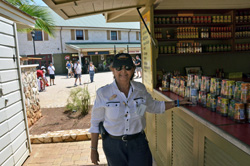 Irish visitors Elizabeth Horgan (left) and Rose McCarthy.
'Urgent development needed in Falmouth'
Karrie Williams, Hospitality Jamaica Writer
"It's absolutely beautiful inside here, but once we ventured out the gates, the reality of some of what we saw on the outside proved to be a rather rude awakening for us." That was how Rose McCarthy, a cruise visitor from Ireland, described her sightseeing trip into the town of Falmouth last week Wednesday.
Speaking more candidly about her native Ireland, McCarthy continued: "We are living in a country that has poverty at the moment, but they would like to see the roads and some of the houses and the way some of the people live, and I tell you, they would think that they were millionaires in comparison. That's the sad part really, and I don't think people in Ireland realise how well off they are."
Since opening its doors to cruise tourism in 2011, Falmouth, which is also home to the world's largest cruise ship port, has come under intense scrutiny, mainly due to the deplorable conditions that exist in the town.
When Hospitality Jamaica toured the town centre recently, several open drains containing black stagnant water giving off a foul odour were spotted throughout. Most of the streets were riddled with potholes, and there were piles of uncollected garbage in some sections.
The general consensus from many of the town's stakeholders is that Falmouth's current status is unacceptable, especially in light of the numerous promises which were made by the Government of Jamaica to bring about improvements to its conditions. The stakeholders say they are now even more embarrassed about the town, particularly its pothole-riddled streets, as not only are they a let-down for the thousands of cruise-ship visitors that come to Falmouth on a weekly basis, but also a hazard for them.
"When you walk down the streets, there is water everywhere, so you have to hop, skip and jump in order to get around. People who come to visit have suffered broken limbs because they have fallen into potholes ... it's that bad and it's just as bad for the residents and other users of the town," said Florence Logan, a business operator in Falmouth.
According to Logan, Falmouth was much cleaner before the construction of the cruise-shipping enterprise. She further believes that the sanitation problems now being experienced in the town are primarily due to the fact that its current infrastructure was never expanded to facilitate the influx of people coming in to harness its earnings from tourism.
"We have not invested in the infrastructure to keep the town clean after people started coming in for jobs, businesses and so on, so to me, that's why the town is the way it is.
"And then Government had promised that once the development comes on stream, they were going to look at Falmouth and fix the roads, fix sidewalks and stop the water from running on the road, because it's people's wash water that runs out onto the road, that gives the town its foul odour. But that promise was never fulfilled. They never did anything much ... they haven't done the work that they are supposed to do and so it has worsened since the ships come in because the roads are now worse," she said.
Also expressing disappointment over the length of time it has been taking the authorities to improve Falmouth's facilities, is another business owner, who operates from the pier, and who spoke to Hospitality Jamaica on condition of anonymity: "Falmouth needs fixing up. It's a disgrace, so much money has been spent here and we have not achieved much by way of improvement of the town. The sanitary conveniences are a total disgrace, there is sewage water running all over the place and the guests are fighting to get a space to walk. You hear that it's being worked on, well it's being worked on for three years ... they promise to fix, but absolutely nothing has happen."
Despite its challenges, Falmouth cannot be seen as a total failure. The town has grown significantly in employment from its cruise shipping operations and there are even some investors, who are seeking to bring about a future sustainability of the town's tourism.
One such investor is Judy Schnoenbein, owner of Braemar Tours, which offers a historic tour of the town centre via trolley. According to Schnoenbein, Falmouth has its challenges, but the town was still a work in progress which she sees as constantly improving over time. As part of her efforts, Schnoenbein partners with the Jamaica Tourist Board in educating school children about Falmouth's rich history and how tourism can be a viable career option for them.