More
During a lunch break, Allyse Sedivy (left) and Jennie Plant from Utah sample Jamaican jelly coconuts that they used to accompany their Jamaican box lunch. - Photos by Dave Rodney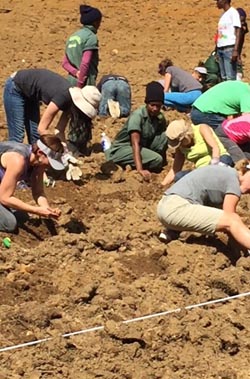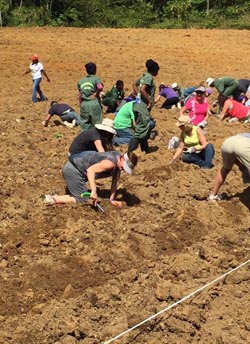 Visitors to the island help in the planting of ginger.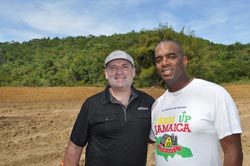 Gregory Cook (left), co-founder and executive vice-president of doTERRA; and Neil Curtis, founder and chairman of Farm Up Jamaica, pose for the camera at the end of a very successful day of planting Jamaican ginger on a newly minted farm in Haddo, Westmoreland.
Farm Up Jamaica Plant Sup'n initiative producing world-class ginger
Janet Silvera, Hospitality Jamaica Coordinator
In what is being described as innovative social responsibility, some 640 tourists have planted 10 acres of ginger for the export market as part of the Farm Up Jamaica Plant Sup'n initiative.
The ginger already has a market with doTERRA, an international seller of essential oils. doTERRA is based in the New York Tri-State area of the United States.
"After learning that Farm Up Jamaica hosted 37 students from the Northeastern University who came to Jamaica last year and planted Scotch bonnet peppers, it led them to the idea of farming as a social responsibi-lity mission for their distributors to carry out," Farm Up Jamaica's Neil Curtis told Hospitality Jamaica.
"We decided that ginger was a good crop to farm because the company was producing ginger oil," added Curtis.
According to him, when doTERRA received Farm Up Jamaica's sample of Jamaican ginger, and tested it, they were convinced that they could produce world-class ginger oil from it.
"When the deal was finalised, doTERRA agreed to bring 640 of their distributors to plant ginger through Farm Up Jamaica's Plant Sup'n initiative.
Visitor experience
The farming visitors, who stayed at Hyatt Playa resort in Montego Bay during their stay on the island, came from a wide section of the USA.
Having the visitor experience widened and unique has become a popular trend among many countries in Europe.
Some visitors are allowed to feed goats, cows, participate in community tourism and enjoy a number of countries, with a difference.
Curtis was quick to point out that this endeavours was not a fad.
"In fact, most of the visitors who came on this initiative will tell you that farming was the highlight of their visit. It gave them a chance to interact with real people and to do an activity that will help sustain the local community. Internationally, farming is a growing trend, and as more people become conscious about the environment, initiatives like this will expand exponentially," he said.
The farmlands they worked are located in Westmoreland, and the trip to the area was as eye-opening as the 140-acreage land that they watched being ploughed.
The 40-minute ride from Montego Bay to the farm took the visitors up Long Hill Road, along a spectacular view of Jamaican culture and agriculture, while driving through the rural communities and passing many farms, mostly orange groves.
The ginger will be ready for harvest in 10 months, and doTERRA has agreed to purchase all that is reaped for the manufacturing of ginger oil.
Curtis said there were no immediate plans to invite other visitors who are already on the island and may be looking for an attraction of this nature. However, there would be more projects like this in the future.
Farm Up Jamaica is a diaspora non-profit organisation formed to help reduce the importation of foreign food into Jamaica and increase the island's exports, Curtis told Hospitality Jamaica.
"Our farmer-assistance programme helps farmers achieve this by advancing all the necessary material and labour to accomplish each task."
The organisation is run by Curtis, who is the chief executive officer; Daihana Martinez, secretary; Naala Royal, director of marketing; Robert Clarke, director of media and communication; Harold Franco, director of international relations; and Alcides Curtis, co-founder.
doTERRA, Curtis said, will continue to buy ginger from their farm. Farm Up Jamaica also farms onions.
"Ninety per cent of the onions in this country is being imported," Curtis lamented.
As it relates to getting help from the Ministry of Agriculture, the Farm Up Jamaica CEO said whenever they need help, the ministry assists. However, they currently employ student graduates who are in training and operate a profit-sharing system with them.
"We inspire them to become entrepreneurs," said Curtis.
The company also farms Scotch bonnet peppers because Jamaican pepper is being produced by other countries that are using the title, 'Jamaican Scotch Bonnet Peppers, product of Dominican Republic'.
After only a year and a half in existence, Farm Up Jamaica aims to make a change in the way Jamaica does business, even if it means importing the visitor experience.
janet.silvera@gleanerjm.com