More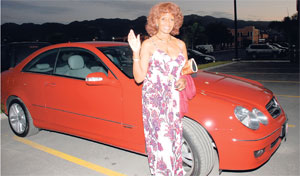 Dorothy Vendryes exits her brand new Mercedez-Benz at the opening of Norma Webster's salon at Fairview in Montego Bay.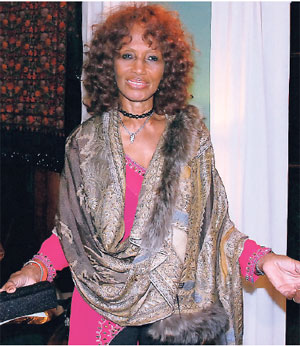 Blood, sweat and tears
The Dorothy Vendryes story
Janet Silvera, Hospitality Jamaica Coordinator
The likes of the late Elizabeth Taylor, Lady Mountbatten, and Princess Margaret are among the women of fame to sit in the hairdresser's chair in Dorothy Vendryes' beauty salon in the 1950s.
Vendryes (formerly Gourzong), one of the first black women on the island to capitalise on the tourism industry after returning to Jamaica from the world-famous Wilfred Academy, opened her first salon at the Casa Montego Hotel (now Fantasy Resort).
"I would import staff from the USA, France, the United Kingdom, and Canada, because our clientele was mainly wealthy visitors who knew and had the best," Vendryes told Hospitality Jamaica during a 'Women in Tourism' interview last weekend.
Not that local beauticians were not employed to her salon in fact, she said they were her right hand.
As her business acumen grew, Vendryes opened another salon at the Montego Beach Hotel (then Sunset Lodge). In no time, she was on to three salons.
"I had an aim, a goal, and I knew I was going after it and nothing would stop me," she stated with conviction.
Through blood, sweat, and tears, she said she was driven to find herself.
The Montego Bay businesswoman said soon to come after were the exclusive Tryall Club, Royal Caribbean (now Sandals Royal), the elegant Half Moon, and Runaway Bay Hotel (now Jewel Runaway Bay).
She was now owner of seven beauty salons in the country catering to tourists who spent an average of six to eight weeks in Jamaica. She would work in the hotels from Monday to Saturday and serve her local clients on Sundays.
"I wasted no time at all. I had no fun, no parties. It was all work."
Vendryes said she worked from 6 a.m. to 1 a.m. daily, even though she had 40 persons employed to her.
With the money earned from these salons, she was able to buy land, building one of the first small hotels to be owned by a Jamaican woman.
She opened the Royal Court, a 26-room resort in the early 1970s, building an additional four rooms after. Royal Court became one of Montego Bay's most popular hotels.
The other woman excelling in the industry at the time was Rita Hojan, owner of Negril's first resort, the Sundowner Beach Hotel (now Sandals Negril).
Other female trailblazers who made their impact in the tourism sector, and who came after Vendryes include Roma Chinsue of the Wing Victory, Claire Garth of the Blue Harbour and Lolita McGann at Doctor's Cave Beach Hotel.
"Persons borrowing money to invest in hotels then were referred to me for advice by the Jamaica Development Bank, that would give them loans," said Vendryes.
The hotelier became president of the small hotels association and said there was a period when women were excelling in that aspect of the industry.
"We were fighters; we would fight for our rights. We became the backbone of the economy."
Downward trend
Dorothy Vendryes said with the birth of the all-inclusive concept, there was a downward trend for small hotels. "We started suffering because we could not compete. They were cutting their rates below us and it was impossible for us to match."
She said this resulted in the death of the small hotels, which were mainly operated by women or families.
According to Vendryes, they fought long and hard at the Jamaica Hotel and Tourist Association meetings, but were constant losers.