More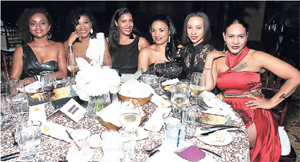 A bevy of beauties representing Remax-Elite Montego Bay (from left): Taihia Becker,Tamrah Pryce, Debra Haughton, Ophelia Sinclair, Joan Lee and Coleen Samuels.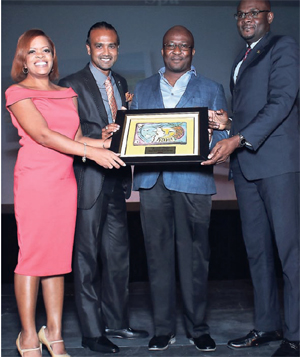 Roxanne Roach-Lee, promotions and events coordinator – West, Grace Foods & Services, presents the Best Business Hotel award to Hilton Rose Hall Resort and Spa's Daine Golaube, business development manager, John Miles, hotel manager, and Oral Heaven, director of sales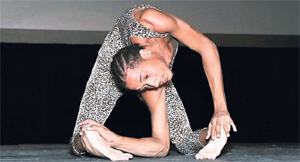 Acrobatic genius Akino performing at Hospitality Jamaica Awards.
A celebration of success
In a night where the crème de la crème of tourism came out to celebrate their own, the winners of the six new categories were among the many highlights at Saturday's RJRGLEANER Hospitality Jamaica Awards.
Held at the Montego Bay Convention Centre, St James, the new categories that were introduced for the first time since the show's inception three years ago saw Sandy Haven, Negril winning the Best European Plan Hotel (under 100 rooms); Treasure Beach for Best Resort Town Experience; Go Jamaica Travel for Best Destination Management Company; Falmouth Food Tour for Jamaica's Most Authentic Attraction; Royalton White Sands, Best Family Resort, and the Pioneer Award, which was won by Gordon 'Butch' Stewart.
For judge Marcia Erskine, the new categories were a welcome addition to an awards ceremony she described as "a growing success and a fitting tribute to those who have contributed to a sector which is the mainstay of the country's economy".
"I am even happier to tell you that this year's competition has seen overwhelming support from all stakeholders in the tourism industry - from those who run or work in the business and those who patronise them," said Erskine. "These highlights, as evident by the six new categories, have enjoyed growing success since their launch in 2014 to underscore best practices in tourism."
Erskine also noted that the awards are a celebration of success, leadership and innovation in the tourism industry and also serve to raise the sector's competitiveness by motivating organisations and individuals to create compelling experiences for their guests.
"In a contest like this, the court of public opinion is loud and clear, as Jamaica is replete with scores of tourism leaders, groups and individuals," she added.
"Innovative ideas abound and they collectively contribute to economic growth, employment, the continuous improvement of the hospitality and tourism sector and the overall prosperity of Jamaica."
This was evidenced by the two awards won by Royalton White Sands, which was named Best Family Resort and Best All-inclusive Over 300 Rooms, and Sandals Royal Plantation and Sandals Royal Caribbean and Private Island, which both copped Best Boutique Hotel and Best All-inclusive under 300 Rooms, respectively.
Lauding the recipients, permanent secretary in the Ministry of Tourism, Jennifer Griffith, said all of the 19 winners of the prestigious awards "are the shining stars of tourism for which the entire sector is grateful".
"I want to congratulate you all on behalf of the Ministry of Tourism," she noted, adding that Jamaica was currently experiencing dynamic growth in the tourism sector and "you are an integral part of it".
"When we demand nothing but the best from our tourism partners, it is important that we have incentive programmes like The Gleaner Hospitality Awards that recognise excellence in service delivery in all facets of the industry," she added.
Griffith added that while the ministry is well aware that "our appetising food, excellent attractions and our culture are major drawing cards, it is an undisputed fact that the Jamaican people, including our outstanding tourism workers, are our most iconic attraction.
"That is why Jamaica, today, has the enviable record of being the destination with the highest percentage of repeat business in the entire Caribbean - enabling us to start every season with 42 per cent of visitors who have been here at least once," she noted.
The Ministry of Tourism, she said, was proud to collaborate with the RJRGLEANER Communications Group on this important initiative, through its marketing agency, the Jamaica Tourist Board.