Caribbean Airlines' Andrew Hill converses with Catherine Carter of MBJ Airports at his company's booth.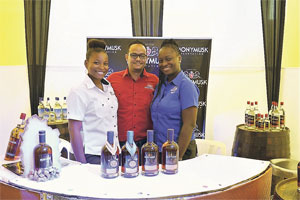 Damian Graveley, commercial manager of National Rums of Jamaica, is flanked by commercial manager Amoy Cousins (right) and promoter Civan Rowe.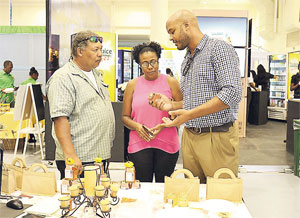 Andrew Forrester (left) and Leann Forrester talk with a representative of Pearl Brand Island Foods.
Brand Jamaica a hit at the JIE
Claudia Gardner, Hospitality Jamaica Writer
LINKAGES BETWEEN the tourism sector and manufacturers of authentic Jamaican products gained tremendous strength during the Jamaica International Expo (JIE), which was staged by the Jamaica Manufacturers' Association in Montego Bay recently.
Based on exhibitors' feedback, there was huge interest from some of the major hotel chains who visited their booths.
"Coming out of the trade show, we had some good contacts from the hotels - the hospitality industry, particularly the Hyatt Ziva Rose Hall. They are very interested in carrying our products in their spa, particularly because the guests have been asking for Jamaicanmade products to be used on their skin and face in the spas,"
Antoinette Davis, founder of the Manchester-based hair and luxury products company, Ettenion.
She said some of the hotels she met with are keen on not importing, "They are looking
for authenticity and hotels such as the Hyatt have extended their hands to us, so we are going to be working together to get the products into their spas," Davis told Hospitality Jamaica.
She added that Spa 165 in Montego Bay has reached out as well. "We had a very successful meeting and I have already made the link with my distributor to get a sales rep into their office to get the ball rolling," she said.
Davis pointed out: "We are in a lot of gift shops, you know, but not in the spas. A lot of these hotels already have their international suppliers, so they bring them in bulk. But what is happening is the guests are saying, 'No, we are in Jamaica; we want to use Jamaicanmade
products.'"
It was a similar situation for Dianne Plummer, founder of True Shade Cosmetics, who said she was able to create brand awareness and establish linkages with international companies, as well as arrange meetings with Jamaicabased hotels and spas.
"They were very interested because they want to go Brand Jamaica in their spas," she explained. "I met with one
company and they are pretty positive. They are in the Cayman Islands and it seems like something that I can do within the next couple of months and also with the hotel industry, making contacts with [companies] like Hyatt to see if they can get the stuff into the spa as well," Plummer said.
Non-food indigenous products with a herbal base, such as those being developed by Davis and Plummer, have been long pin-pointed as an area which should be supported, as they have a strong competitive edge in the Caribbean, according to a 2010 study conducted by the Inter American Cooperation on Agriculture (IICA).
The IICA said a portion of tourists' spend is always dedicated to the purchase of locally produced products that are typical for the country, including essential oils, massage oils and spa products ... as a remembrance of the visit, a token of moments shared with loved ones, or as an authentic gift to friends and family back home".
On the edibles side, Damion Graveley, commercial manager of National Rums of Jamaica, producers of Monymusk Plantation Rums, said his linkages reached even beyond the shores of Jamaica to the wider Caribbean, "large chain hotels in the Western Hemisphere", mainland USA and as far away as the UK.
"As it relates to the tourism sector, we have had a couple of hotels that are interested in private labelling products as well as have some other stock key units from our line. Some of these hotels are moving from the traditional contractual obligations that they have with beverage companies and are moving towards having different brands so that you can give a variety of tastes to their customers," he explained.
"Because, as you know, Jamaican rums vary from the different distilleries and it has a different taste and smells, and appeals to the different palates of different people. So when you lock in yourself to one particular supplier, you are basically robbing yourself of the variety of what Brand Jamaica really is," Graveley
said.
Pearline Williams, CEO of Pearl Brand Island Foods which specialises in pepper jellies, said her company, which started operations in January, has also seen interest from the local hotel sector as well as overseas.
"This expo has given us the exposure that we need and that is excellent for a start-up like ours, to so many different persons, especially the buyers, locally and internationally. We made a lot of links;
people are very interested in the product. They see it as an exotic product. It has been very rewarding. I have a lot of follow-up calls and emails to do," she said.
"We have people from tour companies, gift shops and hotels that have expressed interest and they will be contacting me definitely. We also have people from the Caribbean. I was so surprised to see people from the Caribbean interested in the product. Somebody from the Indian High Commission bought the product and will be sending information regarding the product to India," she said.
Janet.silvera@gleanerjm.com