More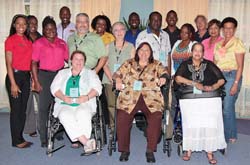 From left (back row) are Iberostar'sKimberly Raynor, Erica Earle, Mark McDermoth, Michelle Montaque,Granville Morgan and Jerron Britton, all staff; Sidney Butner, operator of Butner Travel; Rosie Johnson, the Jamaica Tourist Board's (JTB) regional director; and Margaret Jones, guest relations manager at the JTB.From left (second row) are the JTB's Carlene Moore; Paul Hangsleben, operatorof Travel Your Way; Joan and Brian Simms, managing partners of AccessHolidays; and JoAnnette Byas. Seated (from left) are travel agents Denise Hangsleben, Joelle Butner and Carolyn Yates-Salami. - Contributed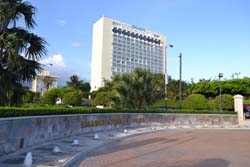 The Jamaica Pegasus in Kingston, one of the special-needs-ready properties in the country.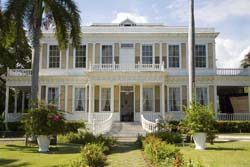 Devon House in Kingston.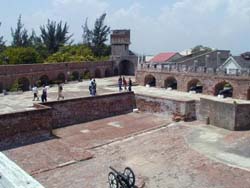 Fort Charles at Port Royal is equipped to accommodate special needs tourists.
Jamaica targets the lucrative travellers-with-disabilities market
According to the World Tourism Organization (UNWTO), persons with disabilities are fast becoming an emerging segment in terms of tourism demand. The wide consensus is that the demand is growing, especially as each visitor with a disability tends to travel with a companion. The World Health Organization estimates that in 2011, about 15 per cent of the world's population, or nearly one billion people, had at least one disability. That number is on the rise due in part to persons living longer.
Research shows that this kind of travel has certain traits: It serves as an image booster for destinations, it is a year-round segment (especially as it relates to beach tourism), and it has the potential to generate higher than average income.
Travellers with disabilities tend to stay longer and spend more in the visited destination. Figures from Open Door Organization indicate that US citizens with disabilities spend more than US$13 billion each year on travel. Other research shows that in Germany, these special-needs travellers generate up to €4 billion each year. Interestingly, two out of five Americans who travel outside the US head to Europe.
Many of these individuals have a passion for travel, but due to the lack of infrastructure to properly accommodate these travellers, many destinations, including Jamaica, miss out on tapping into this viable market. But if the Jamaica Tourist Board (JTB) is successful in its plans, the destination will begin to see benefits from this market segment.
Paul Pennicook, director of tourism, feels it is important for Jamaica to get ahead of the game in this area. "As a tourism-dependent country, we have to find ways to attract new groups of visitors," he said. "Both Barbados and Trinidad have begun to look at making their product more accessible, so we have to take it up a notch. Not only do we have to pay attention to the physical product, but our workers must also be aware of how to treat these special-needs guests."
The JTB and its industry partners are collaborating to change the level of accessibility in our tourism product. Just this past week, Jamaica hosted its very first Special Needs Travel Agent Fam trip. Representatives from four travel agencies which focus on special-needs travel spent days touring the island, evaluating the product's readiness to welcome guests with special needs. Several of the participating agents are themselves wheelchair-bound and travelling with a companion.
Paul Hangsleben from Travel Your Way in the US Midwest had high praises for the JTB and the product. "Everything is going well," he said, "and all the properties we have visited have met our needs. It is clear that Jamaica is making an effort to make the product more accessible to persons who are wheelchair-bound."
In addition to experiencing the facilities first-hand, these agents were exposed to a seminar presented by Brian Simms of Access Holidays in Toronto, Canada. Simms, whose agency has been selling packages to clients with special needs for 14 years, is currently assisting the Jamaican Government with implementing disability-friendly policies on the island, especially in the hotel sector.
According to Simms, he participated in a 2002 audit of the product, and he would love to revisit those properties to see the level of adaptability. But he was pleased that there is now a Disabilities Act in place. "The passing of the Act is a good thing. It will lead to a more accessible product," he said. "The destination must now manage the expectations of its guests. We have to determine what we are willing to sell and to whom we wish to sell. When we meet the needs of those we target, they will then become ambassadors for the programme and the destination."
The special-needs agents found that destination Jamaica already has a number of facilities which are equipped for special needs clients. There are accommodation facilities in each resort area which are disability friendly. These facilities include both large hotels and smaller budget type properties. Attractions, transportation companies and tour operators are among those partners who are ahead of the game.
In a coincidental twist of fate, two guests have been checking into spending their next vacation here. The couple, both legally blind, use a guide dog to get around. The Browns (not their real name) are well travelled, having visited at least three other Caribbean islands and parts of Europe.
Their investigation took them to the Ministry of Agriculture's Veterinary Services Department where they found that Jamaica has established requirements including types of shots and specimen profiles for guide dogs to be able to enter the island.
The Browns then needed to find a hotel in their preferred area which would provide for the needs of the guide dog. "Several of our hotel partners have accessible rooms" said Sandra Scott, deputy director of tourism with responsibility for marketing, "but not many will accept a service animal. Arrangements have to be in place to have the animal fed, watered, walked and other more delicate things. Thankfully, we do have a few properties which will accept service animals, and the Browns will be able to vacation here," Scott concluded.
UNWTO research shows that whole cities have made themselves more accessible to special needs guests without altering their cultural value or negatively impacting safety considerations. Communities in Spain, Switzerland, Germany, France and Argentina have all shown that it is possible to successfully make facilities accessible without diminishing the value for other guests.
One other aspect of the JTB's plan to make the destination more accessible to special needs guests is to ensure that all workers in the industry are aware of what is acceptable in serving guests with special needs. During the recently concluded JAPEX, an initial seminar was conducted and approximately 60 members attended.
The interest generated has propelled the JTB to plan further seminars within each resort area to continue the training. The training includes providing guidelines for dealing with specific disabilities.
Nadine Vogel, CEO of Springboard Consulting, an expert in mainstreaming disability in the global workforce, recommends that hotel staff are not to pet, feed or otherwise distract a service animal. "As a working animal, doing anything to engage the animal can make them unable to appropriately meet the needs of their owners," Vogel says.
Potentially, the special needs niche is a huge market, with significant populations in the US, Canada and Europe. It is up to destination Jamaica to respond to this potential by developing an appropriate strategy to target this market.
Dealing With Persons With Disabilities
One quick rule to remember is that we also have to adjust how we speak about special-needs people. The recommendation is to refer to the person first, then the disability - the guest who is deaf rather than the deaf guest.
And did you know that eye contact should be kept with a guest who communicates through an interpreter? Some persons may be tempted to look at the interpreter, but in this case, the interpreter is a facilitator, not the person engaging in the conversation.
Then there is the person who speaks with a stutter or another speech disability, so may take a little longer to complete their sentences. We should not seek to rush the person, but rather, the special-needs guest should be given enough time to complete their thought.