More
Resort Superstar of the Year at Hyatt Ziva and Hyatt Zilara Peter Bartley doing the footloose after winning the coveted award at the resort last week Tuesday in Montego Bay.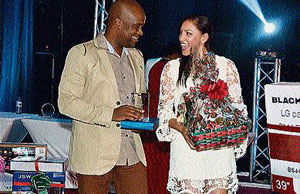 Omar Williams, the Most Reliable Employee at the Hyatt Ziva, accepts his award from Maria Fernandez, director of entertainment.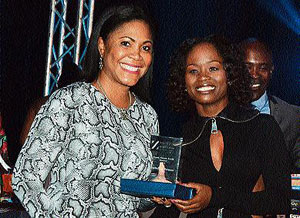 Guest Helper Smile awardee Ruth-Ann Briscoe (right) accepts her award from Mureen James, director of sales, Hyatt.
McNeill lauds excellence of Hyatt staff
Jamaican workers have been credited in large part for the success of the local tourism sector, which saw 3.69 million visitors in 2015. Minister of Tourism and Entertainment Dr Wykeham McNeill described them as the "the bedrock of our world-class tourism industry" as he gave the keynote address at last week's inaugural Eminence Awards for Hyatt Ziva and Zilara staff in Rose Hall, Montego Bay.
Addressing staff, awardees, and guests, the minister lauded the employees of Hyatt Ziva and Zilara, noting that their hard work had helped to make the resorts a resounding success.
"You are one of the most, if not the most, important assets for our tourism and hospitality organisations. You are the difference that enables us to provide exceptional service to visitors, exceed consumer expectations, and achieve that much-needed competitive advantage," McNeill said to the resorts' workers.
Noting that people were an integral part of the tourism product experience, McNeill told the hotel workers, "It is ultimately the experience that visitors take away that determines the success of their visit. For this reason, each one of you here makes the difference in whether visitors come back again and again."
He also pointed out that consumers' expectations for quality were rising as the industry grew worldwide, and concurrently, competition among the players in the industry, both nationally and internationally, was intensifying.
The tourism minister lauded Hyatt Ziva and Zilara for recognising the commitment, loyalty, and hard work of their employees and the important role they play in their success. "The Government, too, recognises the tremendous value that our tourism workers bring to the sector. For this reason, we are developing structured programmes to benefit workers in the sector," said McNeill.
He informed the audience that a contributory pension scheme for tourism workers was slated for implementation in January 2017 that would ensure that those who have given years of exemplary service to tourism could retire without financial worries.
Also, discussion has started with the National Housing Trust to develop workable strategies for the provision of housing for tourism workers.
Fifteen members of staff received awards in 12 categories. The top award - 'Superstar of the Year' - went to Peter Bartley of the resort's engineering department. He received a motor vehicle, which was presented to him by McNeill; general manager for Hyatt Zilara Rose Hall and Hyatt Ziva Rose Hall Diego Concha; and the hotel's director of human resources, Betty Ann Brown.