More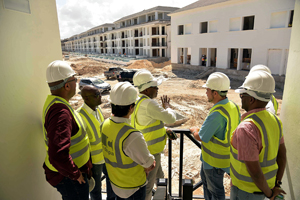 Contributed- Minister of Tourism Edmund Bartlett and Excellence Group officials, along with his team from the ministry on a visit last week to the Oyster Bay hotel in Trelawny.
Trelawny the ideal place for Excellence Oyster Bay

Making their first foray outside of Mexico and the Dominican Republic, the Excellence Group Luxury Hotels and Resorts now has Jamaica firmly in its cross hairs as a prized destination for the rich and well-to-do.
Following a much-publicised groundbreaking last March, which included Prime Minister Andrew Holness and Tourism Minister Edmund Bartlett, the hotel is expected to open its 315-suite Excellence Oyster Bay in the resurging Trelawny parish on June 1.
"This is a project of great excitement for us, as it is both a proof of evolution to deliver the best Excellence product to date, and our first foray outside of the Dominican Republic and Mexico," the group's vice-president for sales and marketing, Domingo Aznar, explained.
"With Excellence Oyster Bay, we raise the standards to offer a whole new, all-inclusive, luxury experience for adults, and we are confident that Jamaica is the perfect choice for it."
Aznar added that the property, which was built at a cost of US$110 million, will be the first of its kind in Jamaica and will set a new "standard for all-inclusive luxury and romantic travel.
"Those familiar with the highest standards of the Excellence Group will find the latest adults-only resort in their expansive portfolio to be another idyllic retreat offering smartly designed accommodations, gourmet dining, and unparalleled amenities," he added.
"Stretching over two miles of Jamaica's most pristine powder-sand beaches, Excellence Oyster Bay is also the ultimate serene destination where privacy, intelligent design, stunning surroundings, and Excellence Group's signature, a brand of romance and all-inclusive luxury, seamlessly combine. As leaders in romance and luxury travel, the Excellence Group's expertise and experience are evident in every thoughtfully designed detail of Excellence Oyster Bay."
first phase
The property is also said to be the first phase of a larger development that will increase Jamaica's room stock by over 2,000 upon full completion.
For his part, senior adviser and strategist in the Ministry of Tourism, Delano Seiveright, who toured the property on Saturday with Bartlett, as well as new Director of Tourism Donovan White and executives of Excellence, noted that "the resort is set to dramatically heighten the eastern Falmouth coastline into one of the Caribbean's most luxurious couples-only all-inclusive resorts.
"The Victorian-style resort will have 315 suites with private pools or rooftop terraces. The oceanfront beach houses are set in close proximity to the beach, just steps from the water. Excellence Oyster Bay, built on a peninsula bordered by the Caribbean Sea and a lagoon, will feature eight restaurants, nine bars, two beachfront pools, a lounge with a rooftop pool and the Miile Spa," Seiveright further pointed out.
In the meantime, Mayor of Falmouth Colin Gager said he is "extremely happy" that Trelawny will once again be the beneficiary of a major tourism development.
"The opening of the Excellence resort in Oyster Bay comes at a time when billions of dollars will be pumped into the town of Falmouth by the Port Authority of Jamaica for infrastructural development," Gager pointed out.
"It also comes at a time when cruise shipping is starting to once again gain traction and when there are plans to clean and beautify our historic buildings, including our famed Water Square area, and where we are ready to take on the mantle as the premier destination anywhere in the Caribbean."
Excellence Group Luxury Hotels is a family-owned and operated resort group specialising in hotel management and worldwide real estate development, with a primary presence in the Caribbean.
The group owns and manages five-star, award-winning resort properties in the Dominican Republic, Mexico, and Jamaica under three brands which encompass the concept of ultimate all-inclusive luxury: AdultsOnly Excellence Resorts in Cancun, Riviera Maya, Punta Cana, and Montego Bay; Boutique AdultsOnly All Inclusive at Beloved Hotels; and Modern All Inclusive Luxury at Finest Resorts.
Excellence Group Luxury has been the recipient of the AAA Diamond Award, Condé Nast Travel Readers' Choice Award, and Travel & Leisure's Best Award. Recently, the property received TripAdvisor's Traveler's Choice Award for the No.1 All Inclusive Resort in the World.