More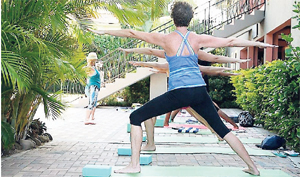 CONTRIBUTED PHOTOS Master Yoga Teacher Denise Cox has a full class during her Yoga session, held just outside the Radiant Spa at Jewel Paradise Cove at its Wellness Week, held recently.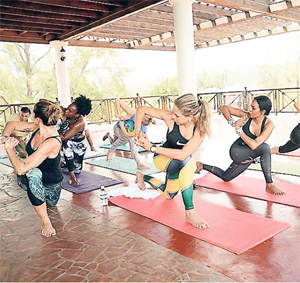 Jewel Resorts Spa Director Sienna Creasy makes it look easy during her Reggaelates class held at the Jewel Paradise Cove during Yoga/Wellness Week
Jewel Paradise Cove Beach Resort & Spa Wellness Retreat Island Style
International instructors, local yoga and wellness professionals and guests seeking health and wellness converged on the Jewel Paradise Cove Resort and Spa for a weekend an 'Island Style Wellness Retreat' recently.
Visiting master teacher, Denise Cox had guests awake and energised with her daily morning yoga classes, while Jewel's fitness instructor, Earl Bishop provided spin, morning power walks and aqua strength experiences, exploring the grounds of the resort.
When the muscles became sore, the hotel's Radiant Spa utilised the various in house massages, coupled with the eucalyptus-infused steam room, where soothing sauna sessions were a welcome gift.
The retreat was one packed full of bliss, accompanied by educational and informational presentations, combining the healing properties of lemongrass and aloe vera as well as poetry and the healing wonder of words by Skripcha.
"The days ended with a meditation workshop with local artist, Philip Payne, known worldwide for his therapeutic encounters," boasted Charmaine Deane, the chain's director of marketing and public relations.
Deane spoke of afternoon healing Reiki and morning vibrational humming immersions hosted by artist and gemstone mystic, Jasazi McKenzie.
The vibes, she said, turned way up in the afternoons with Kingston's own Chai Studios queen, Shani McGraham-Shirley, who enjoyed a staycation while leading her Zumba and YahSuh classes.
"These were definite favourites among the guests."
Placing the final touches on what was tagged, 'Sizzling Saturday', spa director of Grande Spa at Jewel Grande Montego Bay, the Jewel Resorts collection and Hilton Rose Hall, Sienna Creasy presented the icing on the wellness, with her world famous Reggaelates.
Not to be outdone, executive chef Ravi Anne, joined the niceness, serving up a lunch combination of local cuisine and vegetarian healthy choice specials for participants.
Already dates are booked for the next Jewel Paradise Cove Beach Resort & Spa wellness retreat.
"December 10-16 are the dates for the next retreat," said Deane, adding that this session has two visiting master instructors, including Cindy Caperton, who has over 500 hours of certification in yoga, including therapeutic yoga and guided meditation.
Deane invites readers to visit www.jewelparadisecove.com for more information.