More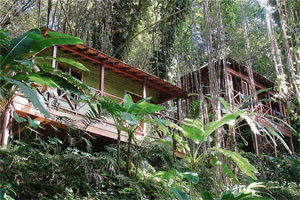 Reggae Hostel is leading the way in hostel hospitality in Jamaica.
Off the beaten tracks we go
Paul H. Williams Hospitality Jamaica Writer
Apart from the well-known and much-publicised resorts, Jamaica has many places and attractions that offer excellent and exquisite hospitality off the beaten tracks. They are all over the country, and Hospitality Jamaica visited several over the past year.
The ones trending include Go Natural, Ital Rest, Reggae Hostel, RasNatango's Gallery and Gardens, Kanopi House, Skybourne Great house and Sea Hanger.
Sea Hanger Resort and Spa Ltd at Ross Craig in Kensington, Portland, is a three-storey, 15-room, concrete, stone and wood structure. All rooms have a balcony facing the sea, and each balcony has a hammock. The breezy, shiny, board-floor rooms are furnished and decorated with local wood accents, and offer different types of accommodation.
Also in Portland and beside the sea, at Long Bay, is a nature retreat called Go Natural. Here, the air smells clean, and the general marine vista is a picturesque one.While guests may visit for a day, accommodation packages are mainly residential, with a minimum of three days recommended. Going to sleep to the sound of the roaring waves adds to the charm.
In the hills of St James is Skybourne Great House at Kempshot, where you step into the living room and you feel like you have entered into another time and space. Home to things of the past, Skybourne is fitted with modern amenities. Apart from the spacious great house, there are two other decades-old buildings, 'Heliconia' and 'Begonia', with their own array of relics. Inside all of them cosiness lingers, ready to welcome the next guests into this refreshing throwback hospitality.
Leading the way in hostel accommodation is Reggae Hostel, located at 8 Burlington Avenue, St Andrew, and Main St, Ocho Rios, St Ann. The chain offers shared rooms at both locations for travellers existing on low-cost budgets. Dormitories with bunk beds, therefore, are the main types of accommodation. However, there are 16 double-occupancy private rooms in Reggae Hostel Ocho Rios, St Ann.
PERFECT CHILL SPOT
If you want to get away from the city, the town, noise, and crowd, the perfect chill spot exists in the west. Surrounded by trees, the cool breeze will embrace and caress you night and day at Ital Rest Cottages, located at Great Bay in Treasure Beach, St Elizabeth. As the name implies, it is 'ital', and as rustic as they come.
Still in the west, St James in particular, on a hillside at Camrose is the most fascinating garden in all of Jamaica. The terraced masterpiece was built by RasNatango for his wife Tamika, who has planted many species of flowering and non-flowering plants. Among the plants, RasNatango and his son Ayali have created some very amazing features. There is also an art gallery, and guests may be served authentic Jamaican food.
Back in the east, on the hillside overlooking the Blue Lagoon, there is a jungle through which concrete steps meander up and down the slopes leading to six fabulous bungalows, nestled among the greenery. Together they are called Kanopi House. The mostly board structures are exquisitely designed, decorated and furnished with hand-crafted pieces, truly jungle chic hospitality, a must-go, if you will.