More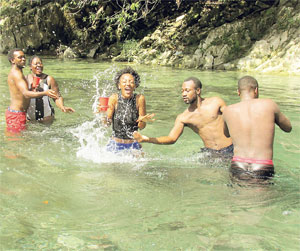 Charles Town Maroons and students from Merritt College in Oakland, California, enjoying themselves in the Spanish River in Portland.
Merritt College students and lecturers sojourn in Charles Town
Paul H. Williams Hospitality Jamaica Writer
FOR 10 years, Dr Siri Brown, professor of African American studies at Merritt College in Oakland, California, has been taking 'African Resistance' students to the Maroon community of Charles Town in Portland.
This year, she brought five – Anthony Johnson, Toussaint Stone, Ajari McCaster, Lou Bennett, and Tia Wallace.
The students, Brown, and another faculty member were guests for a few days in the Charles Town Maroon community in Portland, where they were immersed themselves in the culture. They stayed at different homes and participated in activities such as Maroon drumming and dancing lessons. They were even patrons at a dance party held in a resident's front yard.
Hospitality Jamaica was in the community for another reason when it met the students for whom members of the community hosted a riverside cook-out along the Spanish River. It was a day of music, river-bathing, cooking, and feasting on local foods, including fish and shellfish from the said river, which the visitors thoroughly enjoyed, it seemed.
The Spanish River is part of the area where the last battle between the Windward Maroons and the British took place. It is a symbol of Maroon resistance, and when McCaster was asked why he came with the group, he said, "I am here in Jamaica because I wanted, deeply, after studying African American history and African American presence in Pan-Africanism, to understand African resilience, African culture, and African resistance on a deeper level, and Jamaica was the best place to do this."
Culturally, it was a whole new world for McCaster as he said, "The culture is something that I have never seen before. There are simple ways to live and be African, and live more natural and connected that we in the city don't have the opportunity to do, and this gives me a chance to see it for what it is, to see the culture that has been retained by Africans who have travelled over here."
McCaster was joined in the video camera frame by Anthony Johnson, who described the experience, especially the food, as "phenomenal". He echoed some of McCaster's sentiments, but not before he said, "The food is wonderful, and the quickest way to a man's heart is through his stomach, and Jamaica has my heart already on lock."
Asked about the total experience, Johnson's summary went like this: "It just opens our eyes and makes us put values on other things in life rather than being materialistic... waking up in the morning,
having a bath in the river, not everybody has that opportunity... Being connected to and surrounded by a bunch of people who look like me, that only want the best for me, it couldn't get any better than that."
Stepping also into the frame was Marcia Douglas, acting colonel of the Charles Town Maroons. She was particularly pleased with what took place during the visitors' sojourn, especially with the 'river party'. Hosting them was quite important to the community, she said, and the community is open to welcoming visitors who can come and be who they are. People like when visitors come and live like people in the village, "and it brings much excitement to the community", Acting Colonel Douglas said smiling.
CONNECTING WITH FAMILY
While the purpose of the trip was an academic one, the visitors' stay in the historic Maroon village was community tourism at its best, though Brown has a different perspective. "We don't call it tourism
because we are Pan-Africanists, so all we are doing is connecting with our brothers and sisters in Jamaica," she said.
And what a connection it was with Charles Town, which she described as, a "culturally powerful, spiritually powerful place where you could feel the presence of the ancestors and the beauty of who we are as African people. The families are so welcoming and kind, and nice, and the children run free. It just shows the best of who we are around the planet in just one small space," Brown said as to why she
keeps coming back.
Tia Wallace, the lone female in the group, like Brown, doesn't like to regard herself as a tourist and asked about her experience in Charles Town, she told Hospitality Jamaica, "I have learned a lot, and I will continue to learn. I love everything I have been exposed to so far. I appreciate everybody who has welcomed me with open arms ... I don't wanna go. I'm gonna have to come back, most definitely."