More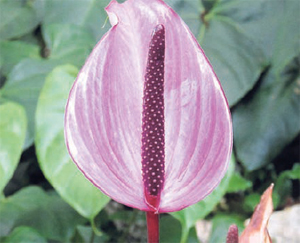 Rare purple anthurium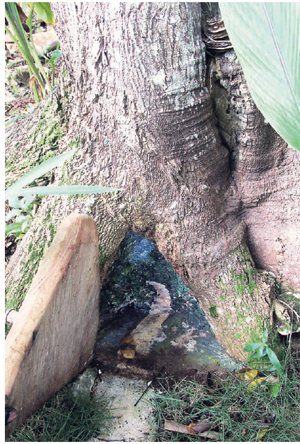 Through the 'door of faith' on to the road to eternity.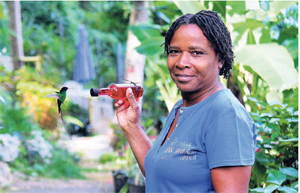 Marcia Eulette feeding Rudy, a swallowtail hummingbird.
Jamaica's most awesome garden - Part I
Paul H. Williams, Hospitality Jamaica Writer
From RasNatango's garden, nestled on a terraced incline in Camrose, St James, there is an enthralling panorama of parts of Trelawny as well. It is a view to die for. But forget death, turn around, and there is more magic.
What started out as a garden for RasNatango's wife, Tamika Williams, has now evolved into a gem of an attraction called 'Ahhh RasNatango Gallery and Garden Tour Ltd'. It has a wow factor that most gardens in Jamaica simply do not have and an arresting appeal that might just take you breath away. And the story of this hillside paradise is as redemptive as it is romantic.
When RasNatango, born Ian Alexander Williams in Kingston, bought the quarter-acre piece of mountainside, people derided him. "People laughed at us," RasNatango recalled, smiling, for he knows who really has the last laugh now.
His wife herself was livid. The "male chauvinist" had bought the piece of "useless" land without her consent. It was a "jungle" of tall trees and "dense undergrowth". When those were cleared, boulders and loose rocks on a cliff that dropped 30 feet were exposed.
RasNatango, an intuitive artist, was undaunted when two builders told him that no house could be built on the land because it was too steep. Yet, the wise man that he is, he built his house upon the rocks on 14 columns on the edge of the 30-foot drop. It is now a two-storey work of art, which also houses a gallery.
So he was successful in getting his house built, but what about his wife's love of flowers? Where would the "avid gardener" plant her flowers on that rocky land? RasNatango came up with the idea of building terraces with the loose stones thereon and filling them with dirt and compost.
"I did this just for my wife ... I had to find a way to make her enjoy herself and plant her flowers ... and this is the best I could do," RasNatango said. His best was good enough. Terraces were indeed built with the assistance of Ian Reid, who has been working there for 20 years. Over time, Tamika Williams planted many flowering and non-flowering species, and a few just grew naturally. Some of the stand-outs are the rare purple anthurium and the fragranced Japanese iris.
Original cedar trees are still on the property. Joining them are fruit and food trees, planted by RasNatango and his wife. And the idiom, which says 'bush has ears', did not say that some of the trees in the garden have eyes, nose, and mouth. RasNatango's imaginative mind has given them an identity, if you will. At the base of one of them is a 'door of faith'. Open it, and there is a road that leads to eternity.
But it is not only some of the trees that have a face. Upon some of the rocks, especially the ones that are peculiarly configured, RasNatango has painted the visage of a tiger, a lion, a pharaoh, a shark, and a turtle. And, of course, there is Eve, the biblical first woman, with green, dishevelled, bushy hair. However, where is Adam in all of this?
All over the place there are chill spots to unwind, to take in the rarefied air, and to embrace the views. Yet, the pièce de résistance is the waterfall, which seems to be coming from a cave. The rocks in it are real, but the cascading water is pumped from below. RasNatango certainly has outdone himself with that one. He has enhanced and embellished what nature has provided.
Now, after almost 29 years of hard work, the terraced garden is a lovely space that makes visitors gawk, not only at the interesting variety and beauty of the plants, but at the creative layout and fantastic features. It is also a bird sanctuary in which many species of birds, including the swallow-tail hummingbirds, thrive.
In the heart of nature, RasNatango and Tamika Williams have infused, but the excitement is not yet over. What about Flat Bridge, Giddy House, Jurassic Era, the Fairy Garden, and the wishing well? In two weeks, more reasons why RasNatango's garden is the most awesome in all of 'Jam Rock'.