More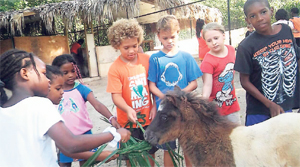 This is an ideal spot for a family outing.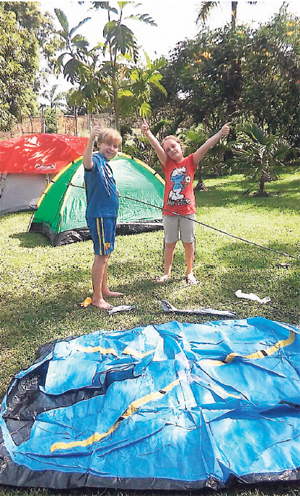 There is a lot of space for kids to play at the zoo. There is also the option for a Family camp night on Saturday which cost $2,000.
Hope Zoo offers something for the entire family
Sashana Small and Latara Boodie, Hospitality Jamaica Writer
Experience the absolute serenity of being among some of Jamaica's most exotic animals at the Hope Zoo in Kingston.
A visit to the Hope Zoo, according to Managing Director Rebecca Harper, is no ordinary experience. "We create memories here, and all of our activities keep in mind family, team, adventure, and entertainment."
Families are able to create and strengthen bonds, which, she stated, is ultimately what Hope Zoo is about. "It also provides a way for people to meet in a family-oriented environment," she continued.
First opened to the public in 1961, the aim was to exhibit a wide variety of animals. However, inadequate funding and consequent loss of the animal collection led to its overall deterioration and, subsequently a loss of public interest.
The leasing of the facility by the Central Government to the Hope Zoo Preservation Foundation (HZPF) in 2011 saw a dramatic turn for the facility.
Improving the zoo for a better experience
Today, Hope Zoo is the home of 900 animals from 60 different species, including indigenous, endangered, and endemic animals from Jamaica, Africa, and the Americas. These animals include tortoises, monkeys, zebras, macaws, flamingos, ostriches, and the zoo's pride - Lucas the lion, and Jasmin the lioness. "Hope Zoo is now the cleanest, family-oriented venue in Jamaica. Our programmes are focused on family wellness, environmental wellness, and animal wellness," said Harper.
It is now an ideal spot for a family outing, a place to create fun memories with friends, or even a place for couples who want to spend some quiet family time together. Have a picnic, reunion and bond over the many games and activities that are offered. These activities include a zoo hunt, camping out, guided tours, and budgie feeding. The entry fee to the Hope Zoo experience is $1,000 for children and $1,500 for adults.
Adding a nightlife to the mix
Apart from the wondrous exotic animals scattered around the property, the zoo also has a hidden gem within - the Serengeti Bistro, a place which is transformed into a family-oriented activity hub at night. "The building was sponsored by Pepsi five years ago and it was our sustainable income for the zoo," said Harper. "We decided to revamp Serengeti from being just a bar. This year, we have partnered with Rib Kage, which is a very well-known restaurant." The Serengeti Bistro officially opened on May 1, 2017. However, being the innovative enthusiast that she is, Harper noticed the restaurant and the bar would not be enough to attract a large crowd.
The decision was taken to bring back Jamaican theatre with the installation of a permanent stage to host a wide variety of cultural experiences. "This turned the Serengeti into a bistro which is food, drink and entertainment," said Harper. The Serengeti Bistro has its own personal live band known as The Indigenous.
More features for the kids
The zoo also offers kid 'night-out on Fridays. Parents are given the chance to spend time at the bistro while their kids are entertained in a Guardsman-secured tree house until midnight. "We have movie night, and arts and craft. We give them their own set of entertainment away from the zoo," said Harper. This package is $2,000 per child and includes food and entertainment. "Every Saturday night, we offer our camp out with a minimum of 10 tents booked. You can bring your friends and say, let's go camping at the zoo.'"
Only Thursday nights are adult-oriented. Every other night is dedicated to building family bonds.
For more information or to book a tour, contact the zoo at 927-1085. Email them at guestrelationshopezoo@yahoo.com or you can check out their Facebook page @hopezoo, or visit their website: hopezookingston.com.