<
More
<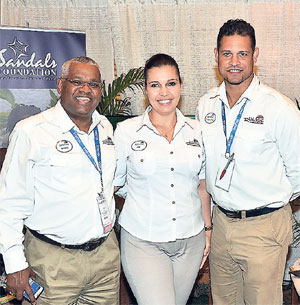 PHOTO BY JANET SILVERA From left: David Shields, Zee Higgs, and Richard Moss of Island Routes.
Island Routes is No. 1 again!
Jamaica's premier private club, The Tyrall Club, has named tour company Island Routes Caribbean its number one service provider for 2016 for its outstanding service.
This marks the seventh time since June 2016 that Island Routes has been acknowledged by an independent entity for its excellent customer service.
This latest award comes just one month after the tour provider was named World's Leading Caribbean Attraction Company at the 2016 Global World Travel Awards and is a testament to the hard work and dedication of the Island Routes team in providing a superior experience to its guests.
Island Routes remains committed to setting the standard in service and experience across the Caribbean attractions industry.
"It is an honour to be recognised by such a distinguished industry player as The Tryall Club," said Adam Stewart, chief executive officer, Island Routes.
"Our dynamic team does a phenomenal job of showcasing the best of the great outdoors in Jamaica and throughout the Caribbean. Combine this with our customised technology system, the industry's newest fleet of coaches and VIP private vehicles, specially developed products like our latest self-drive Mini Routes tour, and partnerships with key players such as the National, Alamo, and Enterprise Rent-a-Car brands, and you have the most complete and experienced network of service-driven professionals in the attractions industry."
As Jamaica's premier private club and home to one of the region's pre-eminent championship golf courses, which has hosted golf legends including Nick Faldo and Ernie Els, service and experience are at the centre of The Tryall Club's philosophy. The very nature of the club's business requires the very best the industry has to offer.
Richard Ferdinand, director of guest services, The Tryall Club, commended Island Routes' knowledgeable team members, who, he said, place the utmost attention to detail, ensuring that guests always return with the most memorable experience of their time in Jamaica.
"Their full-circle operation, paired with their enthusiastic and professional team, means that they always provide the highest levels of service and quality to our discerning members and guests."
In addition to The Tryall Club, Island Routes provides exclusive tour-desk management services for all Sandals, Beaches, and Grand Pineapple Resorts, as well as for the Hyatt Ziva and Hyatt Zilara in Jamaica.