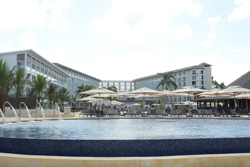 The Royalton White Sands Montego Bay. - Contributed
Royalton White Sands Montego Bay
Jamaica's newest five-star resort offers great deals
Janet Silvera, Senior Gleaner Writer
WESTERN BUREAU:
Renowned as forward thinkers, the owners of Blue Diamond Hotels has capitalised on the country's pioneering all-inclusive concept, introducing a revolutionary All-in Connectivity by not only offering free Wi-Fi throughout the property, but free in-room calls to North America and most of Europe.
The group, owned by Canadian conglomerate, Sun Wing, has opened the country's newest resort, the 350-room five-star Royalton White Sands Montego Bay (formerly Breezes Starfish Trelawny).
All-in Connectivity includes USB recharge, Bluetooth audio stations in its rooms, and a Royalton app that offers the convenience of an unlimited free calling plan and free app-to-app texting while at the resort, says the group's director of sales and marketing, Kerry Ann Quallo-Casserly.
As investments return to Jamaica's tourism sector, Royalton White Sands Montego Bay accepted its first guests on Saturday, November 16. It is already forecasting a 90 per cent occupancy level during the month of December.
"Blue Diamond Hotels has added another five-star family all-in luxury product to the destination, offering great bang for buck, based on value for clients, and we are the first to offer free international calls to the USA, Canada and Europe," boasted Quallo-Casserly.
Royalton White Sands Montego Bay, which accepts children all ages, has provided employment for 310 persons in the hospitality sector, and that number should increase to 360 within weeks, says the director of sales.
She noted that Royalton White Sands Montego Bay was the only Jamaican resort with 12 water slides and splash pool, offering concierge on all floors.
The owners have added two new wings, bringing to the market an all-suites resort that boasts 16 presidential suites, some honeymoon swim-out and Jacuzzi suites. Its top room, the chairman suite, boasts the most amazing beachfront view.
Blue Diamond Resorts also bought the property next door Royalton and is expected to construct 700 more rooms in the near future. Casserly would not give a timeline for construction.
Blue Diamond pumped US$60 million into transforming the resort, and one year and five months after sealing a purchase deal with SuperClubs' Issa family.
This is the second Jamaican resort for the group, which also operates the former Breezes Negril under its Memories brand.
These are just some of the offerings at the Royalton White Sands Montego Bay:
DREAMBED exclusively designed for Royalton Resorts with luxurious 250 thread-count sheets
24-hour room service
24-hour unlimited reservations - free dining and international brand drinks
'Sports Event Guarantee' on flat screen TVs
Concierge service around the clock
Innovative Kids' Club and free access to our on-site splash park in Jamaica
Rain shower
Daily activities and nightly entertainment
janet.silvera@gleanerjm.com