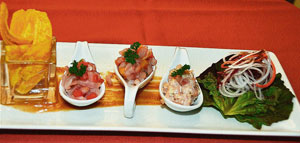 Smoked marlin trio prepared by executive chef, Mark Dekrines at the Courtleigh.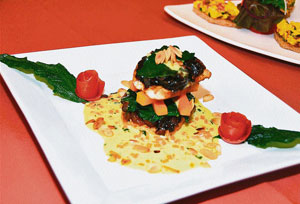 Tower of chicken scaloppine prepared by Courtleigh.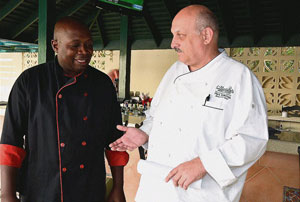 RIGHT: Executive chefs, Louis Matthews, The Knutsford Court Hotel (left), and Mark Dekrines, the Courtleigh Hotel and Suites.
Breaking down the stigma
Kingston hotel restaurants introduce new cost-efficient menus
Janet Silvera, Hospitality Jamaica Coordinator
Aiming to break down the stigma that hotel restaurants are expensive, two of Kingston's executive chefs, Louis Matthews of The Knutsford Court Hotel and Mark Dekrines at the sister property, the Courtleigh Hotel and Suites, will launch new menus at their respective eateries by the end of the month.
The chefs unveiled their new and exciting menu at a tasting for the Hospitality Jamaica (HJ) team last week.
"Within a week, we will introduce a set three-course menu which is cost efficient. Our intention is to get people to know that both hotel restaurants are affordable and welcome locals with open arms," said Matthews, stating that his menu will cost $2,000 for two courses and $2,400 for three courses.
Matthews manages the Melting Pot at the Knutsford. His menu, which will change every two weeks, offers a choice among three starters, three entrées and three desserts.
Last Monday, Matthews showcased his jerked chicken spring rolls and strawberry panacotta, which will both be part of his new menu, as well as an escoveitch lobster he has as his signature dish on his main menu.
"Lobster is a big seller when in season," he stated.
His colleague, Dekrines, is redesigning the offerings at the Courtleigh, unveiling a trendy and easy-to-manoeuvre menu.
"We have a section for Jamaican specialties and one for vegetarians, along with a nice selection of small plates for persons who want to try one or two entrées," he explained.
One of the mouthwatering and simply mind-blowing offerings was the smoked marlin trio. The innovative chef also had an ackee and bacon bruschetta, and a tower of chicken scaloppine on show.
"We have to stay current and offer our guests variety," says Dekrines, adding that his Alexander's restaurant serves breakfast, lunch, dinner and room service.
His menu changes twice per year, and both his culinary staff and Matthews' are involved in the creativity that comes from the two kitchens.
janet.silvera@gleanerjm.com