<
More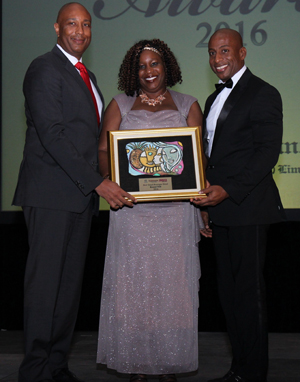 Caribbean Producers Jamaica's Dr David Lowe (left) presents the Best Boutique/Small Hotel Award to Round Hill's Hillary Stewart and Omar Robinson.
Round Hill adds to its collection of accolades
The legendary Round Hill hotel has added the Hospitality Jamaica 2016 Best Small/Boutique Award to its extensive collection of accolades.
The hotel, which is located in Hanover, was also winner of Hospitality Jamaica's 'Best in Cuisine' award in 2014.
The 110-acre property is highly acclaimed as one of the most beautiful and elegant resorts in the West Indies. It consists of a series of 27 charming private luxury villas and 36 spacious Ralph Lauren-designed oceanfront rooms, which afford guests a spectacular view of the ocean.
Villas range from two to six bedrooms and include niceties such as private pools and event lawns and are in proximity to tennis courts, a jogging trail, the resort's fitness centre, the Pineapple Kids Club with (trained nannies), and the Round Hill private beach.
Round Hill houses, among other things, a spa, and two restaurants - the Seaside Terrace and The Grill, which offers a wide menu comprising mainly local organic foods. For players of golf, the resort provides complimentary shuttle service to the Tryall Golf Club's 18-hole championship golf course.
The impeccable service, outstanding food, and the willingness of staff members to go the extra mile to meet requests are among the things that have given the resort an international stamp of approval over the years, that is, in addition to the fact that physically, as it has often been described, Round Hill is a naturally beautiful, serene, tranquil, mesmerising, quaint, and fabulous place.
Round Hill is not seen as only just a hotel. The resort is an integral part of the Hanover landscape as it has always been a good corporate citizen, demonstrated through its consistent support of social and humanitarian activities across the parish and sections of western Jamaica. Its charitable arm, Hanover Charities, is the largest organisation of its kind in western Jamaica and was established to improve the quality of life of the people of the parish by funding community health, education, and welfare projects.