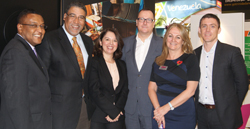 From left: Paul Pennicook, director of tourism; Dr Wykeham McNeill, minister of tourism and entertainment; Antonia Bouka, general manager for Tourist Boards and Hotel Partnerships at TUI UK; Phil Iveson, head of purchasing Long Haul & Rest of World at TUI UK; Elizabeth Fox, regional director for the UK and N. Europe, Jamaica Tourist Board; and Garry Wilson, MD, product and purchasing at TUI UK, met to confirm Montego Bay as the home port for UK cruise ship Thomson Dream for a second year.
MoBay to remain home port for Thomson Dream
Jamaica has successfully retained the contract to serve as home port for cruise ship Thomson Dream for a second year. Jamaica's minister of tourism, Dr Wykeham McNeill, and the island's director of tourism, Paul Pennicook, met with owners of Thomson Cruise TUI UK & Ireland, resulting in the announcement that cruise ship Thomson Dream will home-port in Montego Bay for a second time in 2015. Tickets will go on sale in December.
Year 2014 has been extremely successful for the partnership between Jamaica and TUI UK & Ireland. In Spring 2014, Thomson opened its first Sensatori Resort in the Caribbean outside Mexico, Sensatori Resort Jamaica, in Negril. TUI UK & Ireland also increased air service into the island from several UK regional airports, and the success of cruise sales throughout the last twelve months is a direct result of Thomson Dream making Montego Bay its home port beginning December 2014.
Pennicook said, "By working closely with TUI UK & Ireland, we have secured Montego Bay as the home port for Thomson Dream for the second year in a row. With increased airlift such as Thomson Airways from new regional UK airports into Montego Bay, it's never been easier for tourists in the UK to travel to Jamaica and experience our award-winning hospitality, whether they prefer to holiday on island or sea."
Customer demand
Neil Duncan, Thomson Cruises' general manager for product, planning and marketing, added, "Given the number of bookings for Thomson Dream this year, we were keen to build on 2014's success and have therefore chosen Montego Bay, Jamaica, to be the home port for our cruise ship for a second year. There is real customer demand for both cruise and stay holidays from Jamaica, and we are keen to support and grow that demand."
For more information on Jamaica, visit www.VisitJamaica.com.