More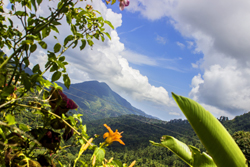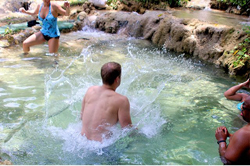 Visitors enjoying a Jamaican attraction.
Waterfalls in the mountains.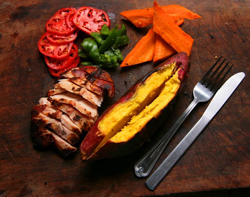 Jerk pork with sweet potatoes.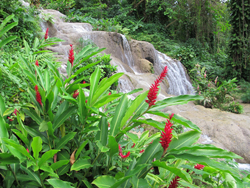 Waterfall in The Blue Mountain
Blue Mountain bicycle tour.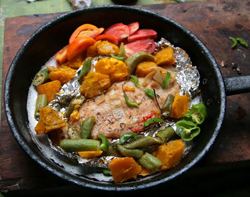 Come to JA and feel all right!
Jai-Gairy Smith, Contributor
Visitors to Jamaica, and even locals, are yet to experience the real gems of the island. Visitors who only enjoy the offerings of their hotels, from the beginning to the end of their visits, are missing the most exciting aspect of vacationing in Jamaica.
Locals, caught up in the activities of daily life, forget to take a break in their own backyards for a few hours, or days, of real fun. Jamaica has so much to offer, whether looking for adventure, shopping, beaches, fishing, water sports, or a taste of the island's rich culture and history by being entertained by the island's talented people or go horseback riding along beautiful white-sand beaches.
Adventure is waiting around the corner for thrill-seekers and nature-lovers alike. Exciting, fun and safe adventures may be off the beaten track, but these hidden gems are certainly worth the trek.
Downhill bicycle rides through the lush tropical rainforests of the Blue Mountains, while the birds, butterflies and indigenous trees wait to fascinate all who explore.
Zip lines, bungee-trampolines, dune buggies and all-terrain-vehicle safari rides, water slides and bobsleds complete adventure. Animal lovers can swim with dolphins, ride horses, camels and go sport fishing. Underground has even more to see as caves and caverns hold the secrets to Jamaica's history and unique geography.
Jamaica's white-sand beaches are renowned the world over for picturesque beauty. Black-sand beaches, found mostly on the south coast, provide a unique experience for visitors. Water sports along the coast, fishing, or spending time on the catamaran, keep pleasure seekers in view of the beach, but wet and active.
To reach new heights, water parks are well equipped with pools and slides, as
well as a myriad of games to keep the entire family happy. Take to the air, even by sea, on a truly unforgettable adventure by parasailing over the Caribbean Sea.
There are many opportunities to explore and discover the real Jamaica. The island's rich history is a journey through Jamaica's plantation days when sugar was king and rum started to make its mark. An awe-inspiring tour of a fully operational rum distillery will have the spirits moving just right.
Artefacts in numerous museums, from the island's first citizens, the Tainos, to the Spanish and British, who both saw the beauty in Jamaica long before the Internet, tell a story of an island that has seen many challenges, but stands proud today.
The Georgian architecture which remains in many towns, like Falmouth, as well as magnificent great houses dotting the island, continue to record Jamaica's development as a diverse nation.
A colourful and flavourful culture is certainly a result of the many peoples who have become one in this island. Early citizens and visitors from India, China and the Middle East have also played their part in making Jamaica 'Out of Many, One People'.
Food, language, fashion and warm people have created a melting pot of cultural exchange. Visit any of the local festivals dedicated to passion for foods such as yam, shrimp, curry, jerk, and even seafood, to taste the love of Jamaica
There is always an opportunity to take a piece of Jamaica back home. Shopping in the many craft markets across the island, local community markets and state-of-the-art malls in Kingston, Ocho Rios or Montego Bay will guarantee souvenirs for friends and family.
After all that shopping, watch a local play, visit the cinema, go out for a drink of Jamaican rum or dine in fine style. Whatever is chosen, the island has the perfect fit.
When looking for a piece of heaven, remember, Jamaica is just around the corner. Come to Jamaica and feel alright!