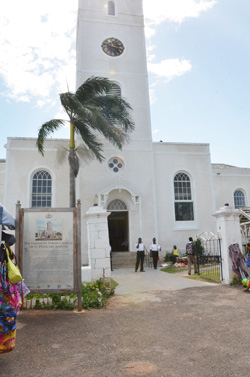 St Peter's Anglican Church, part of the Trolley tour.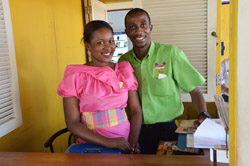 Tour guides, Shantoy Myers and Sameer Sterling.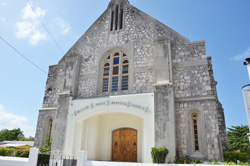 William Knibb Memorial Church, one of the attractions visitors are exposed to on the tour.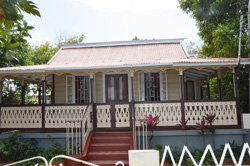 Some of the displays at the Jewish Heritage Centre.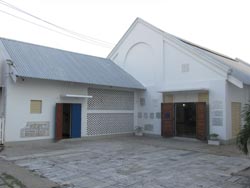 This house remains true to Georgian-style architecture..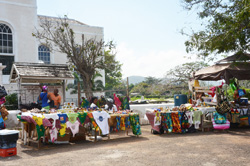 Vendors ply their wares outside St Peter's Anglican Church.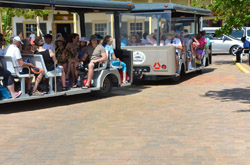 Visitors on the Braemar Tours trolley tour.
A Tour of Historic Falmouth by Trolley
Karrie Williams, Hospitality Jamaica Writer
Since 2011, Braemar Tours has been sharing the story of the rich history of Falmouth to cruise passengers and other visitors to the island through its inventive excursion, Tour of Historic Falmouth by Trolley.
Offered exclusively on ship docking days, the tour departs from the port and takes passengers on a one-hour journey through the town centre, showcasing historical sites and making regular stops so guests can experience the scenery and the people of Falmouth.
Braemar Tours uses specially designed open-sided trolleys to facilitate this excursion. This design is used to depict Jamaica's mode of transportation during the colonisation era. There are three trolleys in total and each can hold up to 47 passengers at a time.
Last Wednesday, Hospitality Jamaica got an opportunity to experience this tour and our overall conclusion was one of satisfaction. The tour offers a very enlightening lesson of the town's history and it also adds significantly to Falmouth's tourism appeal.
We drove along several streets including Tharpe Street and Market Street. Among the sights and scenes we came across were a total of six churches, including the more than 200-year-old William Knibb Memorial Baptist Church and the St Peters Anglican Church, where we made a designated stop.
Church's history
Speaking with Rose McCarthy, a visitor from Cork, Ireland, who said visiting St Peters Anglican was her most memorable aspect of the tour, mainly because her family name 'McCarthy' is profoundly featured in the church's history.
"We love the church, we came across this beautiful plaque on the side of the church and it was a tribute to someone who was involved in the building of the church and his name was McCarty, so here we are all the way from Cork to find another McCarthy. I enjoyed the tour immensely and the people are so lovely, we had a lovely day and I would recommend it to anybody," she said.
At St Peters, we also encountered several craft vendors plying their wares in the vicinity of the church yard. They expressed their approval of the tour, claiming that it was largely responsible for their day-to-day earnings.
"I wouldn't say it's benefiting us a hundred per cent, but it does benefit us. Although we had greater expectations, we are still grateful, because no one else takes tourists around here to us, so this tour is primarily responsible for our earnings," said Winsome Dennis, one of the vendors.
Continuing our journey, we drove by the Falmouth Police Station, which is currently said to be the largest in the Caribbean. What was also of great fascination to us were some residential dwellings that sported genuine Georgian architecture. Not surprisingly, we were told that these houses were a major highlight for visitors.
Since beginning its operations in 2011 with the opening of the Falmouth Cruise Shipping Pier, Tour of Historic Falmouth by Trolley has been having a very successful run, this according to owner of Braemar Tours, Judy Schnoenbein.
"The tour is well-received by passengers; they like to learn about the history of Jamaica and the history of Falmouth. They like to see how we live and at the end of it, they feel as though they have learnt something about the country ... it's very successful, and some days, we are even sold out," she said.
Schnoenbein also pointed out that tour employees were exclusively from Falmouth, as building the community was also of importance to her and her business.
In speaking of her experience working for Braemar tours, Shantoy Myers, who is a tour operators was simply ecstatic.
"Before the port was constructed, I wasn't working, but ever since Royal Caribbean and the Jamaica Port Authority built it, I got a job and that is something I am really happy about. I am also really happy about what they are doing in the town of Falmouth, which is restoring all these old buildings for us to continue doing tours," she said.