More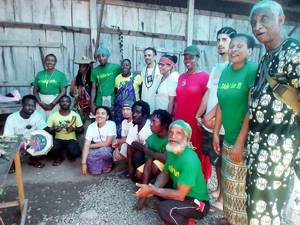 PHOTOS BY PAUL H. WILLIAMS - Some of the people who participated in the Run Taino Run community activity day at Charles Town in Portland last Saturday.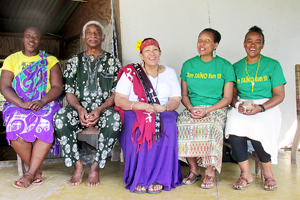 From left: Acting Colonel of the Charles Town Maroons, Marcia Douglas; Dr Robert Vassall: Taino elder Vanessa Inaru Pastrona; Carol Miller of Sankofie; and Velva Lawrence of Sankofie.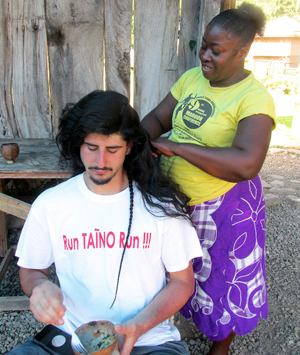 Acting Colonel Marcia Douglas of the Charles Town Maroons braiding the hair of Taino Cuyo Arieto of New York.
Around Ja with Paul H - A day of peace and harmony
When I arrived in Charles Town, Portland, last Friday night the music, drumming and dancing were all over, and I heard people had a jolly good time. I was very upset, because I was looking forward to the fun.
St Andrew peak-hour traffic, from Half-Way Tree to Manor Park, denied me that joy, but it was to come the following day, an entire day of peace and harmony, or so I thought.
I fell asleep shortly after my disappointing arrival, and woke up a few minutes after 5:30 a.m. Not even the cold weather could stir me, that's how tired I was.
As I was milling around, and rummaging through my paraphernalia to find something to munch on, I heard the heralding sound of the conch shell. It was time to drop my rock cake and ripe banana and go to the morning ceremony, signalling the start of the day's activities of the Charles Town leg of Run Taino Run.
It was a spiritual run for peace and dignity from St Andrew to St Ann and included Taino participants from Jamaica, the USA and Mexico. I wanted so much to participate in the run, but I listened to my ageing body. So, I decided to immerse myself into the cultural offerings, and there was much of it.
Apart from the rituals and the reverence, it was a day of smiles and hugs. I have never seen so much hugging and greetings in one place, at any one time. It was also about sharing - of love, food, refreshments, knowledge, stories, ideas, experiences, etc. And the children from the community were there to bear witness.
The moment that stood out for me was when a big coconut jelly I had, caught the eyes of one of the Tainos, who had his hair braided by acting Colonel Marcia Douglas. He asked for a sip. I said no with a smile. I then gave him the entire coconut. He eyes popped out, and I said, "Yes, it's all yours." And he smiled back at me before saying thanks.
But, instead of sitting by himself sipping away, he went around sharing the flavourful water. People were taking a sip or two, and there seemed to be no end to the amount of water. And when it was finally finished, there was to be more sharing, of the thick meat.
I could not keep my eyes off the Tainos, and kept thinking about what it perhaps was like in the pristine, pre-Columbus days when they would have rituals similar to the ones that were taking place on Saturday. The respect that they have for the universe, earth, elders, ancestors, and for one another is astounding
And the singing and dancing that I missed on Friday night I got to be a part of, not in the volume and intensity of Fridays night's. But, there was some vocalising and movements nonetheless.
inviting waters
While the riverside blessing of the runners' staff was going on, I went away from the gathering because the swirling waters around huge boulders were very inviting. I found a spot between two big rocks and let the water rush on to me. On my left, a mountain towered directly above me. On my right there were thousands of river stones, great and small.
Behind me the water came rushing. In front of me, it cruised on its way to Buff Bay. At the riverside, the gathering was reflecting, praying and singing, paying respect to the cleansing body of water, and embracing it at the same time. I was at peace and harmony in the heart of nature. I wished I could be frozen at that spot forever.
I was jolted from that wistful moment when I remembered what I called an 'intervention'. The peace and tranquility that I felt for most of the day and the harmony that consumed me were on the verge of being shattered.
Nothing was going to spoil my joy for a second straight evening, but, alas, I had to leave the spot, and woke up to the reality of returning to St Andrew.