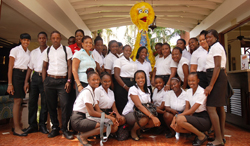 Students of the Theodora Skills Training Centre based in Negril, Westmoreland, ensured they seized the moment with Beaches Negril's Sesame Street educational partner, Big Bird, during a visit to the resort for a pre-World Tourism Day activity.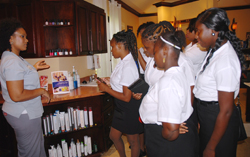 Tenisha Limmoth (left), massage therapist at Beaches Negril's Red Lane Spa, gives a tour of the spa's salon to students of the Theodora Skills Training Centre.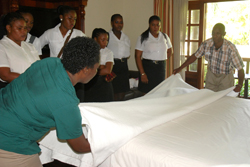 Beaches Negril's housekeeping supervisors Maureen Humphrey (left) and Amol James (right) show students from the Theodora Skills Training Centre how to properly spread a bed.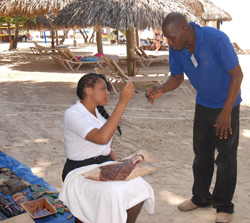 Rockey Madourie (right), one of the craft vendors at Beaches Negril, assists one of the students from the Theodora Skills Training Centre in decorating a crafted fish during a training session at the resort as part of a pre-World Tourism Day activity, aimed at empowering young people with skills useful in the tourism industry. Other students also received first-hand training in housekeeping and massage/beauty therapy.
Youth schooled for WTD
Over 25 youth from the Theodora Skills Training Centre in Negril, Westmoreland recently benefited from hospitality skills training sessions at Beaches Negril in recognition of World Tourism Day (WTD) 2014.
Observed September 27 annually, WTD was held under the theme, Tourism and Community Development this year.
Focussing on the ability of tourism to empower people and provide them with skills to achieve change in their local communities, Beaches Negril, on the eve of the global observation, delivered hands-on in housekeeping, beauty/massage therapy and craft-making to the students.
Kristal Mattis, one of the trainees who participated in the sessions, shared that the exposure was fantastic. "I learnt a lot of new things about housekeeping, and while some of the areas we already knew in theory, this experience allowed us to see the practical side and helped us to apply what we learn."
The Theodora Skills Training Centre falls under the Theodora Foundation, a non-profit organisation that aims to empower young people, including some who may be at risk of being exploited through illicit means, human trafficking and the commercial sex trade. The Foundation
offers them opportunities for education and personal development. In addition, there is a safe house called the Theodora's Place.
The centre offers skills training and HEART certification in the areas of information technology, cosmetology and housekeeping.
Audrey Reynolds, coordinator at the centre, stated that she was pleased knowing there were businesses that have young people's best interest at heart, "regardless of their background or position".
According to Kendra Johnson, regional public relations manager for Sandals, Beaches and Grand Pineapple Negril, this activity was a natural fit. "The theme for this year's World Tourism Day speaks to empowering people with the relevant skills needed to effect change in their community, so Sandals Resorts saw this as the perfect opportunity to impact these young people through tourism and provide an avenue for them to not only learn something new, but also enjoy themselves in the process."
She noted that other students from the centre will be accommodated for a similar activity at a later date.