More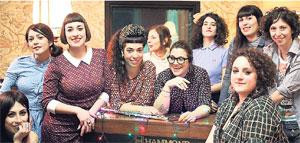 CONTRIBUTED - Le Birrette, a 10-piece all-girls band from Italy, will be performing at the Portland International Jazz Festival.
Portland prepares for int'l jazz festival
Camille Miller, Hospitality Jamaica Writer
For the second year, the International Ocho Rios Jamaica Jazz Festival has returned to Portland, giving organisers reason to believe the event has found a permanent home.
Slated for May 28 at the picturesque Somerset Falls in St Margaret's Bay, Portland, the event is being billed as an evening of a mixture of jazz and the arts and something "that patrons will be talking about for a long time to come".
It is also being seen as a welcome addition to Portland's growing tourism offerings and a prelude to next year's inaugural coffee festival, which is slated for the Buff Bay Valley and which is being touted as one of the premiere events on the Jamaica Tourist Board's 2018 calendar.
"It will be an evening that will see not only live performances, but also an art and photography exhibition by three of Portland's finest, Joavan 'Phineline' Puran, Philip 'Ambokele' Henry, and Howard Moo Young," explained chief organiser Marcia Lawrence.
"We have been pushing it in many of the hotels on the north coast so as to get our visitors to come out and enjoy an evening at one of the most beautiful attractions in this country - Somerset Falls."
Lawrence pointed out that Riddim Bank, the local quartet band led by Donnie Chin of CC Bakery, 'home of the Holey Bulla', Port Antonio, will start the evening's entertainment at 4:30 p.m. and "is expected to set the right tone for the other performers.
"Le Birrette, a 10-piece all-girls band from Italy, will definitely be surprising the audience with their knowledge of Jamaican music, from ska to rock steady, rockers to reggae," she added. "Formed in 2014, this is a group that has two great loves: Jamaican music of the '60s and '70s, and also Red Stripe Beer!"
NO STRANGER TO SCENE
Lawrence added that headliner Harold Davis is no stranger to the jazz scene and is also "a very good friend of Portland.
"He will bring the curtain down on what we believe will be a wonderful evening," Lawrence further pointed out. "He is the perennial fan favourite who always ensures his audience is engaged and is expected to do no less at Somerset Falls on May 28."
Patrons with presold tickets, she noted, will also have the choice of enjoying a boat ride under the falls at less than half the usual cost.
The Jamaica Tourist Board, The Gleaner, Kool 97FM, in addition to KLAS/ESPN, Edgechem Jamaica Limited, Braham's Texaco, L.P. Azar Limited, Stewart's Automobile Group, Native Audio & Stage Equipment Services, Rio Vista Resort and St George's Funeral Home are listed as sponsors.
Pre-sold tickets are available from Lees Maxi Mart in Port Antonio and Somerset Falls.