More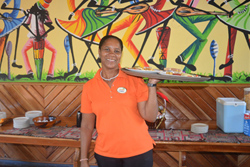 Barbara Simpson wears a consistent smile on the job.
Barbara Simpson delights with her winning smile
Karrie Williams, Hospitality Jamaica Writer
Service with a smile is the trademark of Barbara Simpson, who for the past eight years, has been delighting travellers with her pleasant personality at the Sea Star Inn, West End, Negril.
"The first thing that attracts you to Barbara is her smile," said Christopher Tomney, owner of the boutique hotel. "She has such a pleasant character, it is really hard for anyone not to be immediately drawn to her, and to top it all off, she is really hard-working and committed to her job."
Simpson, who works as a dining room supervisor, is relied on for ensuring that restaurant supplies are kept up to stock and that service is always at an optimum at the hotel's busy sports bar and restaurant. She supervises eight team members on a daily basis and has specific responsibility for the training of new dining room staff.
Though her days and nights on the job can become hectic at times, through it all, Simpson always has a smile on her face. She tells Hospitality Jamaica that while she appreciates all aspects of her job, it is her interactions with the never-ending inflow of new guests that she finds most enjoyable, as this enables her to communicate with persons from all over the world.
"It's a pleasure to meet and interact with guests all over the world. Every day brings with it a host of new experiences because you are constantly meeting new people and I enjoy that a lot ... seeing to it that my guests are totally satisfied with the service received is also something that I find deeply satisfying," she said.
Simpson credits Sea Star owners, Christopher and Francine Tomney for their engaging and helpful management style, which she says has allowed her to flourish on her job.
"My boss is a one-of-a-kind boss," she said. "He spends time with his staff and he gets around and helps us out a lot. He is not a boss that sits down and issues orders, he is very hands-on, and so is his wife, Francine," she said.
Simpson admitted that all members of her team are very hard-working, but offers special commendations to bartender, Randy Smith, whom she classifies as being very "humble, dedicated and always willing to go that extra mile."
When the dining room supervisor is not delighting guests at Sea Star, she likes to unwind at home with her two children - Decardo Cole, 22, and Barika Clarke, 13.