More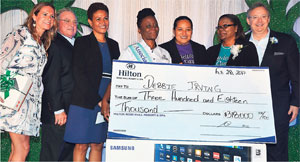 Hilton Rose Hallís Associate of the Year 2016 Debbie Irving (centre) is flanked by (from left) Wendy Gallagher, Rich Cortese, Stephanie Vassell, Carol Bourke, Marie Brown, and Robert Burg.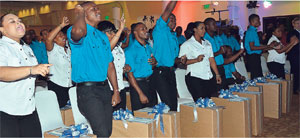 Hilton Rose Hall Resort staff sing and dance to the words of gospel artiste Kevin Downswell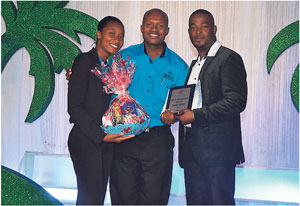 Denny Hines (centre), Most Recognised Associate, flanked by Romona Davis (left) and Patrick Samuels.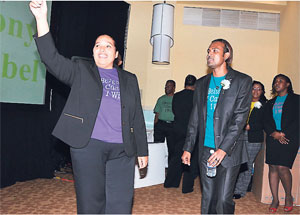 Managing director of Jewel Resorts and general manager of Hilton Rose Hall, Carol Bourke, and her hotel manager, Daine Golaub, celebratin
Hilton Rose Hall rewards outstanding staff
Janet Silvera, Hospitality Jamaica Coordinator
Hilton Rose Hall, Montego Bay staff who performed outstandingly in 2016 were recently celebrated and awarded at the hotel's second Service Awards Ceremony.
Top performer, Debbie Irving, of the Purchasing Department, who was named Associate of the Year, walked away with a brand-new Nissan Tiida motorcar; a five-nigh, six-day stay at Doubletree by Hilton at the entrance of the Universal Studios; a two-night, three-day stay at the Round Hill Hotel; and more than $250,000 in cash.
She shared the spotlight with first runner-up associate, Clover Hanson; and second runner-up associate, Sandre Frazer.
"All the awardees must be outstanding employees and exhibit commitment to quality in carrying out job responsibilities and is an asset to his/her department," said Nadine Reid, human resources manager at the resort.
She added that the recipients are selected based on their willingness to take initiative and accept and carry out additional responsibilities beyond regular job assignments.
"Consistently dependable and punctual in reporting for duty, completing assignments on time, and participating in additional responsibilities, are among the attributes," said Reid.
Longstanding and renowned employee, Janett Wedderburn, copped the Manager of the Year award, taking home $239,800 in the process, while Shane Lewis was named Supervisor of the Year. Lewis received $229,800.
"These are persons who portray a positive attitude towards work responsibilities, their co-workers, and guests and serve as role models for others," Reid pointed out, noting that all the awardees exhibited exemplary service in daily work, and gave contribution to department, community and hotel projects.
The others recognised at the event were:
Special Recognition - Karl Whonder
Top Wine Sales - Bevon Smith
Sales Achievement - Golda Lovelace
Bartender of the Year - Kadian Clarke
Chef of the Year - Dennis Gilling
Blue Energy Award - Junior Nash
Guest Services Award - Desmond Donegan
GM Merit Award - Dion Marks
Hilton Ambassador - Vinessa Uter
Department of the Year - Laundry
Most Exemplary - Annie-Kay Royce
Smile Award - Kelvin Morris
Most Recognised - Denny Hines.