More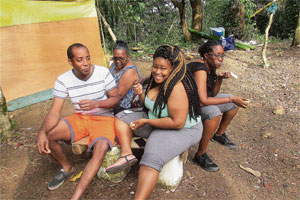 'Campers' eating sugar cane just before breakfast.
Three parties, 14 parishes in three days
My last trek around the island for 2017 saw me going through all the 14 parishes of this island in three days, one of which was a party binge.
It started on Friday, December 15, when I travelled with a group of charitable Optimists, including entertainer Roy Rayon, of the Optimist Club of Harbour View in St Andrew. Being the chatterboxes that we are, imagine what happened along the way.
The chatting was so intense that I didn't get a chance to sleep, as I am wont to do in moving vehicles. By the time we knew it, we were in western Jamaica. The journey from my home parish of St James to our destination parish of Westmoreland took us to places I have not been to for quite a while.
These are places I have gone to in my youth, but some I have not been to for decades, since high-school days perhaps. I also recalled travelling through some of them the day after the Jamaica Labour Party won the October 30, 1980 general election.
I told the Optimists of my experience and of how when we reached Lambs River Square in Westmoreland, the convoy was attacked by PNP supporters, and how my brother and I jumped through the bus windows and took refuge in a supermarket. When we emerged after the police came, there was blood and broken glass all over the place.
Fast-forward to December 15, just as Rayon, the driver, was entering Lambs River Square en route to Rap Trap district, where I saw no rat and no trap, the building in which my brother and I hid 37 years ago came into view.
I got excited and shouted, "See the building deh, see the building deh!" Alas, Rayon was driving too fast for me to get a picture of it. But I did the following day, when we stopped to get some food.
But, I am running the story too fast myself, as I must say we spent a major part of Friday afternoon preparing for the first party, a pre-Christmas treat at Kew Park School at Rat Trap, from where we travelled to Amity/Scarlette Field.
That was where the fun began. When we arrived, a young man approached us. His black skin is perfect, no bleaching, no blemishes. He seemed to be coming from work. But 'Roller', as he is called, made me laugh loudly.
I thought he was in a pair of white tights under his short pants, which created a stark contrast against his black skin. So, when I looked harder it was dust - thick, white dust, thus the laughter. Where was he coming from?
For the three days that we were around, Roller had been a tower of strength, literally. He worked very hard helping us without complaining, even turning up Saturday morning with green plantains and bananas, which I peeled for breakfast. He carried my suitcase the night before when my ageing body failed me along the rugged path from the main road to 'Tambrick Hill', where there is an abundance of turmeric.
For two very dark nights that was where we camped, chatting and laughing, bathing in rain water, listening to people snoring and disturbing the nocturnal creatures with their own brand of cacophony. The country food was great, Rayon made the best turned cornmeal ever. A young lady called 'Sister' was also integral in making us comfortable.
But it was Saturday when we outdid ourselves. We travelled to Kew Park School where there was fun and games, where young and old got bags of goodies and refreshments. There were many happy faces around. We found ourselves again in Lambs River, where I photographed my 1980 refuge, before going back to Scarlette Field to host another well-received treat, at night.
The day climaxed with a post-birthday party for Daphne Cox, Rayon's mother, on her Tambrick Hill land. There were more food and good cheers, and at daybreak there was sugar cane just before the mackerel 'run dung', yam, dumpling, roasted breadfruit, etc.
We took the south coast on the way back, on Sunday the 17th, parties and memories aside; but what I cannot get over is the fried fish and bammy that I got at Scott's Cove in St Elizabeth.