More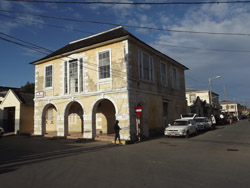 The Falmouth Post Office.
TEF funds Falmouth Post Office repairs
The Tourism Enhancement Fund (TEF) has come to the rescue of yet another historical site that was being threatened by structural decay.
More than a year after the 1815 Georgian-style two-storey stone building housing the Falmouth Post Office in Trelawny was closed for repairs, the TEF made it possible for work to be carried out by the National Works Agency (NWA) under a $36.8 million contract, signed on Wednesday, November 6, 2013.
A timeline of six months has been given for completion of the project, which includes rehabilitation to preserve the structure as a historical site; and renovating the floor boards, and infrastructure; and establishing the post office as a historical site and museum.
The plan for Jamaica's first postal museum to be established on the second floor of the Falmouth Post Office was outlined from as far back as 2003 by Phillip Paulwell, then minister of commerce, science and technology. He said the museum was being developed in collaboration with the Institute of Jamaica and would feature invaluable collector's items spanning centuries.
At the time of the closure of the two-century-old building at the corner of Market Street and Cornwall Street, the structure was falling apart with the roof leaking very badly whenever it rained and flooding the inside, disrupting operations.
'A very good idea'
Long-established businessman in Falmouth and former president of the Trelawny Chamber of Commerce, Dennis Seivwright, welcomes the TEF's support for the project. "That's good news. We welcome that," he said. Adding that the building should be refurbished with alacrity, Seivwright said with Falmouth now a cruise-ship port, "it could be a showpiece for the town and having a postal museum is a very good idea also because we need these attractions in the town".
In support of the TEF's role in the Falmouth Post Office project, minister of tourism and entertainment, Dr Wykeham McNeill, reiterated his belief that "as global travellers increasingly demand interaction with an authentic Jamaican experience, it becomes more evident the ways in which we need to develop and showcase our heritage sites as a part of the tourism product".
McNeill said this project was in keeping with the fact that the TEF was developed as a transformational agency to implement projects that can and will transform the landscape of Jamaica, "but most importantly, they must be, first and foremost, to the benefit of the people of Jamaica".