More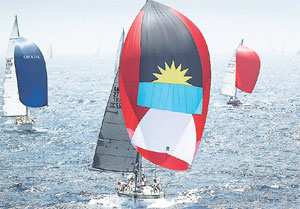 Antigua and Barbuda's year of celebrations
It will be a landmark year for the twin-island of Antigua and Barbuda as they celebrate major anniversaries for flagship events: The Antigua Classic Yacht Regatta, Antigua Sailing Week, Antigua and Barbuda Carnival - The Caribbean's greatest summer festival, and amazing, new events and exciting product developments.
February 2017
'Say I Do' in Antigua and Barbuda: This February, the Caribbean's Most Romantic Destination as voted by the World Travel Awards for two consecutive years in a row, launches its 'Say I Do' Romance Campaign with a grand destination wedding in the twin-island up for grabs by couples interested in winning the wedding of their dreams.
March 2017
John Hughes Mill Hunt Tour: The John Hughes Community Mill Hunt Tour will be launched this March as part of the UNWTO International Year of Sustainable Tourism for Development. The Mill Hunt Tour consists of a moderate hike to six sugar mills in the John Hughes community in Antigua.
April 2017
30th anniversary of Antigua Classic Yacht Regatta: In April, the sailing capital of the Caribbean hosts the 30th anniversary of the Antigua Classic Yacht Regatta from April 19-25 in the newly designated UNESCO World Heritage Site, Nelson's Dockyard, the only working Georgian naval dockyard in the world.
50th anniversary of Antigua Sailing Week: The prestigious Antigua Sailing Week, one of the world's finest regattas, celebrates its 50th anniversary from April 29-May 5, with nightly parties and five challenging days of racing in some of the best sailing conditions in the world. Antigua Sailing Week attracts between 100-200 boats.
May 2017
Third Run in Paradise Half Marathon: The third edition of the Antigua & Barbuda Half Marathon 'Run In Paradise', takes place on May 28.
June 2017
Antigua and Barbuda launches Green Corridor: The southwestern quadrant of Antigua will be declared as a Green Corridor in June. With a number of hotels along Antigua's scenic southwest coast either green-certified or engaged in green practices, Antigua's Green Corridor will stretch from Sugar Ridge Resort and Spa, and end in the village of John Hughes, noted for their community tourism initiatives. Antigua's sister island, Barbuda, will be developed as a totally 'green' island.
July 2017
60th anniversary of Antigua Carnival: Antigua and Barbuda's Carnival, the Caribbean's greatest summer festival, celebrates its 60th anniversary from July 28-August 8. Under the theme 'Experience Greatness', party lovers will get swept up in the excitement of the carnival and it steelpan, soca fêtes, calypso, pageantry, and costumed parades.
25 years of Dance and Culture: The Antigua Dance Academy celebrates its 25th anniversary with events taking place throughout the year. Key performances not to be missed include the academy's major dance production on July 2, titled 'Rising Consciousness', which will focus on folklore through dance, drama, and the music of the country.