More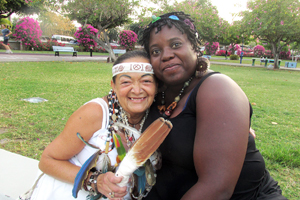 Taino Mildred Karaira Gandia Reyes of Miami, Florida, is happy to see Ronalda Pairman again.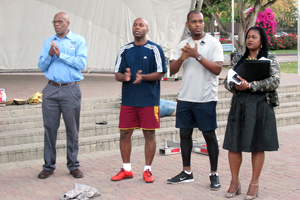 From left: Dorrick Gray of the Jamaica National Heritage Trust, Major Othneil Blackwood, Corporal Michael Morgan and Roxanna Harriott from the office of the permanent secretary in the Ministry of National Security look on during the Launch of Run Taino Run in Emancipation Park last Wednesday.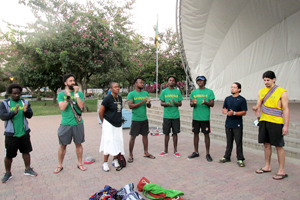 PHOTOS BY PAUL H. WILLIAMS - Velva Lawrence (third from left) of Sankofie leading some of the participants in song.
Sankofie hosts Run Taino Run
Paul H. Williams, Hospitality Jamaica Writer
The people who lived in Jamaica (Yamayeka) when the Europeans arrived in the late 1400s were called Tainos. Many history books and historical documents incorrectly called them Arawaks.
For many centuries the Tainos lived an idyllic life, which involved a love of, and respect for, life and nature. Yet, their peace was decimated by the Europeans, and hundreds ran away into the interior, where they were to be joined by some of the Africans who came over to replace them as labourers.
And the Tainos are running again, this time in a programme called Run Taino Run, coordinated by Sankofie, an entity in St Andrew that "focuses on the spiritual culture of our Taino peoples, thereby exploring yet another dimension from which to understand their peaceful and harmonious ways of living".
Sankofa facilitates the participation of Taino delegations to the island, and has a relationship with Taino organisations and elders, who are guides, teachers and supporters. In collaborating with local bodies, it organises and hosts Taino-focused activities and facilitated Jamaica's first-time participation in the Intercontinental Peace and Dignity Journeys in 2016.
The Peace and Dignity Organisation is a First Nation group located in the USA. It is committed to the preservation of the Native American culture. And in 1992, it initiated the Intercontinental Peace and Dignity Journeys,which have been going on every four years since then.
It consists of a series of 'spiritual runs' across North, Central and South America. The overall purpose is to achieve the unification of First Nation peoples of North America (the eagle) and South America (the condor). "The unification is necessary for the healing of our nations, to allow us to work together to ensure a better future for many generations to come," Sankofie said.
There was more unification in 2008 when Tainos and other indigenous peoples of the Caribbean, represented by the red-tail hawk (guaraguao), a sacred bird, were included in the journeys. Jamaica was represented in July-November run by Robert Pairman and Velva Lawrence, and now Sankofie is coordinating Run Taino Run Yamayeka 2018.
It is "an initiative to assist Jamaica and Jamaicans in reclaiming the indigenous in ourselves, our land and country. This run is intended to honour the first peoples of Jamaica, and to put out to the universe prayers for appeasement, and healing for their and our spirits - Yamayeka 2018 highlights our Taino ancestors and the fountain of knowledge that resides with them ... ," Sankofie said.
in-country run
In the past week, local runners and indigenous peoples (including Tainos) from Mexico and the USA participated in the run through communities in eastern Jamaica. In this in-country run, which started at Emancipation Park in St Andrew last Wednesday, runners carried staffs infused with prayers for themselves, families and communities.
The way was led by the runner with the Peace and Dignity Journeys regional staff, symbolising the red-tail hawk, which represents the Taino People and Yaya (Spirit of the Spirits). There were stops in Happy Grove and Charles Town in Portland, and in Rio Nuevo in St Mary. These community stops were to facilitate sharing of information through discussions and rituals.
The activities, launched in Emancipation Park, were partly sponsored by the ministries of Culture, and National Security, represented by three runners and Roxanna Harriott, technical coordinator in the office of the permanent secretary in the Ministry of National Security.
Harriott read Permanent Secretary Diane McIntosh's message, which said, among other things, "The Tainos have indeed left an indelible mark on our people. They are known as a good and noble people and these are the values that we want to pass on today. It is our hope that this event will remind persons that we can live in harmony and respect for each other."
The week-long activities ended yesterday (March 20) with an arieto (celebration), held at Seville Heritage Park in St Ann, an important Taino site.