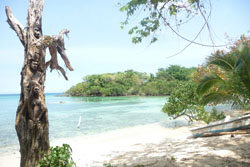 Several visitors enjoy themselves in the waters of the Half Moon Beach in Orange Bay, Hanover. - Photo by Claudia Gardner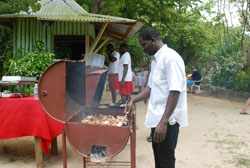 One of Half Moon Beach's chefs prepares jerk chicken for guests of the property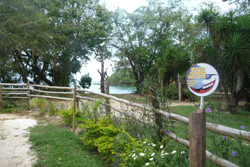 A picturesque view of the Half Moon Beach property.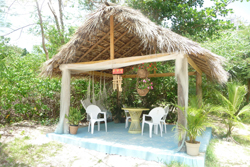 One of the gazebos at the Half Moon Beach.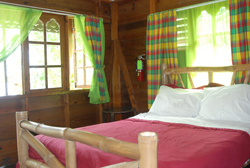 The interior of one of the cabins at Half Moon Beach.
Picturesque Half Moon Beach - showcasing the real Jamaica
Claudia Gardner, Hospitality Jamaica Writer
Anyone who visits the Half Moon Beach property in Orange Bay, Hanover, will agree that it is not only a nature lover's paradise, but also a writer's sanctuary.
Half Moon is not one of those properties with a fancy entrance or gateway, but upon navigating the short unpaved roadway which leads to the beach, this is where visitors come upon what many agree is a sight to behold, and a place where the senses come alive.
For more than 20 years, the Half Moon Beach offered mainly snorkelling, catamaran tours and general beach access as its key activities, in addition to overnight accommodation. But this year, the owners have expanded by introducing three new rafting tours, a motorboat tour, as well as horseback riding.
Half Moon has the distinction of possessing some of the most spectacular coral reefs in Jamaica, so on the Snorkelling and Bamboo Rafting Tour, coral reef enthusiasts and snorkelers will be escorted by one of the attraction's trained lifeguards to the various snorkel sites to view the flora and fauna of the underwater.
"There are a lot of fish out there - parrots, yellow tailed snapper, red snapper, grunts ... many different types of fish here and an occasional barracuda or two," owner of the property, Andrew Marr, quipped during Hospitality Jamaica's recent tour of the property.
RAFT CRUISES
The Honeymoon Bamboo Raft Cruise takes guests out to one of the tiny private islets off the mainland, for a pre-dinner rum cocktail, then on to a private beach where an exclusively assigned chef prepares grilled lobster and serves champagne, after which guests raft back to the mainland while watching the sunset.
In addition, the one-hour Romantic Bamboo Rafting tour takes guests along the coastline, out to the adjacent islets and stops along several strips of secluded white-sand beaches which are strewn along the coastline, where they get to swim and enjoy cocktails.
The other excursion is the motor boat tour, which treks up the Salt Creek River and into the quietness of the mangroves, for bird-watching, followed by a trip to the reefs for snorkelling.
Over the years, the property has been an ideal spot for persons who want to host small group parties and weddings, as well as honeymooners. Just recently, it was the place of choice for the filming of part of a German television sitcom.
"We have had shows here with 2,700 people. But really what we focus on is small groups that want to have a party with, say, 10 to 20 people who want to have a private dinner on the beach, or birthday parties. And if you have a group like that, you basically have the place to yourself. When we do weddings, they book all the rooms," Marr said.
"It's not like you are in Negril and every five feet, there is somebody else there. We get things like yoga retreats and people that want to come and be together as a group, spend a little more time together, get to know each other better," he added.
RUSTIC SPLENDOUR
Half Moon features seven rustic wooden cabins, each with its own private space, sheltered betwixt a mass of Jamaican sweet almond trees. All the cottages are ocean-front view, some less than five feet from the shore, and are equipped with hot water, refrigerators, and other basic amenities.
"There is no air conditioning and no TV. We are more in keeping with nature. They all have ceiling fans, bamboo furniture, and are quite comfortable and nice. Rustic - nothing fancy," Marr said. "We are trying to keep the place in its natural state. So we don't cut down trees; we enhance what's here. We try to plant more, instead of destroying what's here.
"If you even look from here (the beach), you can't even see a cabin. So even if you are coming in by boat, you can't see. We have a lot of repeat guests. I would say this is the real Jamaica. This is the Jamaica that everybody wants to come to. We want people to come and feel rejuvenated,' he added.
The relatively shallow, azure waters of Half Moon Beach are among the most tranquil, and one of the prettiest shades of blue a visitor to the island will ever see, and where the water appears to meet the sky at the horizon is utterly majestic.
The main beach strip is several hundred metres in length and consists of sparking white sand, which would be the envy of many beach resorts in the world. It comes as no surprise then that Half Moon Beach is among the chosen few of which photos have been taken to promote Jamaica as a beach destination.
Half Moon also has a restaurant where breakfast, lunch and dinner are served. A nature trail with footpaths is also open to all guests who visit and wish to explore sections of the property, including the garden where a variety of fruits and vegetables, and even sugar cane, are cultivated.
claudia.gardner@gleanerjm.com