More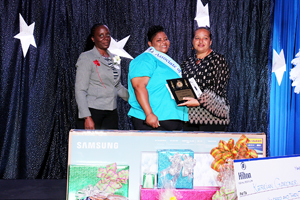 Associate of the Year, Kerrian Gardener (centre)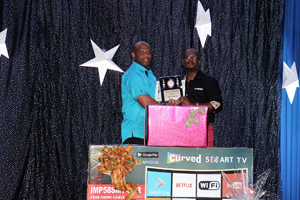 Manager of the Year, Howard Bailey (left) accepts his
award from Patrick Samuels, engineering manager.
Hard work pays
Janet Silvera, Hospitality Jamaica Coordinator
Kerrian Gardner, of the Seaside Restaurant at the Hilton Rose Hall is the 2017 Associate of the Year.
Gardner, who has been with the resort for the last three years walked away with a Honda Fit motorcar, over $300,000 in cash, five nights vacation at the Doubletree by Hilton, entry fee to Universal Studios, return airline tickets to the USA, a television set, laptop, microwave, a watch, gas stove and several other gifts at the hotel's resort staff awards.
Gardner outpaced first runner-up, Adassa Poyser in accounts and second runner-up room attendant, Devine Grizzle, who both received cash amounting to $300,000, and a host of prizes.
In fact, Hilton Rose Hall presented prizes valued at millions of dollars, in celebration of the work carried out by its associates.
"Today we celebrate our passion by showcasing those who have risen to the top through hard work, while developing their craft. By their drive and perseverance, they are shining examples," declared Hilton's area director of marketing and communications, Charmaine Deane.
She added that in celebrating their passion, it was critical for them not to forget that every great dream begins with a dreamer. "Always remember, within each of us lies the strength, the patience, and the passion to reach for the stars, and to change the world."
Gardner and her closest rivals shared the spotlight with the resort's banquet manager Howard Bailey of the food and beverage department, who was named manager of the year, while engineering supervisor, Otis Schloss copped the supervisor of the year title.
The engineering department took home the department of the year trophy, while the front desk team was recognised as the Hilton Honors recipients.
The other winners included songstress Karen Smith, who received a special recognition; Dahlia Smiley-Grant, for Best Smile, Mark Hudson, who was named Hilton Ambassador; Lisa Blair, the Blue Energy lady, Claudette Satchwell, the General Manager's Merit Award and Chadene Bryan, the Most Recognised Award.
Norrett Myrie copped the Bartender of the Year prize and Wilson Shaw, the Chef of the Year.
Hospitality Jamaica brings you highlights of the dedicated staff at the Montego Bay based resort.
janet.silvera@gleanerjm.com