More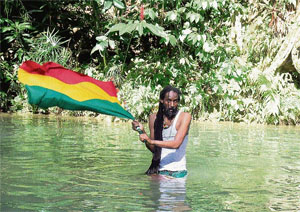 Bredda Firestone of Cassia Park, Kingston, brought colourful excitement to Irie River.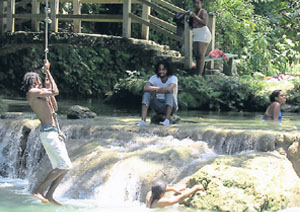 Having fun at Irie River
An Irie riparian day
Paul H. Williams
Hospitality Jamaica Writer
Jamaica abounds with rivers and streams, and locals and visitors cannot keep themselves away from them. Their rustic allure, smack in the heart of nature, makes these watery places irresistible.
It's all about water, but everyone has qualities that make it special. Whether the depth, stillness or rush, the freshness, the temperature, the vegetation around it, its accessibility, etc, every river gives a different experience.
I like super-clean, fresh-smelling, cool water rushing against rocks like that of the Buff Bay River at Charles Town, Portland. The ebullient water against the boulders is very refreshing and calming.
I have had my fair share of refreshing rivers. Last Saturday should have been a day when I immersed myself again, but I spent the time taking pictures and promising myself to return to Irie River because it really is an Irie place.
SPECIAL SECTION
I am talking about the section that is set up and operated by Robert Lee and his family. It's perfect for a day-out with family and friends. Apart from its natural attributes, it has man-made facilities that help to make it an ideal picnic, cook-out, and camping spot.
I like the rich forest through which it runs, away from the hustle and bustle of modern living. But in terms of accessibility, it is very accessible. It's far, but not too far.
Situated in a ravine at Bonham Spring near Exchange, St Ann, a long, unpaved road leads down to it. All types of vehicles can make the journey. But for a real riparian experience, you take a nice walk down the road. You go down, and down, sweating, hot, and flustered, and then jump into the water to cool down.
It has many pools and scenic spots and a section from which you can jump from the edge of a rock or a piece of rope that dangles over one of the pools.
EARTH FAMILY DAY
I happened to have gone there on Earth Family Day, the celebration of Garnett Silk's birthday. I went for a particular reason, not to bathe, or celebrate. I was pleasantly surprised by the festive mood, which almost made me lose my focus.
But I couldn't drop the camera. Too much was going on. It was a lively day of reggae music, relaxation, healthful food and drinks, frolicking and fun for those who were there for the occasion. Yet, there was reflection on the life of the brother who left us too soon.
It was a two-day event, so when I arrived, overnight campers were already up and chilling or cooking. On the other side of the river, Rasta chanting was going on. The spot was draped with red, green, and gold cloth, adding much to the festive ambience. By the river of Irie, they were chanting down Babylon.
As the day progressed, I saw black, white, Indian, Chinese, and Japanese Rastas. The sound system selector was Japanese, straight out of Japan. And anywhere Rastas are, they are going to make their presence felt.
But it was Bredda Firestone from Cassia Park in Kingston who took the excitement to another level. He entered the property with colourful confidence, much pep in his steps.
After frolicking in the river with his huge red, green, and gold flag, he jumped several times from a ledge with the said flag into the water. A pretty parachute it was. He outdid all the other jumpers with his spectacle.
Much entertainment was left to come when I departed about 4 p.m. While I was going, people were trickling in to join the night party by the river. Not far from the exit, I saw a silk cotton tree. And I thought about whom else would be dancing up a storm by the river.