More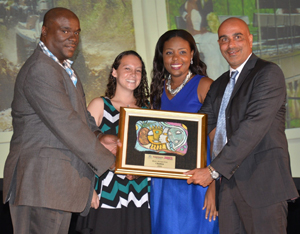 Hospitality Personality of the Year 2014 Dr Cecil Cornwall (left) presents the Best Attraction award to Chukka's Taylor Carmichael, Romayne McNab, and John Byles.
Chukka cops Jamaica Best Attractions award
Chukka earned the accolade as Jamaica's Best Attraction at the Hospitality Jamaica 2016 Awards ceremony two Saturdays ago, ahead of contenders Kool Runnings Adventure Park and Jewel Runaway Bay Water Park.
Established in 1983, Chukka, at the time, offered horseback riding and swimming activities at Chukka Cove in St Ann before establishing its second facility at Blue Hole in Sandy Bay, Hanover, years later.
Over the years, Chukka has expanded its offerings beyond horseback riding to become Jamaica's leading nature-adventure company. It now offers a plethora of highly acclaimed tours, which boast strict safety standards, at locations in Montego Bay, Negril, Falmouth, Sandy Bay, and Ocho Rios. This has made it a first choice and a one-stop shop for the highly active and daring and even for the mildly adventurous.
Chukka's properties now include the 2,000-acre Good Hope Estate Park in Trelawny, which is home to 16 buildings of historical significance, including a 16th-century great house. Scheduled activities at Good Hope include, among other things, dune buggies, zip-lining, horseback riding and carriages, river tubing and kayaks, a challenge course, a bird aviary, and a swimming pool. Visitors are also treated to a great house tour and Appleton Rum tasting.
The Sandy Bay property continues to have horseback riding as its mainstay and sees guests being taken through sections of the Hanover countryside, visiting an 18th-century sugar plantation, and then, still astride the horses, riding through the sea. A 4x4 safari through sections of Jamaica's interior is also another option that is offered there.
Chukka's tours promote Jamaica to visitors as being much more than sun, sea, and sand. Its extensive list of tour package combinations includes what has been described as the epic Zipline Canopy at Montpelier Outpost; Jungle River Tubing; Best of the West Island Experience; Best of the West Motorised; Zip, Tube, and ATV Quad Safari; Zipline Horseback; and Quad and Cliff Jumping, which are led by what visitors say are friendly and energetic tour guides.
Other combos are the Jungle River Kayak Safari; Montego Bay white water rafting; Flight of the White Witch Zipline Adventure; Blue Hole 4x4 Jeep Safari; 4x4 Jeep Safari and Mayfield Falls; and the Llandovery Amazing ATV and Cliff Jumping, which, according to accounts given by visitors, amounts to "pure bliss".