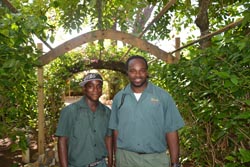 Christopher McKnight (left) and Demar Patterson.
Patterson and McKnight - dedicated to gardening
Karrie Williams, Hospitality Jamaica Writer
It takes a team of two dedicated gardeners to maintain the celebrated grounds of the Catch a Falling Star hotel in West End, Negril, which thrives with a host of meticulously landscaped flowers and fruit trees.
Integral to this beautiful garden setting is head gardener, Demar Patterson, who has worked at Catch a Falling Star for over six years. He is assisted by Christopher McKnight, who recently completed his first year on the job.
For both Patterson and McKnight, spending their days surrounded by plants is more than just a job; it's an experience that brings them tremendous satisfaction. In fact, both declared to Hospitality Jamaica that nothing gives them more serenity and a sense of achievement than from watching the seedlings they cultivate, grow and develop into mature plants.
"I love to watch plants grow, I love to bask in the beauty of them," Patterson said.
"I take great care in cultivating and caring for all the flowers you see here, and I enjoy when people look at them and appreciate their beauty."
McKnight's love for plants, which dates back to childhood, is best described by the gardener as being innate.
"From I was a young boy, I have been in love with flowers. There was always a garden at home, so I guess it's a natural bond that I have with plants. I enjoy taking care of them and I especially love to see the garden clean and free of weeds," he said.
A typical work day sees both gardeners maintaining the hotel's walkways, designed throughout the garden, along with pruning and watering the flowers which consist of bougainvillea, shoeblack, morning glory, cluster palm and willow. They also engage in periodic fertilising and weeding, as required.
Sharing tips on how they care for the plants, in particular bougainvillea, the passionate gardeners cautioned against over-watering this plant, explaining that this would adversely affect its growth.
"Bougainvillea doesn't love too much water; it blooms best in dry weather, so when setting it, use only a small amount of water, as too much water will kill it. Bougainvillea also needs lots of sunlight, as that is what makes it bloom," Patterson said.
But while some may view gardening work as substandard, Patterson and McKnight remain steadfast in their chosen career field and are further of the opinion that such view point is misguided.
"Such persons don't know how therapeutic and comforting plants can be to the human mind," said Patterson. "Caring for plants is much like taking care of a baby, watching them grow, it's the same thing. We come in the mornings and we water, prune and maintain them and watch them grow."
Being gentle
Added McKnight: "Caring for plants teaches us how to love, as loving flowers and taking care of them is just like taking care of your woman or your wife. If you are not gentle with your wife, you will not be able to be gentle with flowers, because they are very gentle and so they require particular care. You have to love doing it, and when you love it, then you can see the beauty of them."
In addition, both men declared that their gardening work has enabled them to provide for themselves and their families in a way that has been very rewarding, both currently and futuristically. Patterson told Hospitality Jamaicathat he is now in the process of completing the construction of his own home. He also said that one day, he hopes to achieve his own plant nursery.
Though McKnight has not yet embarked on a similar construction journey, he definitely sees it as a possibility for the future.
"I love my job, it enables me to take care of my family and motivates me so I can reach better levels in life," he said.