More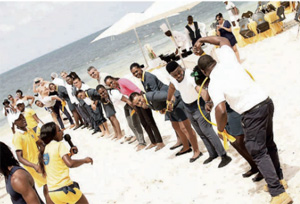 CONTRIBUTED PHOTOS Beach - Olympics at the Iberostar Grand ... management against guests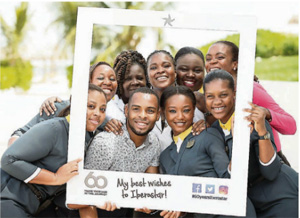 The Iberostar Grand team poses for the camera during the hotel groupís 60th anniversary celebration on Saturday night.
Iberostar turns 60
Spanish chain IBEROSTAR, a family-owned company that operates three resorts in Rose Hall, Montego Bay, has turned 60.
In a statement from the chain, the owners paid tribute to their thousands of customers, employees, and stakeholders for helping to position the brand at the forefront of the global-tourism industry.
"It is our customers, employees, and stakeholders who have managed to keep alive the enterprising spirit that has characterised us since our early days," said the statement.
Owned by the Fluxa family, it was their entrepreneurial spirit that led their members to venture into new territory in 1956 when they entered the tourism sector.
Their first hotels were situated on the finest beaches of Spain. Guided by the star of the Iberostar brand, the company embarked on an international expansion strategy in the Caribbean that took it to the world's finest holiday destinations.
Later came the business challenges such as The Grand Collection hotels and the opening of new urban hotels tailored to meet the changing needs of their guests.
VARIOUS PROPERTIES
In Jamaica, the group opened its first Jamaican property Iberostar Rose Hall Beach and Spa Resort in 2007, followed by Rose Hall Suites Resort in 2008, and the adult-only luxurious Iberostar Grand Rose Hall Resort in 2009.
Besides being a family-owned company with global recognition, Iberostar has also been promoting social action and education for the sustainable development of the countries in which the group operates, with the creation of the Iberostar Foundation
"We would like to thank all of you that have accompanied us on this thrilling journey. Iberostar has been making dreams come true for 60 years now, being able to transform vacations into unforgettable moments," the group said.