More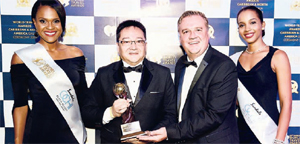 CONTRIBUTED - CEO of Go! Jamaica Travel, Dave Chin Tung (second left), accepts the Leading Tour Company award from World Travel Awards officials.
GO! Jamaica Travel - Jamaica's best destination management company
The travel industry in Jamaica is a very competitive scene. However, that did not stop the small, yet effective and more than competent,GO! Jamaica Travel from securing its foothold in a tightly held niche.
Formed in 1995 in Kingston by CEO Dave A Chin Tung, GO! Jamaica Travel has served to fulfil the much-needed alternative to the major tour companies.
The company has accrued a large market base over its 22 years. Major giants such as the RIU Hotels, Royalton, Moon Palace and the Jewel chains are some of the top hotels represented by GO! Jamaica Travel.
In 2014, it was the top seller of the RIU Hotels in the entire Caribbean. They don't, however, stop at just the major hotels. The company has contracts with many small independent entities worldwide, over 144,000 and growing, as well as cruise lines and car rentals.
With a steady and rapidly growing reputation in Jamaica, it's not a secret that GO! Jamaica Travel works hand in hand with the Jamaica Tourist Board (JTB) and that of a few other Caribbean islands in promoting tourism to the islands. The company's database is the driving force behind the JTB's Experience Jamaica website. With its home base in Jamaica, the company offers its many resources to other travel agencies in the Cayman Islands, The Bahamas, Trinidad & Tobago, Barbados and Curaçao.
TOP PLAYER
GO! Jamaica Travel proves its determination to be a top player in the field of tour companies. In the last four years, GO! Jamaica Travel won the Caribbean's Leading Tour Operator in the World Travel Awards. In 2017, they were awarded the 'the Caribbean's Leading Destination Management Company'. Their continued dominance had them also winning the Hospitality Jamaica's Best Destination Management Company award amid fierce competition.
With the ever-growing rise of social media and its many platforms, GO! Jamaica Travel stands at the pinnacle of customer service. With more than 80 per cent of their clientele based on social media, GO! Jamaica Travel dedicates their full attention to inter-personal relationships with their clients, providing excellent service and competitive rates. They are fast becoming a giant among many. The Caribbean is but the tip of the iceberg for them, and the world is but a playground with exponential room for growth.