More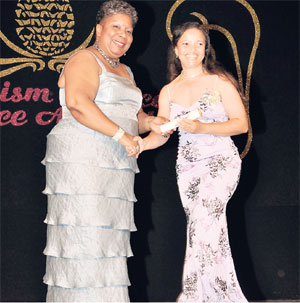 CONTRIBUTED Lyndsay Isaacs (right), regional public relations manager for Sandals and Beaches Resorts in the Ocho Rios Region, accepts a Tourism Service Excellence Award from Carole Guntley, former director general in the Ministry of Tourism.
Lyndsay Isaacs celebrates over 30 years in tourism
"My most memorable experience in the industry would be when little Ajay sat in his bed in the hospital and said, 'Ms. Lyndsay I can see you!' It brought tears to my eyes."
Ajay was only six years old and had been diagnosed with cataracts in both eyes. He had just undergone corrective surgery with the assistance of the Sandals Foundation, and waiting for him were his mother and Lyndsay Isaacs, regional public relations manager for Sandals and Beaches Resorts in the Ocho Rios region.
The fact that Lyndsay Isaacs' most memorable experience involves helping someone in need comes as no surprise to those who know her. She is the epitome of selflessness and compassion.
Throughout her time in the hospitality industry, more than 30 years to be exact, Isaacs has made her mark through her devotion and commitment to philanthropy and community development. She admits that as a youngster, she never thought of a career in the tourism industry. She had in fact wanted to become a doctor, "to help others, especially those most in need of good health", she said.
Fate, however, had other plans and what initially began as a summer internship as a data entry clerk at Sandals Montego Bay straight out of high school has turned into a lifelong career, built on her love for the company's commitment to philanthropy.
Over the years, she has held positions ranging from public relations assistant, public relations supervisor, senior wedding coordinator and community relations manager.
Always on the go and never without her signature cheerful smile, Isaacs is in love with her career. "The best thing about working in tourism is meeting people from all walks of life and to be given the opportunity to share our wonderful culture and learn theirs as well", she said. "It's also about offering service excellence to make everyone feel welcome and at home."