More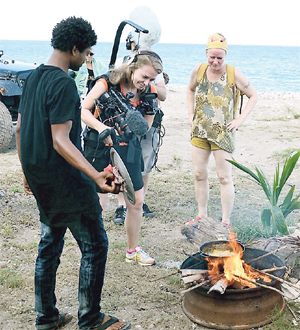 A Dutchie with plantain being fried captured by the camera crew.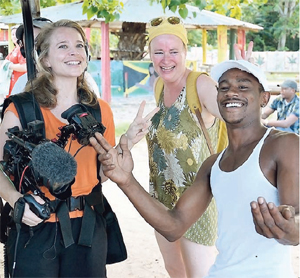 The TV crew chilling with a Jamaican
Tangerudbakken comes to Jamaica
Norway's hit reality series is shot in Ocho Rios
Carl Gilchrist, Hospitality Jamaica Writer
The film crew, producers, and actors in one of Norway's top-rated reality series, 'Tangerudbakken', spent a day at the Rio Nuevo Beach on the outskirts of Ocho Rios last week, shooting scenes for Season Six of the show.
'Tangerudbakken', which has won a Norwegian Emmy, is a documentary about six people with special needs. The show features a character with Down's Syndrome, one with autism, and another with cerebral palsy, explained producer Kari Wale.
"They all live together in the same condo in Norway, where they have help 24 hours. The purpose of the TV programme is to increase tolerance of people with special needs. In Norway, the six of them are big celebrities," she added.
The team arrived on the Allure of the Seas and spent over three hours on the beach taping and enjoying the warm Jamaican hospitality, food, and reggae music.
It was a typical Jamaican setting with the Point of Interest band and Drop Di Bass sound system, with cooks preparing fried fish, roasted breadfruit, fried plantain, and other Jamaican favourites, while the visitors played dominoes and drank Red Stripe beer.
"It's the first time in Jamaica, and we love it. Everyone is excited," Wale said.
Hege-Anette Havik, one of the stars of the series, is a huge fan of Bob Marley and was delighted to be in the land of the reggae king.
"I like the reggae music, rocks, shells. I like Bob Marley and 'Laid Back' (a reggae band from Denmark), which did Sunshine Reggae," Havik said. She said that she hopes to be back in Jamaica.
Wale said that the group's stop in Jamaica was made possible by Sean 'Contractor' Edwards, whom she praised for the work he did.
"Me and my colleagues came here four weeks ago to meet Contractor, and after a couple of hours, we were, like, OK, what about this beach? You know what he said? That's not been done before, so it will be perfect. I can fix that. After that, we spoke on the phone a couple of times and we come back now and everything is fixed. Perfect."
For his part, Edwards told Hospitality Jamaica: "I was sanctioned to do this work because I worked with Norway TV before. I broke Norwegian reggae artiste Nico D a few years ago, and Norway TV came here to film his journey here in Jamaica. We took him to Tivoli Gardens. We took him to the radio stations, so they recommended me to do this project."