More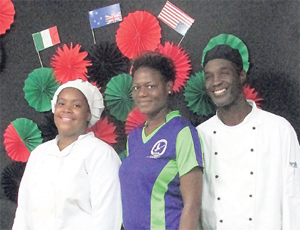 From left: Mekealia Burey, team leader; Rayanne Clarke, assistant head of schools; and Witcliffe Doyley, international cuisine lecturer.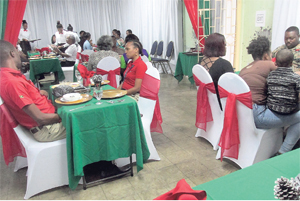 A section of the 'restaurant' where final-year School of Tourism Hospitality and Entertainment Management students at Excelsior Community College hosted International Cuisine Day, recently.
Hospitality students host international cuisine day
Paul H. Williams, Hospitality Jamaica Writer
Outside was wet from the morning rain. The sky was overcast. Things looked gloomy. Yet, inside the setting was cosy and colourful, almost festive.
Green tablecloths were contrasted against big, red bows wrapped around white-covered chairs. Golden platters stood out among the silver cutlery, and from crystal glasses red napkins mushroomed. In the centre of each table, white pine cones were mounted. It seemed like a prelude to Christmas.
In the background, instrumental music from the East complemented the mood in the room from which anxious final-year students of the School of Tourism, Hospitality and Entertainment Management went to and fro. It was their big moment, International Cuisine Day, at the 20 Camp Road, St Andrew, Excelsior Community College campus, and nothing should go wrong.
As part of the requirements of their international cuisine core course, they were to manage a restaurant, preparing and serving three-or four-course meals for at least 40 guests. They were to use herbs; spices and seasoning that give a particular taste to the food.
And it seemed like they did get the requisite number of guests, whose palates were comforted by Mediterranean food, which is the focus of the course, thus the red, white and green theme. Red, white and green are the national colours of Italy, a Mediterranean country.
When asked why the emphasis on Mediterranean cuisine, lecturer of the course, Witcliffe Doyley, told Hospitality Jamaica, "It's very, very popular ... it's pretty much in demand in the hotels ... it's pretty much what is requested throughout the Caribbean."
In terms of evaluation, the students were assessed for the taste of the food, demonstration of technical skills, team work, management, and guest services and satisfaction. What, then, was the lecturer's thought up to when Hospitality Jamaica spoke with him?
"Our students seem to be getting the technical aspects correctly. However, there seems to be the need for more of this sort of experience so that they can improve their best practices," Doyley, an experienced professional chef himself, said.
Team leader for the kitchen staff, Mekealia Burey said, as always, there was room for improvement. She believed the team did well, bearing in mind the limited time and resources that they had to work with. As leader, there was additional pressure on her, she said.
"I didn't mind it because it gave me the experience and exposure I needed. It pushed me to know what I am capable of, and it pushed me out of my comfort zone," Burey told Hospitality Jamaica, which gave the students an A for presentation and taste.