More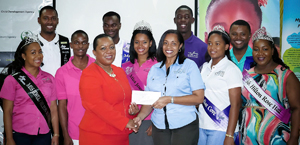 he Jewel Resorts and Hilton Rose Hall team, led by the human resources manager of Jewel Paradise Cove, Alicia Lynch (centre right), is pleased to officially hand over a cheque to Rosalee Gage-Green, CEO, Child Development Agency, along with items donated to the Walker's Place of Safety.Team members from all five resorts are (second row, from left): Chrystal Moxam (Miss Jewel/Hilton Resorts), Rajuan Angus, Kayla Hinds, Shanice Tulloch and Mawia Clarke. Back row (from left): Rolel Dyce (Mr Jewel/Hilton Resorts), Orrett Edwards, Romaine Earle and Garth West who donated non-perishable goods along with other items from the resorts.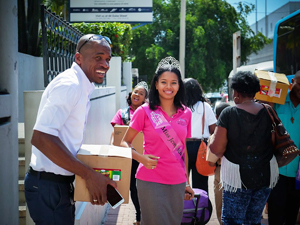 Hands and hearts together Miss Jewel Runaway Bay Kayla Hinds (centre back) and 2017 overall winner Chrystal Moxam (foreground), Miss Jewel/Hilton, are ably assisted by Christopher Webb, driver of Jamaica Tours Limited, who facilitated the transfers, as they unload boxes of goods.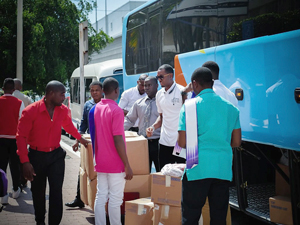 Manpower, the team led by Mr Jewel/Hilton Rolel Dyce (centre with glasses), organises the team which participated in the donation of non-perishable goods and sundry items to the CDA on behalf of the Walker's Place of Safety for children who were displaced by the recent fire at the facility.
Walker's Place of Safety gets help from hotel workers
The sixth staging of the annual Kingston City Run is just weeks away and the call is out for 'Heroes to Run the City'. The 2018 Kingston City Run launch was refreshingly different, as it took place at Open Arms Development Centre, an organisation that seeks to eliminate homelessness.
The organisation is a beneficiary of the run. The decision to host the launch at the centre gave the sponsors, runners, ambassadors and well-wishers the opportunity to interact with the residents and see the changes facilitated by the donations.
Those in attendance were not disappointed.
If ever a reason was needed to participate or contribute to the run, slated for March 16-18, then the story of resident Brian 'Math Wiz' Lynch will be the only motivation necessary. A Jamaican who spent his formative years overseas, Lynch became homeless after he returned to the island in 2008. Attendees were overcome with emotion as they listened intently to his story of how Open Arms Development Centre changed the trajectory of his life. "No one chooses to become homeless, events beyond one's control are sometimes determining factors or one's uncalculated decisions result in homelessness," he said during his presentation.
"I have been at Open Arms Development Centre since October of 2010, where I have made tremendous progress in improving my education. I now have a Level II certification from HEART and five CXC subjects."
Notwithstanding, he laments that at times he feels hopeless as he is constantly denied employment even though he has improved his education, and had it not been for the centre, he doesn't know where he would be. "I am so grateful for having somewhere to sleep, having food," he said.
Speaking at the launch, Lorna Robinson, promotions and events manager at the Jamaica Tourist Board, reaffirmed the organisation's commitment to Kingston City Run. "The Jamaica Tourist Board has been a partner and supporter of Kingston City Run from its inception, because we believe in the vision and we see the transformed lives," she stated. "Tourism must support those who are part of our daily lives, particularly those who may not be able to make it on their own. Each year we come re-energised to do it all over again, because of the cause ... because of the people ... and because of the positive changes it brings about in the human condition."
Addressing the audience, co-chair and founder of the run, Nicola Madden-Greig, said the event was about ordinary people making extraordinary contribution to the lives of the homeless.
"By joining in the half-marathon, 10K and 5K, each participant in the run is personally reducing homelessness one person at a time," she stated.
Lynch is also using his gift as a math whiz to assist children in the Windward Road community. This he is accomplishing with a very high success rate.
You, too, can change the life of a homeless person by participating in Kingston City Run or by donating online at: www.kingstoncity run.com/charities. Proceeds also benefit Food for the Poor, the Marie Atkins Night Shelter and Alpha Institute.