More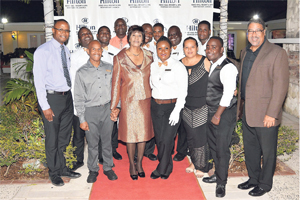 CONTRIBUTED PHOTOS Portia Simpson-Miller (second left), is surrounded by staff of the Hilton Rose Hall Resort and Spa, and Opposition Spokesman on Tourism, Dr Wykeham McNeill (right).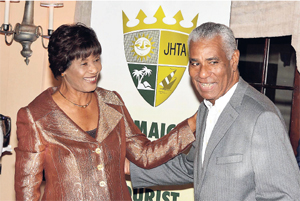 Portia Simpson-Miller embraces John Lynch, chairman of the Jamaica Tourist Board.
JHTA honours Portia
The Jamaica Hotel & Tourist Association (JHTA) paid tribute to former prime minister, Portia Simpson-Miller for her contribution to Jamaica's tourism in a g litzy cocktails and dinner event hosted at the Hilton Rose Hall Resort & Spa on Saturday, August 26.
Simpson-Miller, who served as minister of tourism from 2000-2002 "made an indelible impact on Jamaica and Jamaica's tourism", said executive director of the JHTA, Camille Needham.
She lauded Simpson-Miller for, "Putting gears in motion on the Master Plan for Sustainable Tourism Development and her commitment to extending the tourism pie to include the average Jamaican."
Omar Robinson, president, JHTA, in his citation on the life and contribution of Simpson-Miller noted that through her illustrious political career, which spanned over four decades, she has served as an advocate for the down trodden, while being a testament that with hard work and perseverance one can achieve true greatness.
"For tourism and our country she has created a platform which will forever impact on the continued success of the industry." He recounted the sensitive, caring and timely response she made to the 9/11 tragedy which had the ability to bring tourism in Jamaica to a stand still. He stated: "The Most Hon Portia Simpson-Miller travelled to ground zero herself, accompanied by many hoteliers and tourism officials and later on launched a touching communications campaign which encouraged persons to come to Jamaica and experience love."
The event was attended by Opposition spokesman on tourism, Dr Wykeham McNeill who recounted side-splitting stories which brought home how much of a thoughtful and warm person Simpson-Miller was as tourism minister.
David Dobson, senior director - technical services at the Ministry of Tourism delivered a message on behalf of the Tourism Minister Edmund Bartlett, who was unavoidably absent, which also spoke to the impact the great Jamaican woman has had on tourism.