More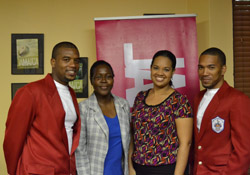 Prior to their departure to the Global Travel and Tourism Partnership Conference, members of the team visited the offices of the Jamaica Tourist Board (JTB) for a briefing. From left: Junior Plummer (student); Eritha Huntley Lewis (teacher); Shauna Housen, tourism awareness officer at the JTB; and Christopher Burke (student).
Jamaican team participates in Global Travel and Tourism Partnership Conference
Two Jamaicans are among a group of 22 student winners from 12 nations who presented findings on food and culinary tourism at the Global Travel and Tourism Partnership (GTTP) in Monaco. The school students shared the results of their research on food and culinary tourism in their country at the annual student/teacher conference on November 21-25.
The students are winners of the 2013 Student Research Competition sponsored by the GTTP. The competition is a multi-country educational programme that introduces young people to career opportunities in travel and tourism. Student competition entrants research GTTP-assigned topics, which vary each year. Winners at the national level present their findings or case studies at the annual conference.
"The GTTP research competitions are designed to encourage students to think analytically, a skill they will need whether they go on to work for large or small members of our industry," said Ingrid Eras-Magdalena, chair of the GTTP advisory board and vice-president of Starwood Hotels & Resorts, Europe, Africa and Middle East.
The Jamaican representatives are Junior Plummer and Christopher Burke along with their teacher, Eritha Huntley Lewis, from the University of the West Indies Tourism Society. They presented on jerk cuisine to this international audience of students and tourism industry stakeholders. The trip offers immeasurable exposure to both the students and the teacher, as they are able to learn from the findings of other research. The trip was facilitated by the Jamaica Tourist Board through their Tourism Action Club, which is the medium through which the students were able to participate.
The Global Travel and Tourism Partnership is an industry philanthropic initiative to foster future talent and tackle the global skills shortage. The GTTP educates secondary-school students about careers in travel and tourism.