More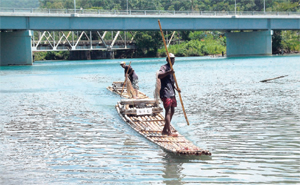 Raft captains sailing near Rafters Rest in Saint Margaretís Bay, Portland.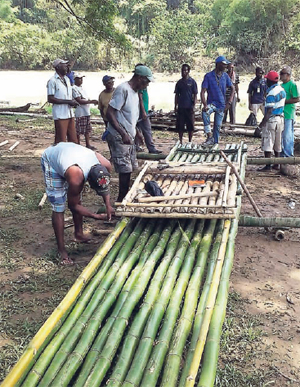 A raft captain putting the finishing touches to a newly constructed raft.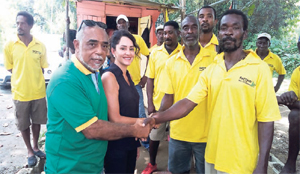 Destination Assurance Council Chairman Errol Hanna and council member Annmarie Vaz greet Lawrence Chisholm, president of the Raft Captains Association.
Illegal rafting plaguing tourism
Gareth Davis Sr, Hospitality Jamaica Writer
Rio Grande Valley, Portland
Illegal rafting is once again plaguing Portland's fragile tourism sector, triggering renewed calls for more to be done on the part of the organisation that heads the attraction, the Tourism Product Development Company (TPDCo), so as to stem the illicit activity.
The illegal activities, which is being undertaken by raftsmen assigned to Rio Grande rafting, Portland's premiere tourist attraction site, also involved raft captains, who are reportedly involved in the act of jostling for passengers, in an arrangement that is threatening to derail and cripple the industry.
"This is not good for the tourism sector," commented Errol Hanna, chairman of the Destination Assurance Council (DAC) in charge of Portland and Saint Thomas.
Hanna added that reports of illegal rafting have been confirmed by raftsmen, who have admitted that they themselves have participated in the illicit activity.
"As a matter of fact, there are reports of at least three hotels in the parish posting notices about rafting while offering to guests a special package, which is clearly illegal and a breach on their part. Such activities will cripple the livelihood of this industry."
During a visit to the Berrydale raft stand last year, Tourism Minister Edmund Bartlett warned raft captains to desist from any participation in illegal rafting activities which could seriously compromise the integrity of the industry, and could lead to a possible shutdown.
Last month, operations at Rio Grande rafting were brought to a halt after the police reportedly damaged three rafts that were suspected of being used for illegal activities. That move resulted in raft captains withdrawing their services for two days; however, following the DAC's involvement, rafting has resumed.
In the meantime, John Marsh, a consultant with TPDCo, told Hospitality Jamaica that illegal rafting is not only threatening to seriously affect Rio Grande rafting, but the entire country, as it is an integral part of the tourism product.
"I am the one that uncovered the illicit rafting scheme being undertaken by the rafts men, "commented Marsh.
"Since then, my presence at Rio Grande rafting has been viewed as sour in the eyes of those involved in the illegal activities and they no longer want me around. Several district constables have been trained and assigned to strategic locations so as to monitor and stem the illicit activities. Minister Bartlett, to the best of my knowledge, has every intention to provide the resources necessary to revive this industry to its full potential."
But president of the Raft Captains Association, Lawrence Chisholm, has sought to justify their participation in the illegal activity by claiming that TPDCo is not doing enough to attract persons to rafting, which diminishes their ability to earn more, and, as a result, gives rise to the illicit activity.
"Rafting is being sold for US$90, which is approximately $11,520 Jamaican," said Chisholm.
He continued, "We get from that amount $5,500. Out of that, we have to pay $1,500 to have the raft drawn back up the river to the raft stand. In addition, we have to pay $300 dollars to get back from Port Antonio on a taxi. It therefore means that all we end up with is $3,700, and on most occasions we (65 raft captains) only get one trip per week. Yet still, we have to maintain the raft and provide for our families."