More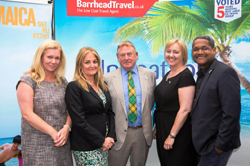 (From left): Caroline Donaldson, business development manager at Barrhead Travel and co-sponsors of Jamaica House 2014; Elizabeth Fox, regional director, UK and N Europe at Jamaica Tourist Board (JTB); Bill Munro, chairman of Barrhead Travel; Lesley Temple, communications and PR manager at Barrhead Travel; and Torrance Lewis, district sales manager at JTB pictured at the media launch of Jamaica House 2014 at 29, Glasgow.
JTB launches Jamaica House at Glasgow 2014
Scotland-based media were treated to a Jamaica House preview at the exclusive launch of Jamaica House 2014 on July 2. The Jamaica Tourist Board (JTB), in association with Barrhead Travel, held the launch at 29 private members' club, the venue that will play host to the Jamaica Tourist Board's VIP events during the Glasgow 2014 Commonwealth Games (July 23 and August 2).
More than 30 guests were welcomed into the private members' club, including co-sponsor Barrhead Travel's chairman, Bill Munro, and representatives from Virgin Atlantic and STV, also key sponsors for Jamaica House 2014. The host venue was decked out with balloons and bunting in the iconic black, gold and green Jamaican flag colours, and a steel band played throughout the afternoon, adding to the Jamaican spirit at 29.
Renown Jamaican chef, Levi Roots, hosted a cooking demonstration for the culinary team at 29 on how to cook Jamaican jerk chicken and patties.
HISTORIC LINKS
Sir Geoff Palmer, who was acknowledged in the Queen's Honours list and knighted recently, also joined the launch line-up. Sir Geoff outlined the historic links between the Games host nation and Jamaica, before moving on to give a master class on Jamaica's iconic tipple - rum, explaining the synergy and fusion between Jamaican rum and Scottish whisky.
Elizabeth Fox, JTB's regional director for UK and North Europe, said, "We feel excited about the warm reception Scotland is sure to give to Jamaica's athletes during the Glasgow 2014 Commonwealth Games this summer. This is the third Jamaica House that the JTB has hosted, and the close historical links shared between Jamaica, and Scotland makes the occasion particularly poignant for us."
"Jamaica House 2014 will become Scotland's hub for all things Jamaican, so those in Glasgow for the Games should come along to 29. It will be the best place in Glasgow to support Jamaica's athletes and visit Barrhead Travel's pop-up travel agency, where there will be some great deals on holidays to Jamaica.
We're really looking forward to our private events on July 31 and August 2, where we will host our VIP travel partners and reward those journalists and clients who have supported Jamaica over the years to help make our island one of the most popular holiday destinations for Brits to jet off to," added Elizabeth Fox.
Jamaica has a long history of involvement in the Commonwealth Games and was in fact the host nation in 1966.