More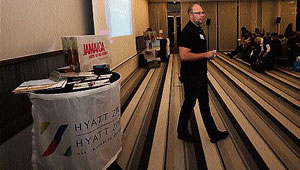 Cristian Meuter, Jamaica Tourist Board sales representative, addresses travel agents in Dusseldorf, German

y.
JTB stages roadshows in European markets
The Jamaica Tourist Board (JTB) continues to engage members of the travel trade about the magic of Destination Jamaica. The JTB has staged several roadshows in key European cities since the beginning of January. The shows are designed to update tour operators and travel agents on development in Jamaica's tourism product.
In the cities of Dusseldorf, Frankfurt, Munich and Milan, JTB representatives and several tourism partners had the opportunity to interact with agents as they were briefed on expansions in Jamaica's tourism offerings. Information included the new and upgraded hotels which have been added to the room stock in time for the winter tourist season and, the diverse menu of attractions, including the recent designation of Kingston as a Creative City of Music by UNESCO. Additionally, participants learnt about the opening up of new legs on highway 2000, which allows easy and timely access to major towns and cities across the island.
SALES OPPORTUNITIES
"These roadshows were strategically planned to coincide with the start of the new year just after the festive period and in what is traditionally one of the highest booking months for destinations in Europe," said Gregory Shervington, the JTB's regional director for continental Europe. "Add to that the extremely cold weather in central Europe, which is a motivator to get consumers thinking of travelling, thus providing opportunities for agents to sell Jamaica. We also expect to make tremendous gains on bookings for the current winter season given the increasing trend toward last-minute bookings by the European consumers," he added.
The success of Destination Jamaica in welcoming millions of visitors each year is due in part to promotional events such as trade shows. These shows empower agents from each city were selected to participate in the roadshows. Each the information they need to generate interest in the island and sell the destination. The top-selling agents agent had the chance to participate in a raffle and the lucky winners will win travel prizes provided by Jamaica's tourism partners.