More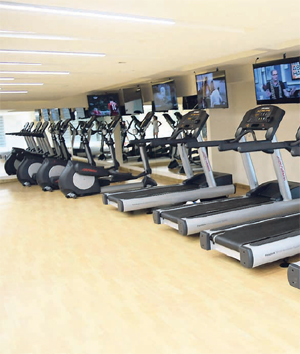 Each treadmill in the gym has access to a TV.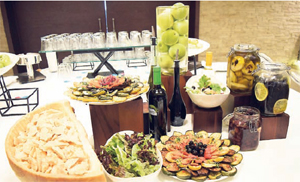 The chef prepared a special meal for the Hospitality Jamaica team.
Royalton Negril - three resorts in one
Latara Boodie, Hospitality Jamaica Writer
Royalton Negril is a picturesque estate within a tropical oasis built with hues of beige, browns and creams, which is brought to life by a calming mixture of azure and white. It has a seemingly impeccable ambience of tranquility backed with luxurious service from a well-trained staff.
"Royalton Negril is actually three resorts in one," explained Courtney Miller, general manager for Royalton Negril, Hideaway Negril and Grand Lido Negril.
The combination of resorts opened on March 31, 2017, with a total of 573 rooms divided among the three resorts. "There are 407 rooms in Royalton, 140 rooms in Hideaway and 26 in Grand Lido Negril."
Located in the midst of the Bloody Bay beach in Negril, the geographically iconic location is deemed by many to have the best beaches within the region. "We have around 1,000 feet of white-sand beach by the Bloody Bay side and an amazing sunset near the cliffs."
Miller explained that all three hotels have distinct niches. The Royalton Hotel is for fun-loving families that want to get away, reconnect and spend some quality time with each other. Hideaway is for adults only and caters to those who would want to have some fun without having children around. The Grand Lido is for others who want a more liberal experience.
An activity for everybody
The Royalton Hotel has designed its entertainment and activities to be family-oriented and offer an enriching cultural experience. "We have a congo and kette drumming course which families can partake in. We have a local Rastafarian instructor that not only teaches how to play the drum, but includes detailed lessons on its history. We also have a steel pan academy, where pan experts come in and teach the kids how to play," said Miller. The aim of the Royalton hotel, he noted, was to get parents and children together. Other family-themed activities include cooking demos, which will teach both children and adults how to make a typical Jamaican meal.
Between the three resorts there are 10 restaurants. Of the 10, only eight are available to families; the other two are for adults only. The restaurants available to Royalton guests are Chef Experience, Armadillo Tex Mex, Calypso Caribbean, Hunter's Steak House, Zen Asian Cuisine, and Grazie Italian Restaurant.
The Royalton Hotel also has a Teen's Club and a Kid's Club. "We try to make our programmes both entertaining and educational. In the Kid's Club, we have the young scientist club, arts and crafts, and environmental club, where the children can learn about the Negril wetland and marine life," said Miller. On the other hand, the Teen's Club is structured for young adults that would like some alone time. "We have everything in there, from video games to virtual DJ tutorial sessions," said Miller.
In each of the three resorts, guests can experience the Diamond Club programme. "This means that each room is serviced by a butler. This team of people is there to enhance our guests' vacation. They are exceptionally intuitive, friendly and helpful. Whatever your heart's desire, the Diamond Club butler service will do its best to fulfil it. They enhance the luxurious feeling of the Royalton Hotel and allow you to feel like the king or queen you truly are," said Miller.
The local rate for this summer at the Royalton Hotel runs from June to October 31, 2017. "This summer, we have the $140 per person per night special for double occupancy," explained sales manager Kimika Beckford.
Must try activities:
- Kids' Drumming Academy and cooking experience.
- Kids' water park and non-motorised sports.
Must try restaurant:
- Calypso
From taking a stroll with Max and Ruby or enjoying some alone time on the Bloody Bay beach, one will surely get a chance to recalibrate and escape the real world as you delve into the Royalton fantasy.