More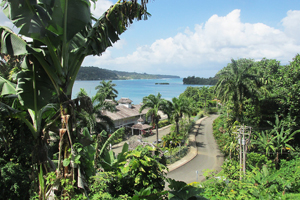 PHOTO BY PAUL H. WILLIAMS - A view of a section of Port Antonio Harbour and the Errol Flynn Marina from Titchfield Hill.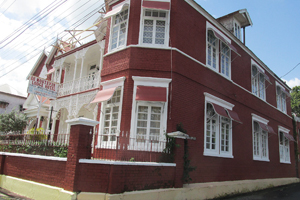 De Montevin Lodge Hotel is perhaps the oldest surviving hotel on Titchfield Hill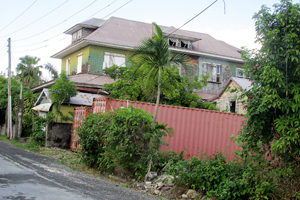 Some of the older structures on Titchfield Hill.
What's up with Titchfield Hill?
The Titchfield peninsular separates Port Antonio's twinharbours. From the hill, there are magnificent views of the turquoise Caribbean Sea and the hills north of Port Antonio. From the right ,you are looking down on Errol Flynn Marina and across the storied Navy Island.
Titchfield High School, where the remnants of Fort George (built 1728) are, sits on the head of the peninsular, which is a very quiet neighbourhood. When I visited recently, I saw more derelict buildings than people on the road. But, many decades again, the opposite was true.
It was a bustling place, the stomping and playing grounds of the rich and famous of the land, and those from overseas. It had many guest houses and a few hotels, and is said to be integral to the beginning of tourism in Jamaica as we know it.
Some of these accommodations are still there, crumbling, perhaps occupied by the ghosts of guests from the past. The foundations of others are just ruins and there are some empty lots. It is said that a big fire in the 1960s destroyed some of the buildings.
I also passed a few operating guest houses, the most noticeable being the artistically designed DeMontevin Lodge, which has been around for quite a while. Imagine the stories that the walls of this red standout holds.
But before DeMontevin there was the Titchfield Hotel, built by Lorezo Dowe Baker. It was the most popular hotel to be built on the hill and the first to be built in Jamaica. The 400-room structure, constructed in 1905, was regarded the most elegant on this side of the Atlantic.
The guest list included several famous people, some of who arrived on banana boats, others on their own vessels. American screen actor Errol Flynn bought the hotel in the 1950s, but died before it was restored. Parts of its ruins, too, are on the grounds of the high school.
Now, who will climb the hill to inject activities into the place that once oozed so much life on Portland's tourism landscape?