More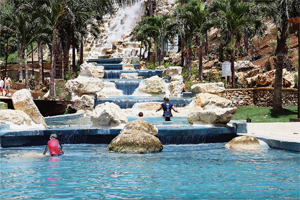 Chukka unveils another masterpiece at the 200-year-old Good Hope
With Jamaica's world-class attractions a major pull factor for cruise and stopover arrivals, Chukka Caribbean Adventures has upped the ante with another signature masterpiece in Good Hope, Trelawny.
Such is the magnificence of the Good Hope Adventure Park, which has not only given pride of place to the parish of Trelawny, but has served to enhance Jamaica's diverse tourism offerings, resulting in comments, such as, "the best of its kind" in the region.
"A magnificent property ... world-class attraction," gushes the island's minister without portfolio in the Ministry of Economic Growth and Job Creation, Dr Horace Chang.
"This is the kind of attraction that is bound to attract a lot of visitors, even while augmenting our tourism product in a big way."
For his part, Marc Melville, Chukka's director of group revenue and new development, said the multi-million dollar upgrade has transformed the Good Hope facility into "the jewel" of Chukka's portfolio, allowing guests to "relax or be as adventurous as they want to be".
"We are very encouraged by what we are seeing throughout the industry," Melville pointed out. "We see the ships coming and we also see the environment being created that is conducive to tourism. With that in mind, we again decided to listen to our customers' evolving needs and wants."
In addition to the 200-year-old Good Hope Great House, the property boasts over 2,000 acres of lush plant life, primary jungle, scenic views of the Cockpit Country, and the historic Martha Brae River.
"And now, with the addition of Adventure Falls, guests can experience our 50 foot cascading waterfall, 130-foot terraced lazy pool, 14,000 sq ft pool and a 300-foot, tubular waterslide. In addition to the new bar and dining area restored in the old 1700s sugar factory buildings," Melville added.
He noted that with tourism being such a competitive industry and other islands looking to move beyond mere sand, sun and sea, "it is important for Jamaica's attractions to stay ahead of the curve".
Chukka's CEO John Byles concurs, adding that since the inception of the Good Hope tour in 2010 and the phase three expansion in 2017, the company realised that so much more could be done at the facility to make it incomparable and a one-of-its-kind in the Caribbean.
"And I believe we have delivered with this signature facility," he said.