More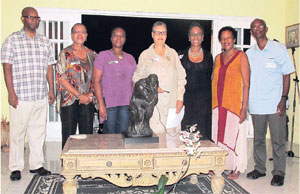 PHOTOS BY PAUL H. WILLIAMS - Some of the My Jamaica Travelsí board members: (From left) Paul Cole (treasurer), Sandra Scott (tourism consultant), Neverle Knight, Juliet Gordon (president), Michelle Neita (secretary), Audrey Anderson and Donaldson Bernard.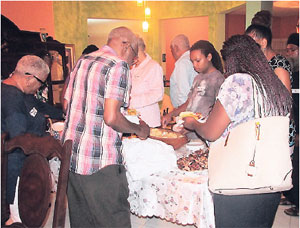 And what would a Mix and Mingle be without food?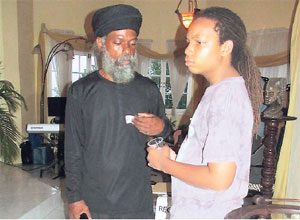 Master drummer Maroghini and his son Amri at My Jamaica Travelsí Mix and Mingle.
Around JA with Paul H. - I went to Mix and Mingle
Paul H. Williams, Hospitality Jamaica Writer
We Jamaicans, especially the pretentious among us, are accustomed to say, for whatever reason, that we don't mix and mingle. It's an irony of ironies. For, who love to rub shoulders more than any other nation in the world, but Jamaicans? Having said that, how much of a mix-and-mingle person am I?
I can be a solitary soul, which I am most of the time. I travel alone around the island a lot. I love to explore and discover at my own pace, and in my own time. I do not want a 'director' or 'producer' telling me to hurry up, slow down, run, walk, slide, sit, stand, etc. Free spirits do not take instructions very well.
My social life consists mainly, of, but not limited to, attending indigenous cultural events. I rarely go to house parties, rum bars I have banned myself from, my carnival revelry ended when my UWI days expired, stage shows start too late, dances are a no-no, jazz concerts are too expensive, memories of the Mandela Concert shootings keep me away from National Stadium events, and lounge-suit socials, like the Israeli Independence celebrations I write about in this publication today, are not what I live for.
Yet, writing for this newspaper has presented me with opportunities to attend shoulder-rubbing events. So, I, the 'aloner', really am not missing out. I mix and mingle for professional reasons. And recently I attended a social called Mix and Mingle put on by My Jamaica Travels (MJT) as part of its networking efforts.
COLLECTION OF BUSINESSES
"My Jamaica Travels is a collective of diverse micro, small and medium-sized Jamaican businesses, including tour operators, bed-and-breakfast operators, hotels, attractions, villas, support services and others dedicated to promoting the best of Jamaica's non-traditional tourism products," the registered company, which is an offshoot of the Tourism Cluster, says.
The objective of Mix and Mingle, thus, is for players in the hospitality and travel industries to meet, get acquainted with each other, and to share useful information about their businesses. The one I referred to above was the second in recent times, and was hosted by Audrey Anderson at Chateau Belle Bed and Breakfast, perched on a hillside in Smokey Vale, St Andrew.
I wondered why the place is called Smokey Vale. It is not in a valley, and from it there are the most fantastic views of the mountains in the northeast and the Corporate Area to the south. I saw no smoke, only clouds caressing mountaintops over yonder.
In addressing the gathering Juliet Gordon, president of MJT, said the members of MJT need not worry about competing with one another, as the tourism pie is big enough for everybody to get some of it, and each business has a unique offering. And true to form, there were entrepreneurs from different subsectors of the industry in attendance.
The networking was great, but for me the high point of the evening was the performance of the versatile Barry 'Baritone' Williams. I was meeting Williams for the first time, and could not help talking with him about my own intention to sing professionally those great jazz standards and show-stopping numbers. Williams was accompanied on keyboards by Godfrey Taylor.
I shall be calling upon Williams, whose entertainment partnership with Taylor is called Voice and Ivory, for some performance therapy in the very near future. So, you see, mixing and mingling is not so bad after all. Choose the right crowd, such as the one that gathered at Chateau Belle on Thursday, May 4.