More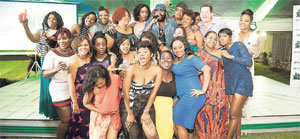 CONTRIBUTED PHOTOS Top performers and major awardees for 2016 share lens time at the CPJ staff awards.
CPJ awards top performers
CARIBBEAN PRODUCERS Jamaica (CPJ) hosted its annual staff awards recently at the Palmyra, Rose Hall, with guest artiste Tarrus Riley and DJ Kentucky for the after-party.
The company awarded more than 40 top performers from the various departments with gifts, tokens and awards valued at more than $3 million.
In addition, four long-service employees – Burnell Moore, Rodcliff Ramsay, Narbert Poyser and Enid Forbes – were recognised for over 10 years with the organisation.
- Employee of the Year & Top Performer Driver – David Johnson – Delivery driver
- Department of the Year – Meat plant operations
- Manager of the Year – Odette Knight – Quality assurance manager
- Junior manager of the Year – O'Neil Murdock – Category manager (Foods)
- Admin Assistant of the Year – Jennifer Reid – Senior administrative assistant
- Chairman's Choice – Michael Turner – Trade marketing manager
- Supervisor of the Year – Devon Fearon – Maintenance supervisor.