More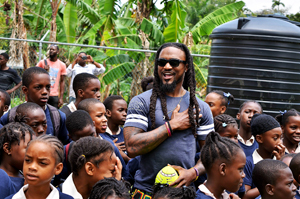 From my heart to your heart! Students at Granville All-Age flank one of the eight NFL players who visited their school.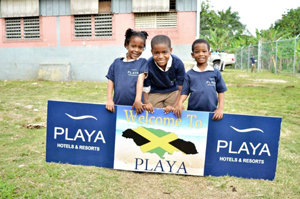 Granville All-Age students welcoming NFL players to their school recently.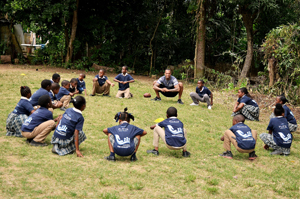 NFL players take the students at Granville All-Age through their drill.
Playa Hotel hands over newly renovated sick bay to Granville All-age School

Montego Bay's Hyatt Ziva and Zilara resorts, owned and operated by Playa Hotels, have handed over a three-bedroom sickbay to the Granville All-Age School in St James.
The school is one of the resort's main corporate social responsibility projects, tagged 'Granville 404'.
The handing over was done through the resort chain's 'Through our Eyes' project in collaboration the National Football League (NFL) group, which consisted of players from the NY Giants, Cleveland Browns, New Orleans Saints, Pittsburg Steelers and California Panthers.
Giving back to the community of Granville, the team of players taught the children the basics of American football, played soccer with them, and also led a music clinic utilizing the services of a saxophonist.
"While they were there, Dr Michele Pinnock, regional director of the Ministry of Education, joined us in the handing-over ceremony and received on behalf of the school the newly renovated three-bedroom sickbay and guidance and counselling suite. This project saw work being done on it by the Playa general managers when they visited Jamaica for their annual meeting," the resort's human resources director, Betty-Ann Brown told Hospitality Jamaica.
According to her, the handing over of the newly renovated facility came at the perfect time. "We were just crowned the national champions for tourism service excellence and it was a great way for us to give back to the community by celebrating and sharing with our sponsored school. This is who we are as a company; this is who are as Playa; service to others and caring about other,s simply put, is in our DNA."
The footballers also visited the Blossom Gardens children home in Montego Bay during their four-day trip to the island.
Hospitality Jamaica has highlights of the day's events.