More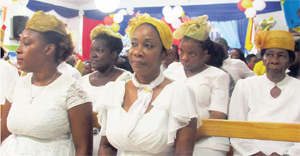 Which hat is the hottest?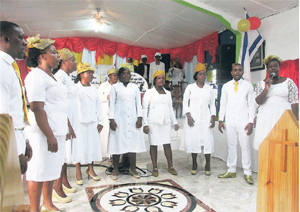 Golden shoes, golden hats and golden voices.
Golden shoes, golden hats and ginger puss on Golden Hill
Like them or not, revivalists do know how to have a good time in their worship spaces. Their services are energetic and fervent, and when it comes to dancing in church, they have absolutely no inhibitions.
The trumping, the wheeling, the whirling, the side rocks and the flailing of hands create a piece of dance theatre that no rehearsed choreography can replicate.
The peculiarities and nuances of the Revival Church in Jamaica has made it not only a worship space, but also a rich cultural outpouring that represents and retains the spirituality of Africans who were brought here in a context of servitude.
I am not revivalist myself, and my love for Revival worship spaces has to do with nothing but the high entertainment value that they possess. For revival people are ritualistic, stylish, dramatic and comedic - theatrical, if you will.
So recently, when I was invited to the Apostolic Sabbath Church at Golden Hill, I was expecting nothing less. It was my second visit.
The community of Golden Hill perches on a narrow ridge in west rural St Andrew. From it, other ridges can be seen across expansive valleys. All around, the vegetation is green and luxuriant, green gold on Golden Hill, perhaps. Everything was so alive and fresh - nothing dried up - and looked like gold.
But, I was wrong. While I was waiting for the service to start I saw a few people, including young men, wearing golden shoes, and women in golden hats. OK, so those were some members of the choir.
More people arrived, more golden hats and shoes. This choir can't be so big, so I went up to the church to see what was going on. More gold. The attire for the occasion of the appreciation and honour of Bishop O'Neil Miller was white clothes accessorised with golden shoes, ties and hats.
One by one the ladies came in, and I, who really do not care about what people wear, was drawn into this game of let's see what the other arrivals will turn up in.
The service, as usual, was filled with the expected spirited singing, drumming and dancing. Yet, it was the gold that was entertaining me. Dancing golden shoes of various sizes and styles rocked the tiles. Stilettos stabbed near tilting platforms, while flats tried to out-dance pumps, and lost.
And the hats, too, from the rich, flamboyant ones to the dull and understated, were all telling stories of the tastes and styles of the worshippers.
The service lasted for over three hours, and I enjoyed every moment of it, gold or no gold. It was also a golden moment for the pastor, Bishop O'Neil Miller, who was bestowed with a certificate of appreciation and doctorate, shortly after his head was anointed with golden-colour olive oil.