More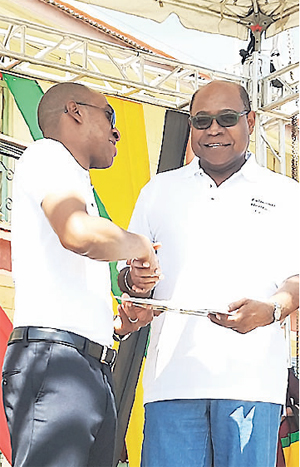 CONTRIBUTED - Dr Andrew Spencer (left), TPDCo executive director, presents an updated Heritage Map of Jamaica to Minister of Tourism Edmund Bartlett. The Heritage Map will serve as an informational tool for visitors and locals who wish to visit heritage sites across the island and explore the hidden gems the country has to offer. The launch took place at the Falmouth Heritage Expo in Water Square, Trelawny, on Wednesday, October 18.
TPDCo launches updated Heritage Map of Jamaica
The Tourism Product Development Company Limited (TPDCo) recently launched an updated Heritage Map of Jamaica at the Falmouth Heritage Expo in Water Square, Trelawny.
The new map includes a more comprehensive selection of information to suit the varying interests of visitors and locals, including natural sites, which highlight rivers, beaches and waterfalls; and material sites, which detail historic sites across the island.
The Heritage Map, an initiative of TPDCo, was first created in 1997 to help locals and visitors to navigate their way around the island. It includes historical information and heritage sites across the island. This is the third time the map has been updated.
The first of its kind in Jamaica, the island is also the only Caribbean country to undertake such an initiative.
Speaking at the launch event, Minister of Tourism Edmund Bartlett highlighted the importance of heritage for individual and national development. According him, "The direct impact that the country's heritage has on the tourism sector through the authentic experience it offers for visitors is boundless. Heritage is not just a historic note; it is a definition of who you are and how you came to be."
BENEFICIAL TO TOURISM SECTOR
Dr Andrew Spencer, executive director of TPDCo, in his address to the audience, expressed his confidence in the map to contribute to the growth of the tourism sector, "The Heritage Map is not only timely, but accurate and comprehensive. It will not only benefit international tourists who contribute to a large portion of our country's economy, but our locals who are also invited to utilise the map," he said.
The data collection component of the map was conducted by TPDCo's interns, who are graduates of the History and Archaeological Department at the University of the West Indies, Mona. The interns were directed by TPDCO's urban planner during their search for information.
Organisations such as the Forestry Department were instrumental in providing information on the forestry reserves that have been plotted on the map. The National Environment and Planning Agency, through their Geographic information systems team, assisted with the plotting of points on the map and provided information on the protected areas that can be found across the island. The Jamaica National Heritage Trust verified the sites included on the map.
The next phase of the map will include the creation of mobile application, which will allow for even greater interaction, whereby users will be able to search for places they wish to visit, view images, get directions and make bookings.