More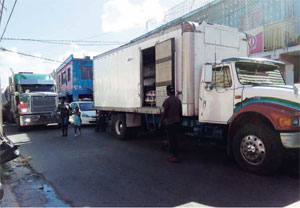 Large trucks block Main Street in Lucea while delivering goods to supermarkets
JUTA Lucea chapter says no to Negril by pass
Claudia Gardner, Hospitality Jamaica Writer
President of JUTA Tours' Lucea chapter, Adrian Parkinson, has disagreed with a call by the Negril Chamber of Commerce (NCOC) for a bypass to be created in Hanover to divert traffic heading to Negril, minimising traffic flow through the western town.
If effected, a bypass would destroy Lucea's heritage tourism plans, argues Parkinson. He said the congestion problem is mainly caused by insufficient parking spaces for motorists, deep potholes and improper traffic management, particularly on Main Street, where delivery trucks continue to block the street with impunity.
"I am not in support of it. What I would like to see is the dredging of the harbour to reclaim more land so that we can have adequate parking in the town," Parkinson said.
He said that in the past, the Hanover Chamber of Commerce had recommended to former Mayor Lester Crooks that delivery trucks should come to Lucea only on Thursdays, and they had to do so between 9 a.m. and 3 p.m. Drivers coming in later had to find somewhere other than Main Street to park, or they would be prosecuted.
"When Lester Crooks left office, that is where the breakdown started."
In a recent interview with Hospitality Jamaica, NCOC President Lee Issa had expressed concern about the "progressively worse" congestion in Lucea, which he said had, among other things, "outgrown its infrastructure".
He urged Minister of Tourism Edmund Bartlett to give the bypass serious consideration.
"It is congested 99.9 per cent of the time and sometimes it is almost impassable with the trucks unloading their produce and the congestion," Issa had said. "It's going to get worse. With the expansion taking place in the tourism industry in Negril and the additional rooms that are coming on stream ..."
"I had a discussion with the minister of tourism and he says that that is one of the top priorities the Government is working on to have done as quickly as possible. We are hoping that we will have some good news this year, because I am told that US$200 million has been allocated for the Montego Bay bypass, Hopewell, Sandy Bay and that it includes Lucea.
"Whether through the hills or on the coast, it has to be done. It is critical if we are going to have a vibrant tourism industry in Negril. It is a major contributor to the foreign exchange earnings.
However, Parkinson argues that once the delivery trucks dilemma and other problems are addressed, the traffic would flow freely and the tourism ministry could channel the allocated funds to other enhancement projects, and a small portion to reclaim land from the Lucea harbour, instead of on a bypass.
more employment
"With the acquiring of more land space, delivery trucks would be assigned to one specific area, controlled by the municipality, for which they pay. Just like in any other towns, they can't just go and park any and everywhere and deliver. They have to use trollies to deliver or handcarts and that, for Lucea, could result in more employment and income."
On Sundays when there is free flow, it takes 45 minutes to take guests from Grand Palladium to Negril, he stated, explaining that on weekdays, it takes one hour and 30 minutes, because motorists spend 45 minutes to get from Keep Left to Church Street.
"I counted 12 delivery trucks last week Wednesday on Main Street; that should not have happened," said Parkinson.
At a recent NCOC meeting, JHTA Negril President Kevin Levee also attributed the congestion to inadequate parking and the actions of the truckers, some with 40-foot trailers, who, he said, block the road and bring traffic to a standstill while delivering their goods in a happy-go-lucky manner.
"I had an experience where the traffic - and I am not exaggerating - went to the top bridge. All the goods trucks were unloading; it was like they were in their warehouse; men with their shirts off stretching out. It was like they were working in somebody's backyard ... and that is unacceptable," Levee said.
Cruise ship passengers are also feeling the pain, and tours by them to Negril have been curtailed as a result.