More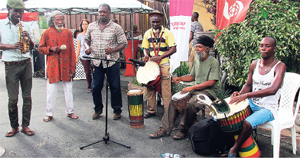 The Akwaaba musicians helped to keep the festive mood going at The Liguanea Art Festival last Sunday.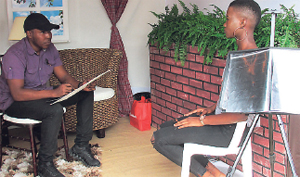 Yvad Campbell doing a portrait of a patron at the Liguanea Art Festival last Sunday.;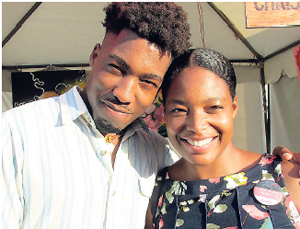 Artists and siblings Imuzi Thompson and Christal-Ann Thompson are happy to be at their first Liguanea Art Festival on Sunday, December 3.
Cultural feast at Liguanea Art Festival 2017
The Liguanea Art Festival is an event I look forward to every year for many reasons. And one year, I hope to have my pieces showcased there. So while I wait for the transition from patron to exhibitor, I cannot help but embrace all that it has to offer.
In terms of the number of exhibitors and patrons, over the years, the event had outgrown the Liguanea Plaza parking lot, where it is held. One year, it was moved to a venue farther up the road. Last year, a section of Old Hope Road was closed to vehicular traffic to accommodate the festival.
This year, there was no need to find a new venue or block off the road as the additional space created by the demolition of a section of the plaza and the expansion of the parking lot seemed to be sufficient. So, was it a bigger and better event this year? Perhaps. What I can say, though, is that I thoroughly enjoyed it.
The works of over 130 painters, sculptors, costume jewellers, ceramists, and photographers were exhibited, but the pieces that provoked and enthralled me the most were the surrealistic ones done by new artist at the festival Imuzi Thompson of Beaufort, Westmorland.
I still can't get over his pink creature that swirls and contorts herself as she shows off the pearl she found somewhere in her body. Thompson outdid himself with that one. People were quite interested in his pieces, and I foresee many festivals for him.
Apart from the visuals, there was much meeting and greeting. I chanced upon people I had not seen for quite a while. It was also a rich and varied confluence of cultures. I was pleasantly surprised to see the Dominican Republic's ambassador and a compatriot showcasing their paintings.
The Japanese Embassy, a fixture at the festival, had representatives teaching calligraphy and other aspects of Japanese culture. Once again, I reflected on their laid-back, easy-going demeanour. If only.
There was more Eastern presence by way of young representatives from the International Youth Foundation of Korea. They were back this year with several dance pieces including the international mega-hit, Gangnam Style, which ended with Usain Bolt's 'To the World'-pose, much to the delight of onlookers.
And anywhere the arts go political rhetoric follows. While we Africans, including Mazola from Kenya, Benji from Ghana, Tinashe and Tino from Zimbabwe, were taking pictures and greeting one another, Benji got into an intense argument with Tino after he declared that Zimbabwe was now free with the departure of Robert Mugabe. Benji didn't believe so.
Earlier, Tino was seen dancing and waving the Zimbabwe flag, while his countryman beamed as the Akwaaba musicians played a particular 'revolutionary' piece. The Akwaaba musicians themselves are fast becoming a staple at the event. They never failed to impress patrons with their variety. Name the genre and these Jamaicans will play.
Much sampling of food took place, and my eyes caught this delicious-looking ham still in its wrap. I asked when it was going to be unveiled. Was told 5:30 p.m., and 5:30 I went back.
To my horror, the ham had morphed into what Miss Lou would call "scrapses meat", little bits and pieces. My palate was very upset. Crestfallen, I got three little pieces on a toothpick. I reminded my taste buds that it was just sampling, not a feast, though the festival in its entirety was.
In speaking to June Wong, the organiser of the event, about the outcome of this year's installation she said she was "very pleased, very, very pleased".
"It was fantastic, I think we had a great crowd ... It's just a lovely day," Wong said. And I agree, except for the 'tree lickle piece a ham'.