More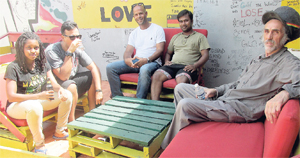 PHOTOS BY PAUL H. WILLIAMS - Gilberto Sanchez (second left), front desk clerk/resident DJ and owner David Scott (third left) hanging out with guests at Reggae Hostel, 8 Burlington Avenue, St Andrew.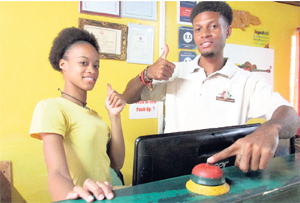 Front desk clerks at Reggae Hostel in Ocho Rios, St Ann, Princess Greenland and Sotomayor Mundle.
Reggae Hostel low-cost 'irie' hospitality
Paul H. Williams, Hospitality Jamaica Writer
Hostel accommodation is not common in Jamaica's hospitality industry, but one brand that has been offering such to rave reviews is Reggae Hostel, located at 8 Burlington Avenue in St Andrew and Main Street in Ocho Rios, St Ann.
The chain offers shared rooms at both locations for travellers existing on low-cost budgets. Dormitories with bunk beds, therefore, are the main types of accommodation. However, there are 16 double-occupancy private rooms in Reggae Hostel Ocho Rios, where it is centrally located in the busy town. There is also a courtyard, a terrace bar and a communal kitchen.
The Burlington Avenue unit, too, has a bar and a communal kitchen, and an outdoor lounge. There is bed space for at least 38 guests. A long, colourful 'peace wall' loudly announces the positive feedback of those who had laid their weary heads upon Reggae Hostel's beds over the years. Ocho Rios, too, has a peace wall. And while breakfast is included in the costs, guests are free to prepare their own meals.
The idea to start a hostel in St Andrew came about in 2011 when marketer David Scott noticed that there were many young Japanese tourists frequenting the Eastwood Park area of St Andrew. After enquiring, Scott learned that these backpackers were staying regularly in two guest houses in the area. And the money they were spending for accommodation was not bad, he thought to himself.
Scott has a property at 8 Burlington Avenue, but no education, training, and professional experience in hospitality. Yet, the thought of earning money by providing guest house accommodations for these travellers popped up. However, he was not initially excited about setting up the guest house because of the great amount of adjustment he would have to make to the property.
So he decided to work with the limited resources he had. A hostel, affordable communal living, he said, it would be. He thought it was a good idea, which marinated, and led him to invest in some bunk beds. His background in marketing was to be a big plus, but he had no "real data" about hostelling. And since the area was a hub of reggae, he decided to call the business Reggae Hostel.
Scott then moved to the property to "immerse" himself into what was going on there. "I wanted to experience what they were experiencing. I wanted to focus on delivering best experiences," he said.
Three days after posting Reggae Hostel on Hostelworld.com a young Australian world traveller named Michael turned up at Burlington Avenue unexpectedly. Scott was surprised, but he rose to the occasion, and 'tucked' in his first guest. In retrospect, Scott said, "He was the best possible guest we could have started with." The man also turned out to be someone who taught Scott much about Jamaica. Two days after his arrival three more guests turned up, and the rest, as they say, is history.
Now, after six years, the man with a vision is still blazing the hostel hospitality trail in Jamaica, and the brand has been recognised for its services with the bulk of the awards going to the Ocho Rios unit. They include Hostelworld.Com 13th Annual Hostel Awards' Best Hostel in Jamaica; Booking.Com's 2015 and 2016 Guest Review Award; tripadvisor's 2017 Certificate of Excellence, and the 2016 tripadvisor (NB all lower case) Travellers' Choice Destination Award.
At Reggae Hostel, where the motto is 'Chill, Vibe, Connect', "you are not home, but you are home," Burlington Avenue team leader, Nikei Watson told Hospitality Jamaica.
Expansion of the brand is under full consideration as satisfied guests are asking for branches in other resort towns. Montego Bay in St James is slated to be the next locale of Reggae Hostel, which, Scott said, "has defined the hostel industry here" in Jamaica.
"We are pleased to say we have inspired a lot of people to go along, as well ... We are happy that we have shown other people a way to earn and contribute to this important part of tourism," Scott said.