More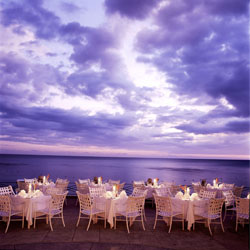 Round Hill farm to table.
Light & clean Caribbean cuisine
Delight in a culinary excursion at Round Hill Hotel & Villas

For travellers looking to whet their appetites while luxuriating at one of the most spectacular hotels in the world, the Round Hill Hotel and Villas in Montego Bay, Jamaica, provides a stimulating culinary excursion that will excite the most refined of palates. With multiple restaurants, dining options and special culinary events, Round Hill offers gourmet experiences that vary as widely as the colours of the Caribbean sunset.
With rum punch in hand, guests make their way to the hotel's beach party for an evening of casual elegance that is enjoyed on the soft, sandy beach. Held every Monday, the party features a variety of scrumptious delights in a barbecue style setting, and includes drinks by the bonfire while listening to the sweet serenades of a local calypso band.
Wednesday evenings transport guests to another culinary destination. The Manager's Cocktail Party presents a new adventure for the taste buds as guests enjoy a Caribbean curry buffet on the Seaside Terrace.
The grand finale of the week is Jamaican Night. Hosted every Friday, this epicurean evening is a huge celebration of Jamaican food and culture with the best of local delicacies offered. Guests are treated to the easy melody of the steel drum, followed by the delightful tunes of an area reggae band. The entire evening ends with an authentic folklore performance.
When not enjoying these food-filled festivities, guests head over to the Restaurant at Round Hill. With an emphasis on elegance in all aspects of design, food and service, the Restaurant serves contemporary Caribbean cuisine inspired by Jamaica and the cultural influences that have evolved the palate of the region. Under the direction of award-winning executive chef, Martin Maginley, the restaurant serves dishes such as black turtle bean soup, yellowfin tuna tartare, oxtail ravioli over lobster ragout and Blue Mountain Coffee rubbed pork tenderloin, as well as coconut crusted chicken pancetta risotto and Caribbean blue crab cakes. Desserts include double chocolate mousse and warm chocolate bread pudding with aged Appleton rum sauce. Many ingredients in these dishes are grown in Round Hill's own organic vegetable garden.
Round Hill also provides numerous dining options so guests may feast privately or with friends in the guests' private villa, the Gazebo on the Round Hill dock or in another venue of their choosing. Guests select from four menu options which may be mixed and matched. Orders are taken in advance and a private butler will set up and serve the meal. A fifth menu choice, including black angus steak, will be prepared by a Round Hill chef at the table.
Mornings are special at Round Hill with breakfast cooked to order and served in bed or overlooking the sea. Delights range from coconut pancakes and ackee to banana bread and saltfish with fried dumplings.
Lunches are a casual affair, with à la carte items served on the terrace or barbecue items served on the beach.
The resort also offers a Robinson Crusoe Menu, a very special picnic for the entire family. The family selects a private area of the beach where children can grill their own hotdogs along with fried cracked conch, fire roasted chicken and port skewers, Caribbean cole slaw and more. They end the night with Round Hill's own special s'mores.
For additional information or reservations please call (876) 956-7050 or visit www.roundhill.com. The hotel's email address is info@roundhill.com.