More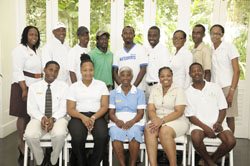 Departmental Most Outstanding Team Members pose with Nathalie Saunders (left), director of human resources and training at Round Hill Hotel and Villas.
Round Hill Hotel and Villas honoured
Resort wins awards for chefs, villas, guest satisfaction
Round Hill Hotel and Villas, the Caribbean's most classic resort, continues to excel, receiving a host of accolades. In 2012, the property was chosen as a winner by TripAdvisor in its Travelers' Choice awards, as well as the 2011 World Travel Awards.
TripAdvisor 2012 Travelers' Choice Award
TripAdvisor, Inc (NASDAQ: TRIP), the world's largest travel website, announced that the hotel was chosen as a winner in the Top Hotels in the Caribbean, Top Luxury Hotels in the Caribbean and Best Relaxation & Spa Hotels in the Caribbean category.
Now in its 11th year, the annual TripAdvisor Travelers' Choice awards honour the world's best hotels, earning their distinction from those who know them best - real Travelers. Unlike any other hotel honours, TripAdvisor Travelers' Choice winners are based on millions of valuable reviews and opinions from travellers around the world.
World Travel Awards, Taste of Jamaica
Round Hill also received the award for 'Caribbean's Leading Villa Resort' at the 2011 World Travel Awards, held in late 2011. In addition, two of the property's chefs were recognised for their fantastic culinary creations at the recent 'Taste of Jamaica' competition.
Chef Marvin Robinson was named 'Chef of the Year' at the 2012 Taste of Jamaica competition for his papaya glazed jerk beef shoulder topped with a rice cracker and Scotch bonnet avocado salsa. Chef Donald Brooks' rosemary infused jerk pork loin served with a pumpkin and yam ragu and annatto sauce earned him the title of 'Junior Chef of the Year.' The annual 'Taste of Jamaica' competition, held at the Montego Bay Convention Centre October 15-16, is organised by the Culinary Federation of Jamaica as a means of motivating young Jamaican chefs while showcasing their talents locally and internationally.
One hundred chefs competed in this year's competition, taking their culinary creations far beyond the standard curry, plantains and jerk spices. Two additional chefs from the property, Chef Andre Fowles and Chef Leah Jones also competed, winning a Silver award and recognition for 'Best Use of Chicken', respectively.